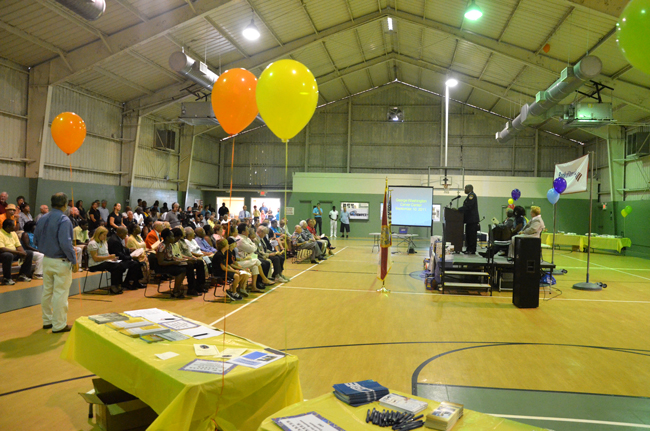 It was a morning of celebration, of self-congratulations, of ironies and crossed fingers: the very people who wanted to be done with South Bunnell's Carver Gym a little over a year ago—the members of the Flagler County Commission—were back Saturday at Carver Gym, applauding each other, and particularly applauding Commissioner Barbara Revels, for not only giving Carver a reprieve from their planned execution, but for rebuilding it into a glittering community and youth center.
The applause is deserved. The short attention span isn't, particularly in South Bunnell, where history is a recurring whitewash to the benefit of those who'd rather not hear it. That's why, after covering this story for the last 15-odd months, I have a hard time applauding without at least some reserve.
Over those months Carver Gym managed to be a symbol of both the insensitivity and hypocrisy of local governments' attitude toward the poorest and most persistently ignored section of Flagler County—and, not coincidentally, its blackest—and those same governments' willingness to correct their course and vastly improve on it. They created the very crisis they surmounted, which makes today's applause a bit self-serving, but they surmounted it so well that the crisis is now a footnote. Let's hope it stays that way.
The cooperation between governments that made the revival possible is rarely seen in this county. But to say that Carver's revival could not have happened without that cooperation is a stretch: the county could have easily continued its commitment on its own. It cost less than $120,000 a year to run the gym—a pittance in a  $65 million budget, especially when compared to, for example, the $400,000 a year the county is now willing to spend on its amorphous gamble on "economic development" (a sum that would likely have far greater impact on the development of South Bunnell's ghetto youth). To its credit, the county invested large sums in improving the physical structure of the gym, building gorgeous classrooms upstairs and game rooms downstairs, and using donated money—including $5,000 from the Kiwanis Club—to stock the place with a gigantic television and an entertainment system that would be the envy of every couch potato from here to Garfield. (This is the work of an unsung workhorse in the county administration, Heidi Petito.) The ID and security systems have yet to be installed.
Several educational programs will operate out of the gym, including the school board's GED classes and the VOICE program, which teaches young people modes of expression through photography and writing.
But let's not overdo the self-congratulations, either: the county did nothing less than what it should have been doing all along. There's something distasteful about a government, or a bunch of governments, finally doing what they're supposed to be doing—providing decent recreation and community centers, air conditioning, cleanliness, bathrooms, computer access—then turning the whole thing into some sort of stupendous achievement for which they should be praised. You don't award medals for finally showing up, though show up they did: today's event featured the entire county commission (one of whose members, Nate McLaughlin, was not on the board when it sought to end funding for Carver), four members of the Bunnell City Commission (where were you, Elbert Tucker?), three members of the school board (again with the absence of a Tucker), and even Palm Coast Mayor Jon Netts.
Today's rededication is a story of contrasts between what dismal place Carver had become, and what a fantastic place it now is, though it's doubtful that if it had been, say, on the greener, leafier grounds of Palm Coast Parkway and Clubhouse Drive, or on the campus of FPC, it would not have been allowed to decay.
And let's not forget that the county is scaling back. The county's financial commitment to the day-to-day operation of the place has been cut considerably. The involvement of Bunnell, the school board, the sheriff's office and the Carver Center's own non-profit foundation are picking up a large portion of the $75,000 the county is no longer contributing. Revels led the foundation's extremely successful fund-raising, including an electronic auction that involved government, private and business individuals from across the county. But six times the money she raised was blown on that $7,000-a-day "facilitator" the county hired to lead those serial and endless economic development summits that led nowhere earlier this year. The county (Revels included) thought not one iota of spending that money, yet Revels's foundation must now slave to raise comparatively minute amounts that nevertheless mean the difference between life and death for Carver.
Revels, whose role in making the revival possible can't be understated, knows it's not about the gala opening. It's about sustainability: what happens next, and whether contributors will stick to their commitments. "This is where the rubber meets the road," Revels said after today's ceremonies, "this is where we've got to really persevere and keep the enthusiasm going from the whole community. People are telling me that they're going to be engaged, and we just have to keep that happening and do it for the betterment of our youth."
In a stark irony, those youths were absent today: not a single neighborhood child or young adult—the very people for whom the gym is ostensibly being rededicated—was in the audience. They were supposed to have been invited. Fliers were made and should have been distributed door to door. Eddie Johnson, the soccer star and Bunnell native, who spoke some moving words about his connection to Bunnell and the gym, should have had younger people there in droves. But three young men standing on the porch of a house across the street from the gym during the audible festivities, including Shaquille Neal, 18, who spent his life in the shadow of the gym, hadn't heard about the rededication. Neal was wondering what was going on inside. Little did he know that it was, in part, about him, or for him.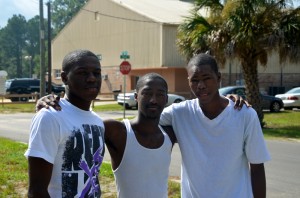 "I've seen it for, like, 18 years," Neal said of Carver Gym. "At least they didn't tear it down. That's the best part of it."  He'd played a tournament there while it was being rebuilt, but he hadn't seen the playrooms and classrooms yet. Neal is the nephew of Elijah Emmanuel, better known as Sugarpops, the county staffer at Carver Gym all these years. Neal was with Davon Smith, and Javon Heath, both 17 and of more recent vintage in the area (all three are students at Flagler Palm Coast High School). None had heard about the rededication.  They all hope to use the place (though Heath isn't into basketball: football is his game), but they couldn't understand another irony about the rededicated center: it has no set weekend hours, and it shuts down at 7 p.m. on weekdays. For high school students who get home in late afternoon and are expected to do their homework before going out to play, that doesn't leave much time for use of the center, Neal said.
Cheryl Massaro, director of the Flagler County Youth Center on the FPC campus, is now also the director of the Carver Center. She says the schedule is limited because staffing is limited—which is to say: money is limited. The county cut one position in its scale-back. This is where small government's rubber meets the road. There may be special activities on Saturdays, but for now, absent a strong corps of volunteers, something Revels wants to build up, the gym will be closed when the youths it's designed to serve could use it most.
No money? Keep in mind that the $400,000 the county just dedicated to "economic development" (and will re-dedicate next year, and the year after that, in likely fatter sums but without ceremony) will be spent on very expensive salaries for a few individuals with very important titles who know all the economic development buzzwords and how to photoshop splendid reports that talk about economic development and summarize economic development conferences they will have attended in wonderful venues on per diems that could easily pay for a couple more of those entertainment centers at Carver every year. For an eighth of that $400,000 the county could also pay for weekend hours at the gym, providing a place for Bunnell's youths who presumably have their future ahead of them.
Let's preferably believe there's no money. It's easier. And there's still plenty of applause.
–Pierre Tristam