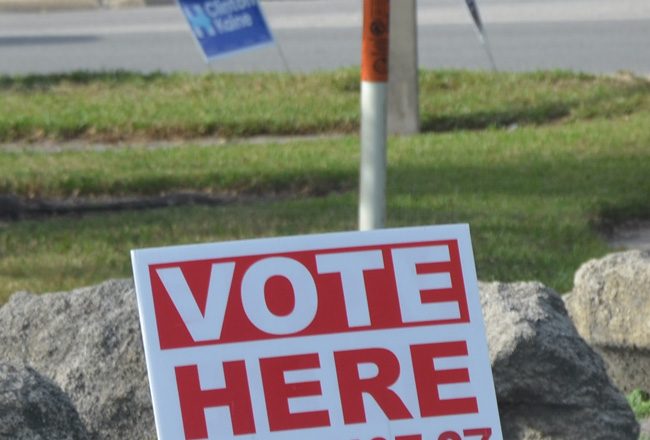 Emboldened both by President Donald Trump's (false) claim that millions of noncitizens voted in 2016 and by his creation of a panel to investigate the alleged fraud, lawmakers in several states want to require people registering to vote to provide proof of their citizenship – even though federal registration forms don't require it.
This year at least four states – Kansas, Maryland, Texas and Virginia – considered proof of citizenship measures, according to the Brennan Center for Justice. That means residents must provide documentation such as a passport or birth certificate when registering to vote.
But that gets confusing. In 2013, the U.S. Supreme Court ruled that states may not require proof of citizenship for those who use the federal registration form, which states are required to accept. It didn't bar them from requiring such documents for state elections, so states can set up a dual registration system—in which voters who lack proof of citizenship can register and vote in only federal elections.
Arizona is the only state that has such a system—so far. Critics say it is so complex that it prevents many voters from participating in elections for which they are eligible.
Alabama and Georgia also passed laws, in 2011 and 2009 respectively, that require proof of citizenship in order to register but neither has implemented them, citing the complications of operating a bifurcated system.
"That's an election administration nightmare, if nothing else," said Alabama Secretary of State John Merrill, a Republican. "You'd have to have two sets of poll books, one for federal elections and one for state elections, and that just doesn't make any sense to me."
Nevertheless, voting rights groups are afraid that a sympathetic Trump administration will prompt many more states to pursue proof of citizenship requirements for state elections.
Jonathan Brater of the Brennan Center for Justice said Trump's claims of illegal voting might be used to justify new restrictions, while Trump's Election Integrity Commission includes members who have long supported requiring proof of citizenship to register to vote.
Meanwhile, the U.S. Department of Justice has sent letters to states asking how they maintain their voter registration lists. And some in Congress want to eliminate the federal Election Assistance Commission, created in the wake of the disputed 2000 presidential election to provide voluntary voting guidelines for states.
"This particular constellation of issues, where we have a president himself making claims about voting systems at time when faith in the election system is quite low, this is a threat we have not seen," Brater said.
Bob Popper of Judicial Watch, which supports requiring proof of citizenship to vote, said the dual registration systems that result from the differing requirements will likely need a federal-level resolution.
"This fighting over dual registration and over what the federal [voter registration] form does and doesn't require is really peripheral to the basic issue," he said, which is: "Should … individuals who register to vote be required to prove U.S. citizenship?"
Confusing Arizona
In a lawsuit filed last week, the Campaign Legal Center contends that Arizona's bifurcated system, which voters approved by ballot initiative in 2004, is so unwieldy that many voters end up being excluded from elections for which they are eligible to vote. The group estimates that at least 26,000 people in Maricopa County, the largest in Arizona, have been disenfranchised by the policy.
Arizona election officials run the names of those who register using the federal form against the citizenship information they have on file through the state's driver's license database. If the state already has citizenship information for that person, he or she is registered to vote in all elections. If not, that person is only registered to vote in federal elections.
The state does not make that extra effort for those who register using the state form. If they don't attach proof of citizenship they don't get registered to vote at all—stopping them from voting in federal elections even though they are eligible to do so.
"It doesn't have anything to do with your eligibility or what document you provide, it only has to do with what piece of paper you write it on," said Danielle Lang, a lawyer with the Campaign Legal Center who is working on the case. "And that just makes no sense."
Maricopa County Recorder Adrian Fontes, a Democrat who is one of the named defendants in the suit, says the current practice is denying citizens the right to vote. When he took office earlier this year, the county had just over 96,000 forms from people who had tried to register to vote since 2005 but who had not attached proof of citizenship. More than half of those people never followed up to register, but in slowly running their information through DMV records, the office found citizenship information for nearly 1,500 people.
Fontes wouldn't comment on the ongoing litigation, but he told the Los Angeles Times in May that Arizona's different approaches depending on the form may not be legal.
"Where voters are treated differently, with the government on one hand assisting voters and on the other hand preventing them from voting, that violates substantive due process, and there is no rational basis for it."
In an email, Arizona Secretary of State Michele Reagan's office said she was working to comply with the 2004 initiative.
"Over the past decade we've gone through five election cycles electing two presidents and dozens of congressional representatives. While it's puzzling to understand why this lawsuit is being filed now, I think voters still want the state to verify eligibility to ensure election integrity and discourage fraud," Reagan said in a prepared statement from her office.
The Campaign Legal Center argues that the process puts an undue burden on those trying to exercise their right to vote, particularly since county data requested by the group found that fewer than 15 percent of those who did not initially turn in documentation with their state form returned with proper documentation later.
Blocked in Kansas
Kansas Secretary of State Kris Kobach, a Republican who is also the vice chairman of the Trump administration's Commission on Election Integrity, has long advocated for a proof of citizenship requirement. But his attempts to implement such a system in Kansas have been blocked by the courts.
A Kansas judge, for example, last year blocked the state from using a dual registration system in the 2016 election, citing a state "universal registration" law that requires registered voters be permitted to vote in every level of an election. Arizona does not have a similar law on the books, Lang said.
"There's no factual basis for that requirement. There's not a problem of citizenship impersonation fraud among voters; there's just no evidence that that's a real thing," said Doug Bonney, legal director of the American Civil Liberties Union of Kansas.
Kobach's office did not respond to repeated requests for comment, but in court filings he has emphasized that federal voting law does not bar states from requiring proof of citizenship.
–Rebecca Beitsch, Stateline