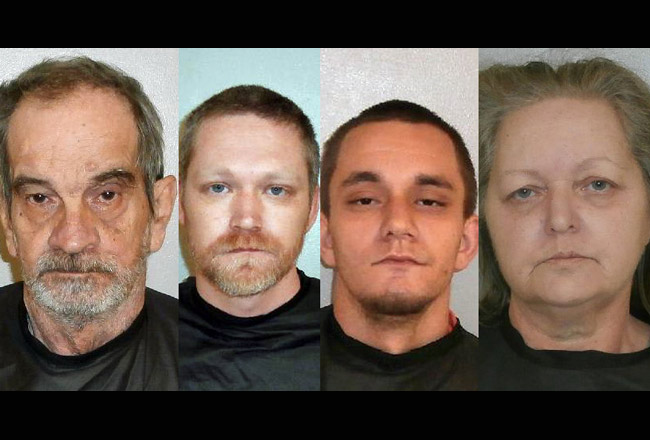 Gilbert Bridewell is a 70-year-old resident of 7 Blackberry Place in Palm Coast. He is married to 61-year-old Sheila Bridewell. They have two sons, Brad Turner, 32, and Tyler Bridewell, 21. The family was all in jail Friday on charges of trafficking Oxycodone, the popular prescription pain-killer, possessing a controlled substance, selling a counterfeit controlled substance, fraud, burglary and selling crack cocaine. Their bonds range from $2,500 to $50,000.
The Bridewells' arrests were part of a vast drug sweep Friday morning by the Flagler County Sheriff's Office. The sweep targeted 32 individuals involved in one form of drug infraction or another. The sweep netted 19 arrests, all but one in Palm Coast. The other was in Flagler Beach. Warrants are still out for the remaining suspects. In a brief news conference in front of the county jail this afternoon, Sheriff Jim Manfre called the sweep Operation Jingle Cells.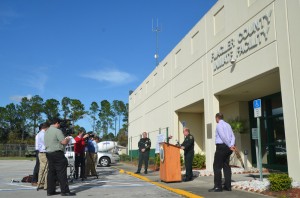 "A quick look at the background of folks that we have arrested shows that they're not new to the trafficking industry," Manfre said. "Most of them have prior arrests and convictions for a variety of crimes, such as thefts, burglary, aggravated battery, kidnapping and manslaughter. Unfortunately this is not a problem unique to Flagler County. This epidemic of abuse of prescription drugs is a nationwide problem that is ruining families. We hope that these arrests will have a significant impact on the scourge that is the illegal prescription drug industry."
Previous drug busts involving that many people have been the subject of news conferences involving drug task forces from St. Johns and Putnam Counties, agents of the Florida Department of Law Enforcement, the State Attorney and, at times, FBI agents. In this case, the operation was entirely the Flagler Sheriff's Office's. Manfre flanked by Undersheriff Rick Staly and Senior Commander Steve Cole, who heads the investigative division. A quintet of narcotics detectives standing some 15 feet behind the scrum of reporters–and the cameras, so as not to be photographed: they're the detectives who conduct some of the undercover drug buys that lead to arrests.
Cole guessed that the street value of the pills seized was between $30,000 and $35,000. But he did not disclose the number of pills seized, saying the focus was less on amounts than on actual dealers, who were caught selling as little as from one to five pills.
Some of the arrests were the result of people obtaining pills legally, by filling a prescription and then selling the pills illegally. Whether that implicates the doctors prescribing the pills in the first place is not yet determined: the sheriff said several doctors' names appear as part of the stream of prescription-writing, but the writing of prescriptions itself is not illegal–unless it can be shown that the prescriptions were written with the intent to enable trafficking. That's a difficult leap to prove, the sheriff said. He was at pains to not portray the pain-management industry with the same brush as he was painting suspects. Nevertheless, the investigation is in its early stages, with a look at physicians involved occupying investigators now.
Prescription pills are by far the most lethal form of drug abuse in Florida and in the country. In Florida, even though the number of deaths attributed to prescription pills abuse is falling somewhat in Florida, it still accounts for more deaths than those attributed to cocaine, methadone, heroin and morphine combined.
"It's the number 1 problem that we have when it comes to narcotics," Manfre said. "These are cyclical types of activities. Crack made its way through the country, meth comes and goes, but the abuse of prescription drugs has been a constant battle for all law enforcement agencies throughout the country simply because they're easy to obtain, they can be obtained in a legal form, and then distributed in an illegal manner. That's why it's so insidious. The problem is in our medical cabinets."
Staly described some of the challenges–and ironies–detectives faced in their investigation.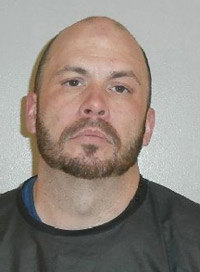 "Just today I went with a team at one of the houses and I thought I recognized the address when we were going there," Staly said. He did as cops pulled up. "Three months ago it was a grow house, and the same guy we arrested. Now he's one we're still looking for, one of our 32. It was 9 Second Path." He was referring to Shawn Dyer, 38, arrested on Oct. 4 at the 1,350-square foot house in Seminole Woods. There were 26 marijuana plants in the house.
"So 9 Second Path a few months ago was a major grow house," Staly continued. "I mean, he had a huge grow house. What I saw during that search warrant, he was lucky he didn't electrocute himself with all the power connections he was doing. We were back there, we bought from him at the house–pills." He has the right to make bond pending trial: that's how he was back in business.
Dyer had an arraignment in circuit court on Nov. 26. He is scheduled for a pre-trial appearance on the marijuana manufacturing charge–a third-degree felony–on Jan. 7.
Cole spoke of the arrests in a context beyond law enforcement. "It's a quality of life issue as well," Cole said. "When these individuals are selling from their homes, they live in neighborhoods that we all live in, and a lot of times when they victimize each other they rob each other. Just a month ago we had a marijuana deal that went bad, and as you're aware the young man got shot in a Palm Coast street." Cole was referring to the shooting of Trevor Blumenfeld in the LL Section on Nov. 4, when four individuals, all of whom have been arrested and charged, set up a meeting with Blumenfeld to buy marijuana from him, only to attempt to rob him of the bag. When he didn't let go, one of them shot him. He's been in critical condition since. "That's a quality of life issue. That could be my kids out there in the neighborhood, that could be on my street, your street."
The sheriff is asking the public to call 1-888/277-TIPS with any information about the individuals who have not yet been arrested. A list of those arrested and still being sought appears below.

"Operation Jingle Cells," December 2013
| Name and Age | Address | Charge | Status |
| --- | --- | --- | --- |
| Karl Cranfill, 59 | 6024 N. Oceanshore, Blvd., Palm Coast | Sale of oxycodone | ARRESTED |
| Maurice Anthony, 30 | 8 Rosecroft Lane, Palm Coast | Sale of cocaine | ARRESTED |
| Christina Quintanilla, 24 | 6024 N. Oceanshore Blvd., Palm Coast | Sale of cannabis | ARRESTED |
| Tyler Bridewell, 21 | 7 Blackberry Place, Palm Coast | Sale of morphine | ARRESTED |
| Gilbert Bridewell, 70 | 7 Blackberry Place, Palm Coast | Trafficking oxycodone (4-14 gms) | ARRESTED |
| Donna Mattson, 42 | 6024 N. Oceanshore Blvd., Palm Coast | Trafficking oxycodone (4-14 gms) | ARRESTED |
| David Ringling, 22 | 21B Plainview Drive, Palm Coast | Sale of counterfeit controlled substance | ARRESTED |
| Carla Etheridge, 28 | 6 Surrey Court, Palm Coast | Obtain controlled substance by fraud, six counts | ARRESTED |
| Joseph Colon, 30 | 6 Royal Tern Lane, Palm Coast | Sale of hydromorphone | ARRESTED |
| Brad Turner, 32 | 7 Blackberry Place, Palm Coast | Sale of substance in lieu thereof a controlled substance | ARRESTED |
| Sheila Bridewell, 61 | 7 Blackberry Place, Palm Coast | Sale of morphine | ARRESTED |
| Thomas Leto, 41 | 1 Bulow Woods Circle, Flagler Beach | Sale of morphine | ARRESTED |
| Ashley Gilbert, 25 | 4 Woodstone Lane, Palm Coast | Sale of hydromorphone | ARRESTED |
| Matthew Haughton, 40 | 39 Bickford Drive, Palm Coast | Sale of hydromorphone | ARRESTED |
| Marlon Walker, 43 | 5 Royal Lane, Palm Coast | Sale of crack cocaine within 1000' of school | ARRESTED |
| Samantha Brewer, 25 | 6 Royal Tern Lane, Palm Coast | Sale of hydromorphone | ARRESTED |
| Cornelius Jones, 22 | 65 Rose Drive, Palm Coast | Sale of hydromorphone, Sale of crack cocaine, Sale of morphine | ARRESTED |
| Jessica Bomford, 39 | 7 Pier Lane, Palm Coast | Sale of hydromorphone | ARRESTED |
| Marcus Good, 44 | 66 Westglen Lane, Palm Coast | Sale of hydromorphone | ARRESTED |
| Raleigh Alexander, 40 | 6B Zammer Court, Palm Coast | Sale of oxycodone | AT LARGE |
| Michael Colon, 27 | 10 Black Oak Court, Palm Coast | Sale of MDNA | AT LARGE |
| Dave Downs, 27 | 62 Bruning Lane, or 21 Empress Lane, Palm Coast | Sale of cocaine, 3 counts | AT LARGE |
| Shawn Dyer, 38 | 9 Second Path, Palm Coast | Trafficking hydrocodone 28g-3kg, Possession of schedule IV controlled substance w/o prescription | AT LARGE |
| Kody Lemire, 21 | 24 Rymshaw Drive, Palm Coast | Possession of cannabis with intent | AT LARGE |
| Troy Mickens, 33 | 142 Espanola Road, Bunnell | Sale of oxycodone | AT LARGE |
| Bryan Plummer, 43 | 13 Debra Lane, or 9 Zinc Lane, Palm Coast | Possession of amphetamine | AT LARGE |
| Nelson Quinones, 48 | 4 Princess Jennifer Place, Palm Coast | Trafficking hydrcodone (4-14 gms) | AT LARGE |
| Nicole Gould, 26 | 38 White Dove Lane, Palm Coast | Obtain controlled substance by fraud, six counts | AT LARGE |
| Heather Doran, 36 | 5235 Mahogany Blvd., Bunnell | Sale of lorazepam | AT LARGE |
| Walter Prather, Jr., 30 | 1452 Wildrose Lane, Daytona Beach | Sale of hydromorphone | AT LARGE |
| Clifford Harris, 28 | 503 S. Cherry Street, Bunnell | Sale of hydromorphone | AT LARGE |
| Franklin Watson, 34 | 2 Pony Lane, Palm Coast | Sale of crack cocaine | AT LARGE |
| Kristen Priest, 33 | 4 Woodstone Lane, Palm Coast | Sale of hydromorphone, Sale of buprenorphine | AT LARGE |
| Cynthia Bolan, 55 | 202 Deen Road, Bunnell | Fraud and sale of oxycodone | AT LARGE |