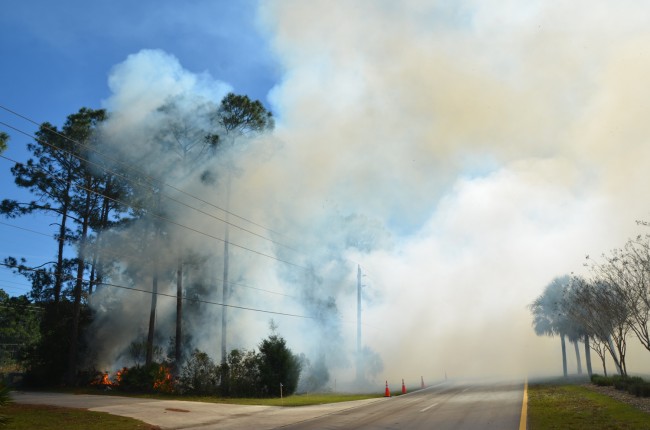 Including the words "fire" and "Seminole Woods" in the same sentence is usually a primer for bad news: Seminole Woods is notorious for big, angry wildfires, and Palm Coast residents driving in the area at noon today likely worried that another one was cooking as a thick column of white and dirt-gray smoke rose over the area just south of the State Road 100 intersection with Seminole Woods Boulevard.
But it looked worse than it was, even though that stretch of Seminole Woods, down to Utah Place, was closed to traffic.
A Palm Coast crew was working on the east side of the boulevard, clearing brush in the first step of construction of a walking and bicycling path that will parallel Seminole Woods when, according to Flagler County Fire Chief Don Petito, a track hoe struck an east-west power line, severing it from utility poles. The line fell to the brush and ignited it.
A fire crew from the county's fire station at the nearby county airport was almost immediately on the scene, and the fire itself was just 70 foot by 70 foot, nowhere near residential properties. It burned near and under the right of way of taller power lines. Nevertheless it was within a few hundred feet of Flagler Beach's water plant. The fire was allowed to burn until the power was shut off, to avoid dropping water on a live, downed power line. Then the Division of Forestry had the fire extended north along Seminole Woods Boulevard in a controlled burn, to avoid problems later.
"Forestry came in and they got their tractor in and decided to go ahead and burn the rest of this little track out," Petito said. "It doesn't go back that deep."
"This is very controlled," Petito said, "but I'm sure people see the smoke and they worry. But this is a very controlled fire we have here."
FPL is not reporting power outages in the area, since the downed line was a neutral line.
James Gilbert, a retired fireman and area resident, said closing all four lanes of Seminole Woods made no sense because the matter was "nowhere close to being a hazard." He called the Palm Coast city manager's office, which referred him to the fire department. He said two of the four lanes on Seminole Woods could have been opened to traffic without endangering motorists.
But the fire, while contained to the east side of the road, repeatedly sent thick plumes of smoke across all four lanes of Seminole Woods, at times reducing visibility to near zero.
The fire was expected to continue burning into the afternoon, with firefighters then dousing the stretch in water. Flagler County's Engine 92, Woods 92, Rescue 41 and Palm Coast's Woods 25 responded to the scene.