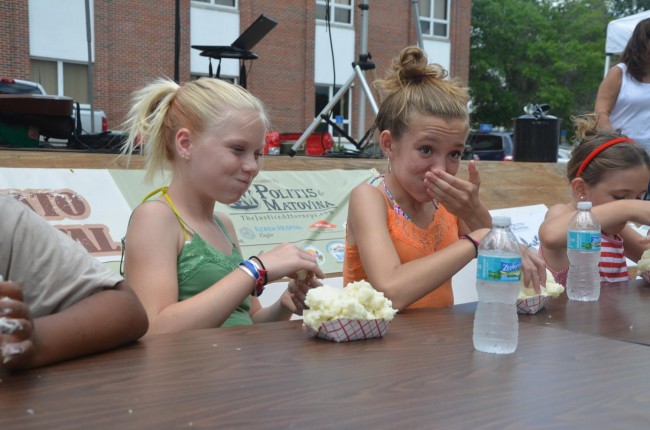 "Is this wild or what?" Suzanne Johnston wasn't kidding. She'd thought up a potato cook-off between all the candidates running for office locally. Just about all of them, with a few conspicuous exceptions, took her up on it: they cooked, baked or mashed up one dish or another with potatoes as the main ingredient, and filled the old Bunnell City Hall with their gastronomy.
There were about 20 of them spread out in rows of tables, almost every one of them calling his or her dish a recipe with grandma's lineage somewhere in there. One candidate who made what looked like pancakes out of a box not only claimed it was her very ancient grandma's recipe, but brought a framed black and white portrait of the alleged grandma, and peddled it as far as the judges' table for emotional points. (The judges: Michael Goodman, who owns Captain's BBQ, Bait and Tackle at Bings Landing in the Hammock, Shana Fortier, who writes a food column, reports and shoots just about every local photograph you see in the Palm Coast Observer, and Connie Rice, who writes for the Daytona Food Examiner. We're still waiting for the results.)
The candidates–for county judge, for sheriff, for school board, for county commission, for congress, for the Florida House, but not, that we could tell, for mosquito control or next year's senior class president at Matanzas or Flagler Palm Coast High School–were positioned with as much strategic subtlety as the small space permitted. It made for good potato puns that will remain unprinted.
A few more literal examples: Ray Stevens and John Pollinger, two Republican candidates for sheriff locked in what so far has been the grubbiest race of the season, for the stupidest reasons, came within about voter registration cards' lengths of each other, but made no contact. Surprisingly, no one raised an issue with Pollinger's current status as a Floridian despite his occasional indulgence of Idaho potatoes. Colleen Conklin and Debbie Laury, her challenger for the school board seat Conklin has held since Bill Clinton's last days in office, were at opposite ends of the room. Karl Tozzi and Jim Manfre, two Democrats vying for sheriff, were much closer, but back to back. It looked like every one of the thousand-odd candidates running for county judge was in the room, but lawyers are used to seeing each other at the next table, albeit in court, regularly: the potato cook-off was just another minor trial.
Leave it to Johnston, the tax collector who's in a race of her own, but without an opponent, to crown her potato cook-off with something on the order of a Will Rogers truism–part Socratic wit, part absurd: "It makes for informed voters."
Outside, under a shade under baking, it looked like the third (or is it already the fourth?) annual Potato Festival had drawn its biggest crowd yet. It was outside that Johnston's genius was most apparent: by concentrating the politicos in the old city hall for their cook-off, she'd left the rest of the crowd free and clear of the panderers–and free to enjoy their fabulously fresh-cooked fries, just cut from potatoes grown in Flagler County's own soil, their beers, their wonderfully greasy sausages, a live band, the usual festival games for the kids and vendors for the wanderers. Flagler Beach likes to think it's cornered the market on charm, but Bunnell, at least today, had it beat.
The festival's parade unfurled on Moody Boulevard between 11:30 a.m. and noon, with Bunnell City Manager Armando Martinez doing his very best to emcee the unemceeable, and three other judges (see their image in the photo gallery) trying to pick four–four!–categories' winners, though it didn't seem as if there'd be enough cars.
The potato festival is a creation of the Bunnell and Flagler County chambers of commerce, along with Bunnell itself. It started small, as a way to celebrate the county's closet thing to a kingly crop (cabbage would have been more plebeian), to build a little community spirit and pride in a town a bit down on its luck, and of course to give the chamber another fund-raising avenue, though price wise the Potato Festival remains the best buy in the county: fresh-cut, fresh-fried french fries for $2 a batch is as inexpensive a bit of nirvana as you'll find this side of Palm Coast's greedily overpriced Town Center events.

Here's the potato festival in all its photographic glory.
[nggallery id=95]