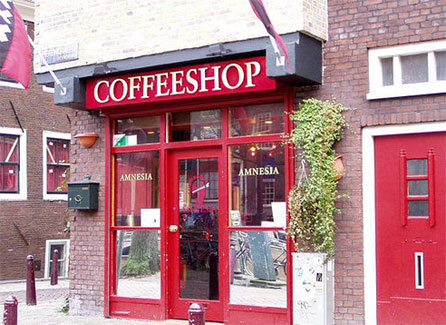 Used to be you could hop over to the Netherlands and indulge in the country's relatively freewheeling access to marijuana. While marijuana possession or use is still a crime there–a misdemeanor–the prohibition is not enforced, and "coffee shops" dispense it readily. But there are limits.
From the Post: "A Dutch court on Friday upheld a new law that will prevent foreigners from buying marijuana in coffee shops across the Netherlands, potentially ending decades of "pot tourism" for which this city and others became universally known. A group of coffee shops had challenged the government plan, launched after southern cities in the Netherlands complained of increased levels of drug-related crime. The decision means that coffee shops in the south must stop selling marijuana to foreigners by May 1. They would be allowed to introduce a so-called "weed pass" for Dutch citizens, who would be legally permitted to keep buying cannabis. The plan would roll out to other Dutch cities, including the popular tourist center of Amsterdam, by next year. The Netherlands is moving toward tighter controls on its renowned liberal policy on the sale of marijuana even as other countries, including the United States, are engaging in increasingly heated debates over the legalization of "soft drugs." Lawyers for the Netherlands' cannabis cafes — which number more than 600 nationwide — argued that forbidding foreigners from buying marijuana while allowing Dutch citizens to do so was illegal under national anti-discrimination laws. They vowed on Friday to appeal the case."
But the court's decision may well be rendered moot by political developments.
This from High Times: "Despite their being tightly regulated and contributing considerably to the nation's tourism industry, however, the conservative government has been steadily working to curtail or eliminate the coffeeshops, specifically by proposing a "Weed Pass" plan that would restrict access to only citizens of the Netherlands willing to register as a member of a private club, with each coffeeshop allowed just 2,000 members. The Weed Pass plan was passed into law in 2011 and was set to take effect starting with several locations in the south of the Netherlands on May 1 of this year. But this week several important developments have thrown the future of the law into doubt. Most notably, the coalition forming the Dutch government dissolved on April 23, amid an internal argument over budgetary priorities. Prime Minister Mark Rutte and his cabinet have since officially resigned in advance of national elections to be held in the near future, with the possibility of a new government taking power that's opposed to the Weed Pass. While at the same time, a group of Dutch coffeeshop owners and their allies have been fighting the Weed Pass in court, charging that the proposed new restrictions are in violation of the nation's constitution." The full inhale.