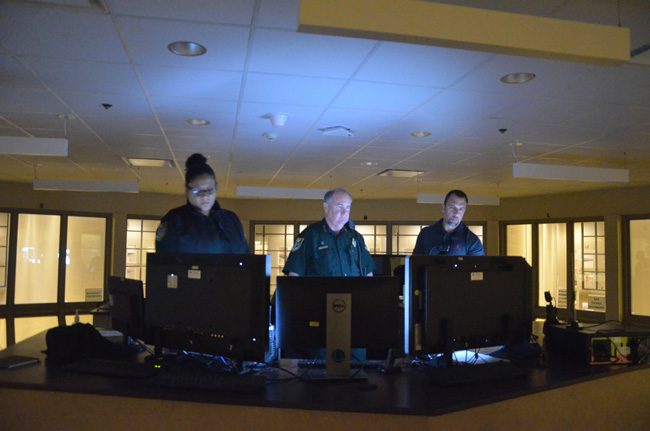 Last month in a community update on policing Flagler County Sheriff Rick Staly spoke about one of his more recent cost-saving measures at the county jail. Civilian employees replaced deputies who'd been handling the closed-circuit television hub, thus enabling corrections deputies–who are costlier to the bottom line–to be redeployed in the jail proper.
This morning, one of those employees was arrested and charged with a felony for allegedly stashing marijuana in her locker at work.
Victoria Ferguson, 30, who was to mark her first year at the agency later tis month, was arrested on a charge of possession of pot, under 20 grams, of itself a minor misdemeanor. But because the pot was in her locker at the jail, she was also charged with introduction of contraband into a detention facility, a felony.
The discovery was part of a routine sweep by narcotics deputies with a K-9 through the jail. Tag, the K-9, alerted deputies to the presence of narcotics in a locker in the employees' break room. The dog sniffed up Locker #13.
Before Ferguson opened her locker at 11:30 a.m., a sergeant opened the locker with a master key that opens all lockers, according to Ferguson's arrest report, and removed a small blue and pink backpack. The pot was allegedly in her wallet in a small sandwich-style baggie.
Ferguson, according to the arrest report, said her job is a little stressful, and that the marijuana was for personal use. CCTV employees don't routinely encounter inmates, but there is "incidental" contact, a sheriff's official said today. Asked if she'd ever distributed any of the pot to other employees or inmates, Ferguson said no.
Moments later, Ferguson went from surveilling inmates to being one, held on $3,000 bond. The incident developed as the sheriff was holding a press conference with two other regional sheriffs on a seven-month operation focusing on narcotics and resulting in the arrests of 45 people in Flagler alone.
"I am very disappointed that a Sheriff's Office employee would violate our drug free workplace and other policies and bring drugs into the jail," Sheriff Rick Staly said. "I will not tolerate employees tarnishing the good reputation of our agency and the many men and women that work hard to serve our community in an ethical and professional manner."
The county jail has had its run of problems in the past year, with the resignation of three corrections deputies last year, after the deputies were investigated for sexual improprieties, a deputy resigning under the cloud of an improper relationship with an inmate last October, a deputy suspended for reporting to work drunk in late March, and now the Ferguson matter.
The job is notoriously difficult, routinely stressful, shorn of glamor, and often associated with the term "thankless."