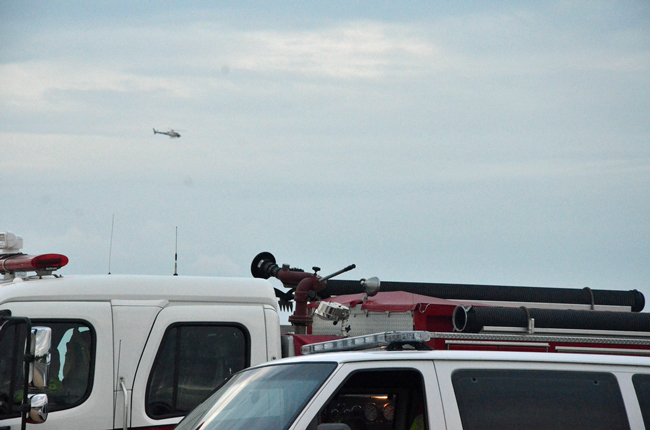 County and Flagler Beach rescue authorities spent several hours searching for a man believed to have drowned in the surf off of South 8th Street late Saturday afternoon (April 12). The search proved fruitless, and authorities said that a drowning was not likely.
But Flagler County Fire Chief Don Petito confirmed that the medical examiner was called in to analyze "what appears to be remains," possibly intestinal, that may have been human. The medical examiner took the remains for analysis in St. Augustine. Nothing further is known about the finding, Petito said.
The incident off of 8th Street began at close to 5 p.m. when three lifeguards saw a white man about 30 to 40 years old swimming about 200 yards away from shore, Flagler Beach Police Captain Matthew Downey said. The observation was made from the Flagler Beach pier. When lifeguards got to South 8th Street, they were unable to see the swimmer anymore.
"Fire Flight, Marine 1 and Ski 11 all searched the water and were unable to locate anything," Downey reported. " We have not received any missing persons calls, no evidence that the swimmer was alone (no lone beach towel, etc.) and visibility was very good on Saturday."