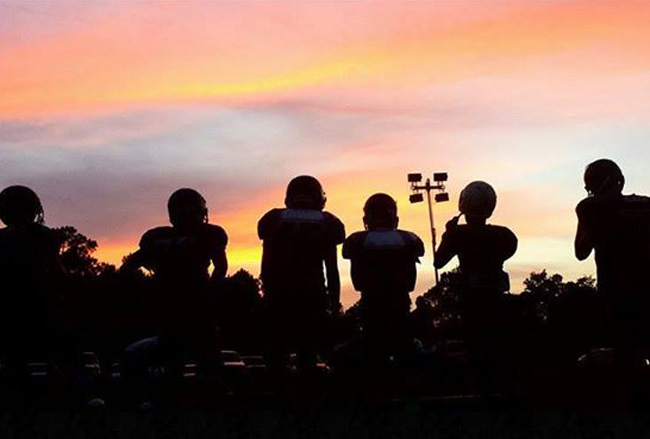 It was an embarrassment and a shame.
The sun was setting. The Pop Warner football games were over between the Flagler Falcons and the Daytona Beach Buccaneers Saturday at Flagler Palm Coast High School. The youngest—ages 5 to 7—had just played, and in a game that wasn't even scored. It didn't matter.
That's when the smack talk began. Not between the children, who proved to be the grownups Saturday evening, but between adults who'd been on the sidelines, who taunted, jeered, derided, got in each other's faces. When it was over, several people had been punched, kicked, thrown and abused in other ways (all of them "adults"), and at least three ended up hospitalized at Florida Hospital Flagler, one of them with a bloody ear.
No arrests were made, because the hooliganism took place before Flagler County Sheriff's deputies arrived, and people had been streaming out of the stadium when the fights began—all apparently from the same exit, which may have contributed to tensions turning into brawls.
But all this, keep in mind, at Police Athletic League-chartered Pop Warner games designed to give very young children a learning experience on the field, by adults they presumably trust to behave as such. Saturday evening, the adults did not.
"We're talking about a game where there are absolutely no benefit from winning or losing, it's about learning the game," said Tracy Risby, president of PAL. She was not at the games Saturday, but had been piecing together information on what had taken place. "This doesn't happen in a bubble, and people just move on from this? No, no no," Risby said, speaking of measures that will be taken to "make sure that something like that doesn't happen again," including parental education on how to be a fan.
---
Several adults were hurt. No children were involved, but they witnessed their elders fighting.
---
Jesse Waters, 20, a resident of Palm Coast, was at the Emergency Room at Florida Hospital, with an injured ear, when he told a cop that at the end of the game he and others were waiting for players near the weight room, which is where the Daytona coaches were standing. The coaches, according to Waters—as reported in the deputy's incident report—"became verbal with him and his parents, then "got in their faces and a white coach pushed his father and a large black coach pushed his mother, causing them both to fall on the ground. Jesse then advised he motioned forward towards the coaches and his parents, at which time one of the coaches grabbed his arm and spun him around causing him to fall." While he was on the ground, "numerous coaches began to punch and kick him."
Bonnie Waters, 50, was also at the ER with an injured wrist. She said the coaches were threatening her husband and son to "kick their ass." When her husband told the coaches that the game was over and that it was time to leave, the men approached and got in his face. Bonnie tried to hold back her husband and son as the shouting match was going on. A large man shoved her to the ground. Her son (Jesse) shoved the man back, and before long Stephen Waters—Bonnie's husband—was on the ground. When Bonnie saw her son being kicked and punched while he was down, she tried to come to his aid only to be picked up and thrown "like a rag doll." In an email, she later wrote that her son had "much more severe than a bloody ear," the extent of his injuries noted in the incident report. "He suffered a broken nose, broken sinus cavity and a broken rib."
Stephen Waters, too, was seen by ER staff. "He was also punched and kicked while on the ground," Bonnie Waters said in her email.
Bonnie Waters told cops she wanted to press charges and have the assailants pay for her son's injuries, though it was impossible to determine who had been the primary aggressor. There were no surveillance cameras on the scene.
At the stadium, Rose Roland, the wife of the Daytona Beach PAL commissioner, told cops that the contest was "heated" from the beginning, though commissioners representing both teams spoke and shook hands before the game, before going back to their respective sides. But at the end of the game Roland said the Daytona fans began taunting Flagler with chants of "nah nah nah hey hey hey goodbye," which upset parents.
Children, of course, were witnessing it all.
When the Daytona team walked off the field through a fence that had appeared "broken," Rose said that a man with "big things in his ears" accused the Daytona side of tearing down the fence, and matters escalated. Roland said she, too, was knocked to the ground as she was trying to get the children away from the loud man. She couldn't tell who had pushed her, only that a large group of people had been in close proximity of each other and that it was not "any one person's fault, it was both teams pushing each other." Thomas Roland told cops he and his wife were knocked over while they were trying to break up the fighting.
Steve DeAugustino, the athletics director at FPC, had heard of the fight by Monday. The fence was n ot broken, he said, but had merely come unattached in one spot and would be a "quick fix." He described the events Saturday as "a shame," and he was considering some action.
"If there's that kind of trouble, we may require for them to use the facilities a sheriff's deputy, security, whatever," DeAugustino said this afternoon.
Another witness told police that tensions rose in the stands because "Daytona Beach coaches were arguing with all calls on the field and during the last play there was a child hurt and the Daytona team began chanting," according to the incident report. The witness described the Daytona side as having bad sportsmanship, but he stressed that the children were never involved in the fights. Only adults.
Four games were scored that afternoon, with Flagler winning the pee-wee and midget games, and Daytona winning the junior pee-wee and junior midget games. Then the youngest played, without scoring. Risby said parents misunderstand what goes on because they're used to watching college and professional football on television. Rules, not to mention purpose, behind Pop Warner football are different. "Parents didn't agree, didn't like or were confused by the rules," Risby said, "and it got contentious over that." Having just one exit after the game may not have helped matters, Risby said.