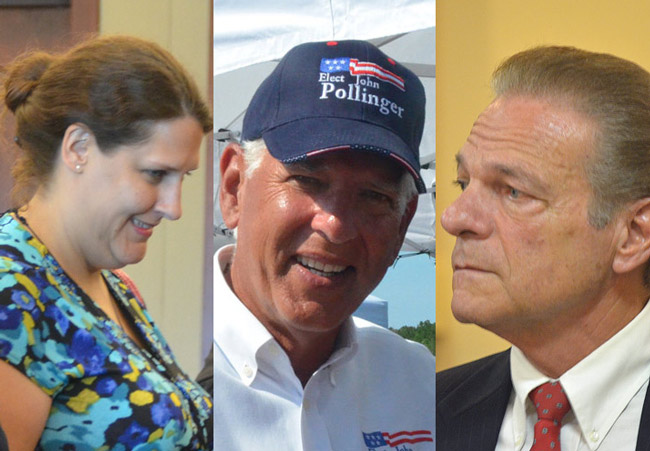 Saying she comes to court with "unclean hands," John Pollinger wants Ann-Marie Shaffer to reveal who's backing her financially in her lawsuit seeking to bar Pollinger from running as a Republican candidate in the Aug. 14 primary for Flagler County Sheriff.
In a strongly worded motion filed Friday, Pollinger wants Flagler County Circuit Court Judge Dennis Craig to "compel" Shaffer, a self-described, stay-at-home mom who lives in a $90,000-home on Freeland Lane, to answer questions her attorney barred her from answering during a deposition. Pollinger, through his attorney, is asking whether the Republican Club of Flagler County or the Ronald Reagan Republican Assembly of Flagler County–in which Shaffer is an officer–are helping to fund the lawsuit. Pollinger is also asking whether "anybody else" is helping her to pay the bills.
Jake Kaney, a high-priced attorney from Ormond Beach, is representing Shaffer. Kaney said he would seek a protective order to keep that information from being revealed.
"By bringing the instant lawsuit," Pollinger's latest motion states, "Shaffer is attempting to mask her political assassination of Pollinger as a mere qualifying challenge. In doing so, she is using this court as the stage upon which she publicly decries what she perceives to be the 'party [im]purity' of Pollinger. Her true motivations are revealed, in part, by her blog site http://pollingercantqualify.weebly.com wherein she espouses that Pollinger is a 'felon,' a 'fraud,' a 'RINO' ('Republican in Name Only'), who does not 'abide by the law' (among other aspersions. By using this court as a platform upon which to disseminate right-wing political propaganda against Pollinger, she comes to the court with unclean hands."
In a two-hour deposition on June 13, Shaffer said she was suing Pollinger fro several reasons, among them that she was fighting for "party purity." She defined party purity as "True Republicans in Republican primaries, in Republican races." Pollinger was a registered Democrat for four over four decades in new Jersey before changing his registration to Republican soon after he retired to Palm Coast in 2008. When asked if Ronald Reagan (who had himself been a Democrat for decades before switching to Republican) had been running for sheriff in Flagler County "in a similar situation" as Pollinger's, Shaffer said she "would feel it would be a duty" to block Reagan from running, if she "had the capacity to do so."
Shaffer's role, while financially inscrutable so far, has brought a degree of embarrassment to local Republicans, many of whom have distanced themselves from her–either out of allegiance to Pollinger, or out of fear that she would be tarnishing the party's image by associating it with extremism.
Shaffer has twice worked for the campaign of Ray Stevens, another Republican in the race for Flagler County Sheriff who first ran for the position in 2008–as an avowed independent who repeatedly made the point back then that he did not believe that the sheriff's race should be politicized. Stevens has since backtracked, saying that even then, his party registration was Republican, even though he was running as an independent. Shaffer was Stevens's campaign manager until shortly before she filed the lawsuit against Pollinger. Stevens had said he was not involved in the lawsuit. But in a June 13 deposition, Kimberle Weeks, the Flagler County Supervisor of Elections, said it was Stevens who first called her to "vent" about Pollinger's past as a Democrat.
"In seeking information regarding the sources of Shaffer's funding," Pollinger's Friday motion reads, "Pollinger seeks to discover admissible evidence that will prove Shaffer's actual intentions are to smear the reputation of Pollinger in order to benefit Ray Stevens' campaign. The information requested should reveal the names of those she hopes to directly benefit by virtue of this lawsuit. Outside of the courtroom, Shaffer has already made clear she is a devoted supporter of Ray Stevens who has taken to the internet and the press to smear Pollinger's name and reputation, meanwhile coming before the court disguised as a concerned citizen with nothing more than a desire to preserve the integrity of the electoral process. The information sought is 'reasonably calculated to lead to the discovery of admissible evidence.'"
The motion cites for support the Florida Rules of Civil Procedure regarding the discovery process during a lawsuit.
Pollinger and Shaffer are heading back to court on Tuesday as the original case resumes. Both sides have sought summary judgments in their favor. Shaffer is holding that Pollinger should not appear on the primary ballot because his New Jersey registration as a Democrat was not annulled until January, and that Florida law requires partisan candidates for office to swear an oath that once they run under the banner of one party, they've not been a member of a different party for at least 365 days previous. Pollinger is contending that Shaffer never showed the "legal insufficiency" of Pollinger's defense–that he's been duly registered as a Republican for the past three years in Florida, and that his New Jersey registration was null in all ways but on paper, since it had been the responsibility of Florida's and New Jersey's respective elections offices to clean their voter rolls (as Florida is doing at the moment).
Proceedings resume at the Flagler County Courthouse in court room 301, at 1:30 p.m. The proceedings are, of course, open to the public, and tend to draw quite a crowd.