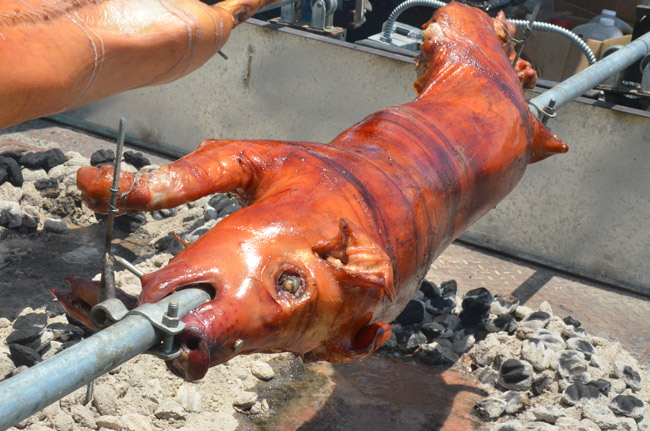 I've been asked why Andraste's comments in the John Pollinger-Anne-Marie Shaffer case were approved, considering their lavish innuendoes and borderline slanders. I've asked myself the same thing. The decision bears explaining as a case study of this site's comment policies and what we may be looking at through the end of this year's distinctly foul election season.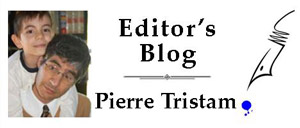 The issues Andraste raises aren't new. The matter of the Pollinger-Don Fleming "deal" (that the two Republicans are hoping to split the vote in Fleming's favor, leaving Ray Stevens in third place) was reported here in an April 26 story. Considering the amount of money Pollinger is pouring into his campaign from his own pocket, it's an outlandish claim. The matter of Pollinger's retirement-resignation controversy in New Jersey was first reported in Flagler County on FlaglerLive in a January 4 story. It didn't go further than that because it didn't need to: a man's quarter-century career with hardly a blemish isn't defined by an end-of-life smash-up with the town manager, which clearly had more to do with two massive egos (Pollinger's and the manager's) clashing than any earth-shattering revelations about the character of either.
There is such a thing as news judgment, which also explains why the American Legion business was not worth reporting: insider-baseball type issues of the sort happen all over the place, whether the individual involved is Mother Teresa or Ray Stevens or John Pollinger. It's gossip. It's not news, however "true" it may be. And in this case Andraste's account is quite far from the truth, from what I've learned: Pollinger will have his version told soon.
Same thing with Andraste's innuendoes about the Dennis Craig-John Pollinger connection. Without naming her, Andraste was referring to Ann Martone. So she apparently worked for Judge Craig's election, and is now working for Mark Dwyer, who is a lawyer in Chiumento's firm, the firm that represented Pollinger. Dig a little deeper and we might find that Ann Martone was in a movie with Kevin Bacon. So what? This is the sort of conspiratorial dot-connecting that attempts to suck scandal out of implications, where there's no there there. Absolutely none. For us to report that sort of thing would itself have been verging on slander, or whatever it is that the check-out counter gossip rags do. Ann Martone—with whom I've had nothing but disagreements over the years, incidentally—has as much right to work for whatever campaign she pleases as Andraste does, without being turned into a pawn to someone else's conspiracy hysterias. I don't see her hiding what she does, either.
No one is "gang-raping" Shaffer, as Andraste claims. She filed a lawsuit in the most high profile race in the county. What did she expect—an appearance on Dancing with the Stars? Amazing how certain people want to have it both ways: fire their artillery but claim absolute innocence and victimhood on a pile of apple pies.
This site could not possibly have spent more time reporting the Shaffer-Pollinger case, essentially giving Shaffer a broader platform than she could have dreamed of (though that was the intent of the lawsuit) and Ray Stevens more exposure than  a month's worth of community appearances, until Craig's decision. Shaffer was repeatedly contacted for comments about all this even before the suit was filed, when we heard it was coming. She refused to speak with FlaglerLive, though she's commented here under an assumed name (itself a deceptive tactic for someone involved in the news in which she's commenting).
Ray Stevens has done the same. He used to speak with me, and had no issues doing so when his motives weren't being questioned. No longer. His choice. But let's not claim one-sidedness and poor victim status when the subjects involved are themselves choosing not to tell their side of the story while bitching about the one-sidedness of the press and relying on nameless proxies like Andraste to keep the artillery going, and pile on the claims about one-sidedness. I can also assure you, knowing the folks there as I do, that there's no intention at either the Observer or the News-Journal to "smear" Stevens or Shaffer. (Their staffs are stretched enough to report basic news. The effort required for a smear campaign is simply not in their budgetary means.) Simply going by what the record has revealed through this lawsuit—simply going by what's in the depositions, what's been said in the courtroom—the smearing has been self-inflicted. Let's not now pretend to dress up damage control as fault-finding with everybody else.
I could care less what Republicans and Democrats do to each other, or within their ranks: I don't know what has been more contemptuous this season—the juvenile idiocies of Republican ideology and infighting, or the hide and seek antics of Democrats, who don't even have the courage of their convictions. My only concern is the credibility of this site and the relevance to a broad readership of what's being reported. So let me address Andraste directly: You've been granted this broad platform to make your claims. Fine. It's borderline permissible. It's politicians we're talking about, and the threshold of the permissible when politicians are in play is quite low. But it's not non-existent. To call what you're doing "vetting" is stretching the definition of the word. It's closer to sniping. To use everyone else, the press included, as a whipping boy, to do it behind a mask, and to do it here, jeopardizes our own credibility, and cheapens the debate.
I would much prefer that you unmask yourself, given the extent you've gone to speak of and for candidates, their proxies or the supremely ironically named Ronald Reagan group. The I-have-children-in-the-community argument doesn't wash. So do I. You know them. One of them is hanging on my shoulders in the image above. We all have our stake in the community. We stand by them, honestly and openly. There's always a place for anonymity, and in most cases it doesn't matter one way or the other when ideas and policies (as opposed to people and reputations) are being discussed. That's no longer one of those cases: these anonymous comments are like nameless financial contributions to campaigns, exploiting advantage without accountability. They'll still be allowed. But much less permissively.
Pollinger is going to be given a chance to respond, and his response will be featured prominently. Beyond that, comments regarding these and all other election issues—the county judge's race especially—will be moderated much more strictly. Discuss, debate, take on a candidate's policies and ideas all you like. But sail your swift boats elsewhere.

Pierre Tristam is FlaglerLive's editor. Reach him by email here.