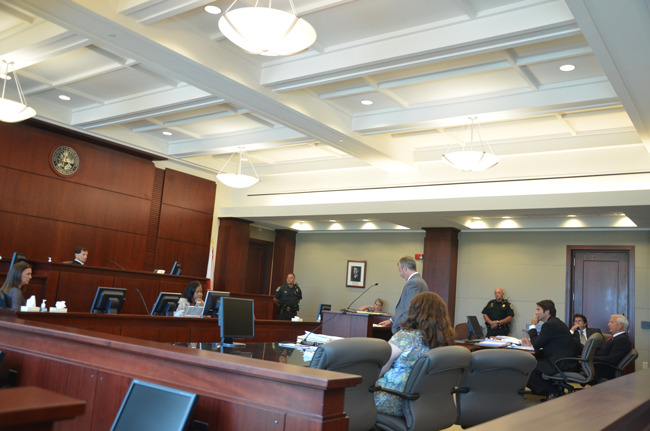 John Pollinger will remain on the Aug. 14 ballot as a Republican candidate for Flager County Sheriff, Circuit Court Judge Dennis Craig ruled Tuesday afternoon.
The judge rendered his decision just after 3 p.m., orally, after taking a 15-minute break, following 75 minutes of arguments from both sides. The decision is a stinging defeat for Anne-Marie Shaffer, who brought the suit against Pollinger, and supporters of Ray Stevens, another Republican candidate for sheriff.
If there was any hint in how Craig was going to rule, it was in the questions he posed lawyers for each side: he was in search of malice on Pollinger's part, regarding the candidate's registration history. Craig didn't find it.
Shaffer's attorney said she will be appealing the decision, but that move is largely moot in so far as the Aug. 14 election is concerned, since the court of appeal is not likely to hear the case, or render a decision, that quickly. Craig's decision certifies the Aug. 14 ballot as it was sent out by the supervisor of elections: the three candidates for sheriff on the Republican ballot are incumbent Don Fleming, Pollinger, and Ray Stevens, who played a role in the challenge to Pollinger's qualifications as a Republican. (Two Democrats are in the running.)
The lawyers for both sides argued their case for summary judgment, reiterating what they'd said before, all of which came down to this: to Shaffer, Pollinger has no right to be on the Aug. 14 ballot as a Republican because he broke the law by lying about his oath. To Pollinger, he has every right to be on the ballot since he has been a legally registered Republican in Flagler County since 2009. The whole case, Pollinger's lawyer said, rests on "a stale outdated voter registration that nobody knew about" until the election season, when Pollinger decided to run for sheriff and an opponent found it expedient to keep him from the ballot.
Shaffer was represented by Jake Kaney, an Ormond Beach attorney. Pollinger was represented by Ronald Hertel and Michael Chiumento of Palm Coast's Chiumento Selis Dwyer.
As at a wedding, Pollinger's supporters sat in pews on one side of the courtroom, SHaffer's supporters, very likely Stevens supporters as well, sat on the other side, outnumbered about five to one.
Craig asked Kaney if Pollinger has been living in Florida for the last three years and has been registered in Florida for the past three years, whether he could still vote in New Jersey. Kaney said yes: he could. "So he could pick and choose?" Kaney said he had a valid New Jersey registration, so he could. Craig asked if there was any dispute about Pollinger's residency status in Palm Coast. Kaney said there is evidence that he has not voted in New Jersey. Kaney also said he was not disputing Pollinger's permanent residency in Palm Coast for the past three years–or the judge's statement that in Florida, a voter may not be registered in two parties at the same time.
"Out of all those voters who are registered in two states, I wonder how many of them have different party affiliations," Craig said. He also asked Kaney whether he'd ever figured out why Pollinger's registration had not been "terminated" in new Jersey. Kaney said Pollinger did not give his name and last address where last registered. "He didn't do what he needed to do," Kaney said. Yet Pollinger turned in his New Jersey driver's license, the judge noted. Still, Kaney stressed, Pollinger "did not trigger" the correction to his voting registration status in New Jersey.
Hertel countered that line of argument by telling the judge that Pollinger at no time attempted to hide information from the motor voter clerk who took his initial information, when he changed his registration from new Jersey to Florida. Pollinger, Hertel said, was simply not asked any questions about his previous registration address. Indeed, that question isn't part of the questions clerks at motor voter desks ask registrants in Florida. Hertel also filled in another hole: that New Jersey law does, in fact, require its voters to be legal residents of the state in order to vote. In other words, Pollinger could not have legally voted in New Jersey after moving to Florida. His remaining registration there was "a technicality," Hertel said.
Kaney had also dismissed another claim in Pollinger's response to the Shaffer suit: that Shaffer had "ulterior motives" for suing. The motive n play, Kaney said, is to keep Pollinger off the Republican side of the ballot. Pollinger's contention is that the suit is politically motivated by Shaffer's allegiance to Ray Stevens: removing Pollinger from the Republican ballot removes a major obstacle to Stevens winning that primary–assuming he could defeat Don Fleming, the incumbent sheriff, who is also a Republican.
"I have to take exception to this," Hertel said, referring to Shaffer's claim that the Department of State had rendered opinions regarding the Pollinger case. A lawyer at the Department of State had written Kimberle Weeks, the Flagler County Supervisor of Elections, emails that suggested Pollinger could be deemed not qualified, but that the matter would have to be settled in court. But those emails were not legal opinions, Hertel said–as a footer in each email clearly noted. Still, Shaffer's case made use of those emails.
Hertel also argued that Shaffer had no standing, as a voter, to sue Pollinger. "There's the obvious flood-gate argument that comes with that," Hertel said: any voter could then file suits against candidates from opposite camps.
Addressing Shaffer's "selfish" motives, Hertel recalled how months before the lawsuit, Ray Stevens had called the supervisor of elections to complain about Pollinger's previous registration. Subsequently, Shaffer and allies went to work smearing Pollinger's reputation on a website she set up. That's her intention, Hertel said: "to destroy Pollinger's character."
The two sides ended their opening remarks after 75 minutes of arguments before Craig.
Throughout, Weeks, the elections supervisor, sat to the left of the judge against a wall, with her lawyer, since she was also named in Shaffer's lawsuit.
The question of who is funding Shaffer's efforts was not addressed.