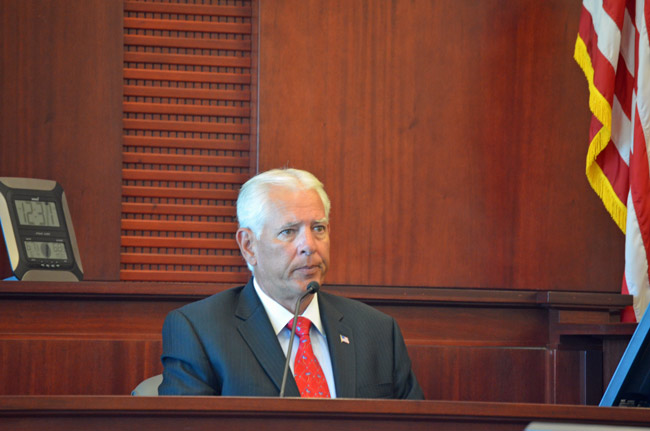 The case against John Pollinger's candidacy for Flagler County Sheriff as a Republican centers on three questions: when did he legitimately become a Republican, after being a registered Democrat for most of his life when he lived in New Jersey? Whose responsibility was it to annul his Democratic registration in New Jersey? And to what extent is that previous registration relevant, once he had registered in Florida, as he did in August 2008?
Flagler County Circuit Judge Dennis Craig may render a decision today or tomorrow on Pollinger's eligibility to be on the Aug. 14 primary ballot as a Republican. The case against Pollinger's eligibility as a Republican was brought by Anne-Marie Shaffer, an ally of Ray Stevens, another Republican candidate for sheriff. Shaffer claims that it wasn't until January that Pollinger repudiated his Democratic registration—as Pollinger, in fact, did, by phone call and faxed letter to New Jersey authorities. By law, a candidate for Florida office running under one party's banner must swear that he hasn't been a member of another party for at least 365 days.
In some ways, and incredibly, Pollinger claims he's never been a Democrat.
"Mr. Pollinger, have you ever been a registered member of the Democratic Party?" Pollinger's attorney, Ron Hertel, asked him under oath in a hearing before Craig Monday.
"No," Pollinger replied categorically. That was the only question Hertel had for Pollinger at the end of Pollinger's 12 minutes on the stand. The rest of the time, Pollinger was questioned by Jake Kaney III, Shaffer's attorney, opening with a similar question and a similarly startling answer:
"Isn't it true you have previously been registered as a Democrat in the state of New Jersey?"
"No," Pollinger says.
"It is not true, Mr. Pollinger, that on Aug. 20, 1970, you registered at Monmouth County, New Jersey, as a Democrat?"
Pollinger's attorneys objected to the question, calling it leading. The judge overruled.
"At the age of 20 yes," Pollinger said, "I registered as a voter in the state of New Jersey, the county of Monmouth, and indicated a Democrat, that's correct."
Pollinger and his attorneys are making a cheeky distinction that while he was registered to vote as a Democrat—something he did, he has said repeatedly in other settings, to support friends who were Democrats—he was never an active member of the party, as he has been with Republican party politics in Flagler County. Nevertheless, his New Jersey voter profile, provided him in court, shows him as a Democrat until January 2012.
For all the hair-splitting over Pollinger's party allegiances, that may not be the relevant legal issue as far as Florida law and Craig's ruling are concerned, because what elections officials do with their records in other states is not Florida's concern; what Florida records reflect about Florida voters, and how those records came to be, is. So the more pertinent legal issue in so far as Florida law is concerned is when Pollinger registered in Florida and how. That matter was touched on only barely in court Monday, but it revealed that neither side's attorneys appeared too familiar with the process through which Pollinger originally registered: what's know as Motor Voter registration.
But that part of the registration process may be the key to Pollinger's responsibility—and Florida's—in establishing his Florida registration.
"When did you first register to vote in the state of Florida?" Kaney asked Pollinger.
Pollinger: "August of 2008."
Kaney: "Did you list a party affiliation?"
Pollinger: "No. There was no way to list anything. I was asked a series of questions and I answered them at the time."
Kaney: "There was a written application you had to fill out, right?"
Pollinger: "No."
Kaney: "When did you register—or, list yourself as a Republican in Florida?"
Pollinger: "In August of 2009."
Kaney: "Was there a written application involved in that, or a written form you filled out?"
Pollinger: "That is correct."
Kaney: "Did you provide your most recent, last address on that form?"
Pollinger: "I was just changing parties as I recall at the time, I was instructed that I just needed to change and indicate my party affiliation, which I did." Pollinger then clarified that he did list his current address at the time of the change of affiliation. That was all the questions Kaney had for Pollinger.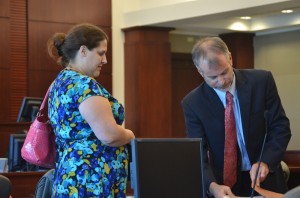 But at no point did Kaney—or Pollinger's attorney—ask him, when he was originally asked if he wanted to register as a voter in Florida when he was getting his driver's license, if he was ever asked whether he was registered in another state.
He never was, because the motor voter clerks who ask the questions during the process never do. The clerks also may (but are not required to) show the applicant a list of available parties to choose from. In Pollinger's case, he declined to choose a party affiliation at that point, agreeing only to be registered in Florida, which in his mind, he says, automatically nullified his previous registration in New Jersey. That is generally what voters who move also believe: rare is the voter who registers in a new state and actively contacts the previous state to nullify a registration. State authorities usually do that mutually, and in fact Florida and New Jersey law include provisions placing the responsibility of nullifying previous registrations on state authorities, not on the individual voter.
A visit to Tax Collector Suzanne Johnston office in Bunnell illustrates that process.
"We do not actually register anyone to vote," says Dave Herne, the driver's license specialist at the tax collector's office since 2005. Before that, Herne was a driver's license manager at the state office in Tallahassee. "We just fill out applications based on the responses given by the individuals who are applying."
Those responses are prompted verbally by a specific set of questions the specialist asks, from a written script that lays out precisely the sequence and the words that must be used.
The first question in the motor voter process is this: "Are you currently registered to vote in Florida?" If the customer says yes, the next question is: "Would you like to update your voter registration record?" If the answer is no, the question is: "Would you like to apply to register to vote at this time?" At that point, an application screen appears that looks similar to a registration form, which does include a line for a previous address where the applicant was last registered to vote—but that line is not required to be filled out. Nor, for that matter, is the party-affiliation line.
Pertinently to the Pollinger case, the driver's license specialist never asks if the registrant wants to cancel a registration elsewhere, or gives him the option to: that's not relevant to the Florida registration process. The closest the driver's license specialist gets to knowing whether the applicant may be from out of state is when the specialist decides which screen to use: if it's a registration update, it's one screen. If it's a new registration, whether from in-state or out-of-state, it's another (the "new application" screen).
The three-page  motor voter manual specifies that the specialist is not actually registering the applicant to vote, but merely taking the information. "We then transmit the information electronically within 24 hours to the Florida Department of State's statewide registration system," the manual reads. The record is not kept at the tax collector's office, though a receipt is handed to the applicant reflecting the information provided verbally. Pollinger was at Johnston's office two weeks ago, trying to get a copy of that receipt. But those records are not kept by the tax collector, either. They're transmitted to the state.
In essence, as far as Florida was concerned, Pollinger was registered—and registered with no party—from the time the state elections office received and certified the information. From that point on, Pollinger was a Florida voter who could then change his registration accordingly—as he did a year later, in 2009, when he registered as a Republican. By then (and by his own accounts), he had even less reason to think that he had to contact New Jersey authorities. He had also, by then, voted—in Florida—in the 2008 presidential election, for John McCain, to whose campaign he'd also contributed.
Pollinger's contribution record that year tells a story of its own: He contributed $200 to McCain's campaign in January 2008, another $200 in February and $200 in April, and another $400 in June 2008, all three times listing his Atlantic Highlands address. He contributed one last time on Aug. 8, 2008, a $200 check. That time, his address was listed as Palm Coast.