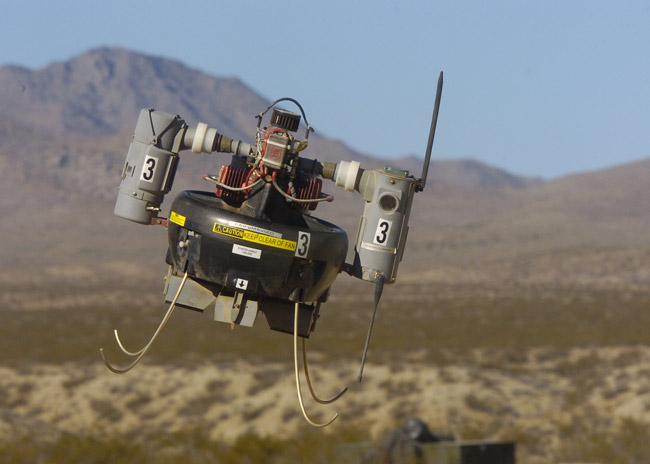 Forget Iran and Afghanistan. Americans have unmanned drones flying over their own heads, and more are coming.
With financial help from the federal government, police departments across the country are marshaling a new generation of remote-controlled airborne surveillance devices to be their eyes in the sky.
In North Dakota, a local sheriff called in a Predator drone from Grand Forks Air Force Base to help corral a family of cattle rustlers.
Closer to home, the Miami-Dade Police Department has acquired two Honeywell T-Hawk drones of its own with help from a federal grant.
The T-Hawk can fly to an altitude of 9,000 feet, hover in midair and find its targets via powerful camera lenses and heat imaging. Best of all, it is relatively inexpensive. MDPD's total equipment cost was just $50,000, officials said.
"The Miami-Dade Police Department has been granted permission by the FAA to utilize the T-Hawk Drone in actual emergency response scenes," said Sgt. Andrew Cohen, who pilots the drones from a laptop computer.
Cohen maintains that MDPD's use of "micro air vehicles" is restricted.
"They're strictly regulated and the FAA is notified and approve each time the T-hawk is utilized. The use is limited to 300 feet above the ground," he said.
Still, that's an expansion from last February, when the department was only allowed to fly drones over the Everglades.
"The drones have not been utilized in any actual scenes as of today," Cohen said last week. He noted that areas of use are based on avoiding "any conflict with high-rise buildings or obstacles and other air traffic."
"While we hope it will never be needed, we stand ready to deploy this new technology if called upon. We look forward to being able to provide useful information to the units on the scene while keeping the officers and citizens of Miami-Dade County safer," Cohen said.

Showcasing its law-enforcement capability, a Predator on loan from the Air Force helped a North Dakota sheriff's department apprehend a family of cattle thieves last June.
With the drone, "We don't have to go in guns blazing. We can take our time and methodically plan out what our approach should be," Nelson County Sheriff Kelly Janke told the Los Angeles Times.
On a cost-benefit basis, a $154 million Air Force-grade Predator drone seems a bit extravagant when used to retrieve cattle valued at just $6,000. But the economics pencil out with less pricey craft like the T-Hawk.
MDPD, using a grant from the U.S. Department of Justice, purchased one $50,000 T-Hawk and leased another from Honeywell for $1 a year.
There are limitations, however. The T-Hawk's motor sounds like a lawnmower and its gas tank limits the craft to 40 minutes of flying time. The 18-pound unit cannot operate in winds above 20 knots.
Still, unmanned drones are an attractive alternative to much pricier police helicopters.
Acknowledging growing interest by local law enforcement, the FAA said in a statement that it is "working with urban police departments in major metropolitan areas and national public safety organizations on test programs involving unmanned aircraft."
"The goal is to help identify the challenges that UAS (umanned aircraft systems) will bring into this environment and what type of operations law enforcement can safely perform."
Others aren't so high on drone deployment.
"It probably won't be long before they start equipping them with X-ray scanners and 'non-lethal' weapons systems," said Adrian Wylie, chairman of the Libertarian Party of Florida.
"Of course, all of it will be funded by federal grants so those pesky state legislators don't intervene to prevent their widespread use."
Andrew Nappi, of the Florida Tenth Amendment Center, sees the aerial operations as part of an ongoing erosion of civil rights.
"The federalization of local police forces has accelerated since 9/11. The Department of Homeland Security, the FBI and state fusion centers have yielded profiles that can arbitrarily label any of us domestic terrorists based on nothing more than our commitment to the Bill of Rights and liberty," Nappi said.
The American Civil Liberties Union says it opposes use of drones unless there is certainty they will collect evidence of a specific crime.
"Historically, the fact that manned helicopters and airplanes are expensive has imposed a natural limit on aerial surveillance. But the prospect of cheap, flying video surveillance cameras will likely open the floodgates," said Jay Stanley, a senior policy analyst with the ACLU.
–Kendric Ward, Sunshine State News