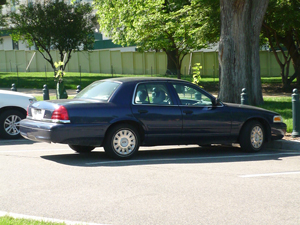 Flagler County Sheriff's deputies are investigating a suspicious incident that occurred Thursday morning at a school bus stop near Compton Place in Palm Coast.
A 16-year-old Matanzas High School student reported that as she was walking to her bus stop around 6:45 a.m. she noticed a suspicious looking vehicle. As she walked by the vehicle, she observed a white or Hispanic male with the window halfway down. He was wearing a green color uniform shirt and the vehicle tag number was covered with paper. The vehicle was described as a blue Ford Crown Victoria.
As she approached a neighbor's house, the man put the vehicle into gear and began following her, according to deputies. The man shouted, "Hey", and the girl began walking faster. The male then said, "Do not run. You are resisting arrest." The girl then ran behind a neighbor's house and the vehicle drove away.
The teen did not report the incident until today.
Anyone with information on the incident is asked to contact the Sheriff's Office at (386) 313-4911.
"Parents or students who notice anything out of the ordinary or anything suspicious at or near local bus stops and in your neighborhoods, should contact us right away," said Sheriff James L. Manfre.
Extra patrols have been ordered at bus stops beginning Monday morning.