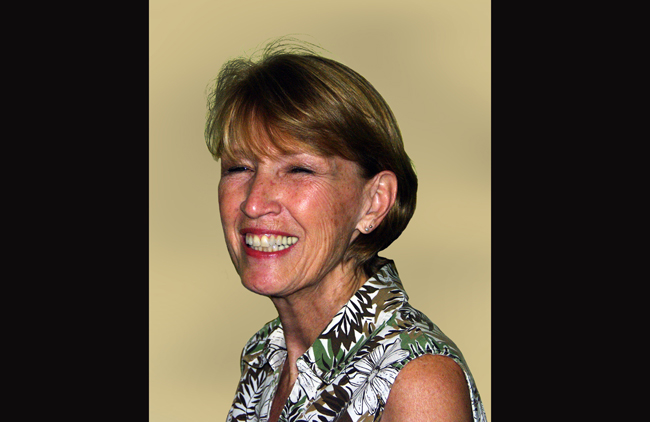 Carla Traister had a difficult year at Flagler County's cold-weather shelter in Bunnell. The all-volunteer-run shelter had to open some 32 nights, even though it opens only when the overnight temperature falls to 40 or below. The shelter hosted 1,000 guests, and served 2,100 meals, a three-fold increase from its inaugural year in 2008. But Operating out of the fellowship hall at First United Methodist Church at 205 N. Pine Street, the shelter also sustained continuous, at times bitter and often inaccurate criticism from a limited number of business owners around town, who blamed the shelter for bringing homeless people to Bunnell.
On May 30, Traister and First United Methodist Church were named winners of the Daily Point of Light Award, which honors individuals and volunteer groups who help meet critical needs in their communities. Traister was told of the award by mail shortly after it was announced, but she didn't want to make a fuss over it. "She's very humble, she doesn't want to anyone to know these things, so when I found out about it I had someone write the press release," Lee Willman, who chairs the board of the Sheltering Tree, as the cold-weather shelter's organization is known, said. Mary Slattery, one of the group's volunteers, formalized the announcement.
"It's fabulous," Willman said on Monday. "Carla is a very caring, selfless person, and if she hadn't been willing to step forward and try to help people in need in our county, I'm not sure that any of this would have happened. We've seen people have a place to stay that's warm in the winter, we've also been able to assist people who are homeless into finding a place to live, and it's all thanks to her open heart and willingness to try to make a difference, so she has energize a lot of other people. We have about 270 volunteers. It's really through her selflessness and commitment and passion for helping people that she's drawn all these volunteers together."
"It has been a life-changing experience for me," Traister, who taught for 32 years (including at Buddy Taylor Middle School and Flagler Palm Coast High School) said. "I just wanted to help those out in the cold to come in and get some sleep in a warm place."
This year the shelter was full every night it was open, unlike previous years, though last year the shelter had opened 40 nights. One reason for the higher attendance: groups of homeless people were bused in from Daytona Beach in the evening, and bused out again early the next morning, to relieve pressure on a shelter there. As the cold-weather shelter has become better known, and the church has maintained its open door even during the day (allowing homeless people to use a bathroom facility there and to sit on benches out front, but not to spend the night on warmer nights), some people around the church started complaining, and took their complaints to the Bunnell City Commission. They blamed the shelter for bri8nging more homeless to town, for allowing the homeless to sleep at the church even on warmer nights, and for causing vandalism or intimidating vagrancy around certain businesses–claims other businesses in the same area denied.
The city administration hosted a town meeting on the matter, which–as critics of the shelter were able to see and speak to its volunteers for an extended period– evolved into a more accepting discussion and search for solutions. Willman, First United Methodist Pastor Beth Gardner and Pastor Charles Silano, who works with the homeless through Grace Tabernacle Ministries, have been putting together various proposals and will be meeting later this month with Bunnell City Manager Armando Martinez and County Administrator Craig Coffey to discuss them. The focus will be on addressing food shortages for the homeless and exploring the possibility of a year-round emergency shelter.
By Sept. 1, the Sheltering Tree plans to open an outreach center, also operated by volunteers from a room at the church, once a week (on Wednesdays, from 10 a.m. to 2 p.m.), to help connect the homeless with services such as food stamps, or help them navigate the system of social services, as many of the new homeless are unfamiliar with the terrain.
"We're trying to provide services all year-round, not just in the cold weather," Willman said. Those services are in addition to existing outreach programs, such as the weekly evening meal provided free to anyone in need at the fellowship hall, a food pantry and a clothing ministry operated by the church and the Sheltering Tree.
The Points of Light Award, Gardner said, "was affirmation that yes, we're doing the right thing. We knew that, but it's nice that others recognize that."
Traister had won the Volunteer of the Year award from the United Way of Volusia/Flagler in 2009, and the church won the same award in the faith-based category last year.
"Their impact on the homeless is beyond measure, helping them access needed health care, transportation, extra food amongst many other needs," Laura Zublonis, the Volunteer Center Director of United Way of Volusia/Flagler Counties, said of the church and the Sheltering Tree, as the cold-weather center is known. (Its longer name is the Flagler County Family Assistance Center.) "First United Methodist Church of Bunnell's greatest impact is creating a vehicle whereby so many who live comfortable existences in our community—some of whom deny that there is a homeless problem—come in contact with people in genuine need—and those comfortable people become educated, learning that the homeless are not so different than the rest of us, but rather people genuinely trying to make a go of life in 21st century Flagler and Volusia Counties. It is amazing how central FUMCB has become."
The Point of Light Institute was the upshot of the first President Bush's call, in 1990, for a national, non-governmental organization that would encourage Americans to volunteer. The institute now claims to be "the largest organization in the world dedicated to volunteering and civic engagement," and says 25 million more Americans are volunteering today than did two decades ago. (The population has increased by about 60 million since.)
"I would describe Carla as a 'Carla of Many Trades'," said Charlie Ericksen, a volunteer at the shelter who regularly works alongside Traister (and a candidate for Palm Coast mayor this summer). "From the time she opens the door for the volunteers to join in, she is a whirlwind of action, from setting up the kitchen and table assignments, to putting the bedding on the cots, to joining in on the official welcome to the guests, when they arrive. If it's got to be done, she rolls up her sleeves and makes things happen. I've seen her sit and council a first-time guest, to help them fit in. Her feeling for people helps. But it is tough love, and those that don't belong or break the rules are gone. She is a 'point of light' in our community."