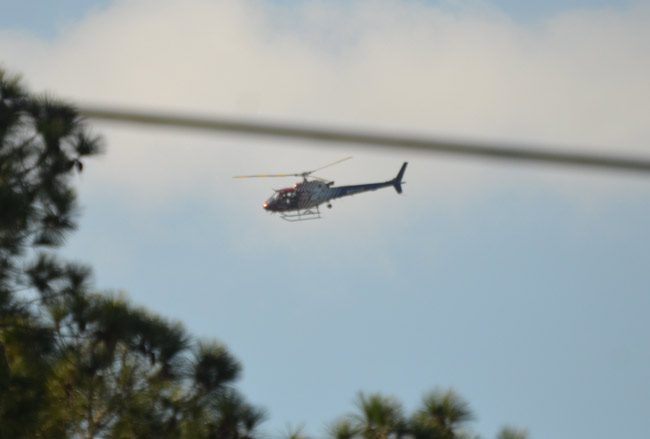 Last Updated: 5:09 p.m.
A five-hour standoff between Flagler County Sheriff's deputies and 39-year-old Kathryn Hunter in and around her house at 100 Point of Woods Drive in Palm Coast ended relatively peacefully in mid-afternoon.
Hunter had indicated she was armed and intended to end her life. That led to an air and foot search for her in late morning, when she was thought to be in the woods near the house, then to a stand-off as deputies got in contact with her when she was in the house.
When she stopped communicating, members of the Sheriff's Office's SWAT team went into the house and were able to take control of the situation peacefully: Hunter complied, and was taken to Florida Hospital Flagler. She was expected to be Baker Acted after that. A Baker Act is when an individual who is threatening harm to self or others is committed to a psychiatric unit in Daytona Beach for up to 72 hours, usually against the person's will.
"She had not harmed herself," a sheriff's spokesperson said of Hunter when the stand-off ended. The stand-off required Point of Woods to be shut down to traffic for several hours.
A weapon was seized and secured by deputies for safekeeping, but would have to be returned to Hunter if she is the weapon's rightful owner, a Sheriff's spokesperson said. She lives alone, and the sheriff's office is aware and concerned: "We have reached out to ACT/Stewart Marchman to express our concerns about this. We don't want to see her released without getting the help she needs," the spokesperson said.
The incident is the latest in a long string of encounters over the past five years between deputies and armed individuals that deputies negotiate and de-escalate successfully, without injuries to civilians or to themselves.
Hunter will not face charges.
The previous story is below.

Deputies and Fire Flight Seeking to Defuse Suicidal Situation in P-Section
Sometime around 10:30, Kathryn Hunter, the 39-year-old resident at 100 Point of Woods Drive in Palm Coast, informed a friend that she intended to kill herself. The friend contacted the Sheriff's Office, and deputies converged around the house.
Flagler County Fire Flight, the emergency helicopter, launched in that direction, and has been circling the area since, because early reports suggested that Hunter was in the woods near the house. But Fire Flight has not been able to lay eyes on her.
"They believe now that she may be indoors and armed so just for the safety of everyone they're asking people in the neighborhood to avoid the area," a sheriff's spokesperson said this morning. The advice, the spokesperson said, is to "shelter in place or leave the area."
Numerous deputies have established a perimeter around the house on Point of Woods, a neighborhood that branches off Belle Terre Parkway.
"Right now they're trying to contact her via phone to see if they can talk to her and talk her out of her plans."
Hunter is no stranger to authorities in the past few weeks: she was the girlfriend of Michael Bryce Curtis, the 36-year-old man who, less than two weeks ago (the morning of Jan. 9) informed dispatchers at the 911 center that he was worried that Hunter may have taken a lethal dose of medication in an attempt to end her life. But Curtis then went on to threaten that he would end his own life if authorities did not find Hunter. Hunter herself was at the house and responded to authorities, and to their questions, and appeared in good health.
But Curtis, who'd worked as a nurse at Florida Hospital Flagler, went on to drive around the neighborhood, then onto State Road 100, where he ended his life with a gun after parking his car by the side of the road.
At 11:05 this morning, Fire Flight returned to its base at the Flagler County airport. It was not immediately clear why the helicopter had returned to base. Shortly after 11:30 a.m., Fire Flight was back, circling above the P-Section neighborhood again.