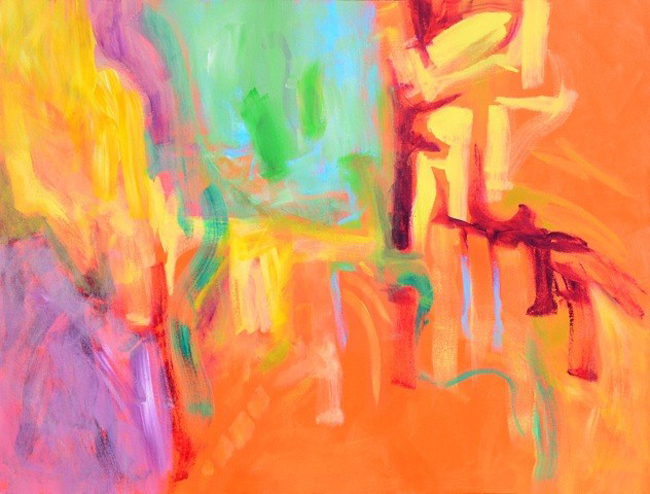 Whether art mimics life or life mimics art is one of those eternal questions that will always be more interesting to ask than to answer. This Second Saturday, the Flagler County Art League will once again do its best not to answer the question. Rather, it will creatively complicate matters further with the first ever "Art that inspires Poetry and Poetry that Inspires Art" show, a joint art and poetry exhibit that opens Saturday at 6 p.m.
This is the art league's fourth poetry competition, including one held in conjunction with the Gargiulo Art Foundation last summer. It's also the second "people's choice" poetry competition, for which poets arrive a couple of days before the opening, immediately after art is displayed, and write poems about the work. The poets then email their verse to Stephanie Salkin, the art league's poetry chair. At the opening on Saturday, those poems will be hung with the art and all show visitors can vote on their favorite. The winner of the competition will take home a piece of pottery from the art league's gift shop. Of course, there'll also be cash prizes for the regular professionally judged poetry competition, for poets who sent in entries ahead of time. Winners will read at 7 p.m.
The judge for the visual portion of the show is Robin Moore, director of the Art League of Daytona Beach, and the poets judging the poetry competition are Mary-Ann Westbrook, president of the Tomoka Poets Division of the Florida State Poets Association, and Carol Thomas, who has taught creative writing in the United States and Europe. Whether there'll be any Florida Charles Bukowskis among the art league's demographic is anyone's guess ("as the poems go into the thousands you/realize that you've created very/little"), but in any event the festivities should make for a fun and spontaneous evening.
The league received poems from out of the area for the main competition, as well as from area poets. The Florida State Poets Association helped in this endeavor, posting the competition on its website.
"We're trying to encourage all the arts," Salkin says. "We want Palm Coast to be a Mecca for artists of all types. We're working to make it an art coast destination. Local museums such as the agricultural museum are wonderful and appeal to a lot of people, but we also want to be able to appeal to people from major cities where they're accustomed to having different performing arts and that sort of thing. We want to be a well-rounded community."
Since Bob Ammon stepped down as gallery director, Wendy Berg Roth has taken up the post. She has high ambitions for the art league's coming year. Berg says there'll be 50 pieces of art for this particular show.
Roth, a former art therapist, says that some poetry already goes with submitted art. For example, in a photo by Denise Miles, Berg herself appears, or at least her angry darting eyes do, in the rear view mirror of her convertible, while in a gesture of frustration she brushes hair out of her face. The piece is called "Failure to Comply." Berg wrote a wry poem to go with it.
If you live in Palm Coast and know a thing or two about the most universally hated part of living in this town, then you already know what Berg's frustration was about.
Roth and Miles happened to be hanging out when the serendipitous "Kodak" moment materialized. "We were driving down the boulevard and you know we have these terrible red light things, the camera lights, and I have gotten two tickets by them," Berg says, "so I am like furious at those things. So now, I didn't actually get a ticket for this one because I was actually stopping. But I thought it'd be an opportunity to voice my opinion about those stupid red lights."
She also, among other pieces of her own, has one artwork depicting a dominant, deliciously black paper-textured crow—the crow is her "totem," she says—standing on what's a quilted table cloth. For anyone with the Bukowski's billion-blooded sensibility, this one should inspire some good poems.
Sharon Stone (the local artist, not the cigarette smoker), has a submitted a colored pencil piece in which the only rendered elements are a pheasant perched on a wooden fence in the foreground and a brown-spotted hound prowling up in the upper left corner of the composition. What artists like to call the "negative space" left behind is just the cool green of the paper. Stone usually depicts animals, but if not for the poetry theme she wouldn't have evolved her process into painting from a story. While the piece appears tranquil, with neither character appearing yet aware of the other, the story or poem behind it is somewhat dark.
"The reason why I did this is because my brother who lives in Ohio has a hunting dog who looks like that—he's a German Short Hair–that's what it's called—and he's teaching it to hunt pheasants which is kind of sad," Stone says, "because the dog's going to kill it."
Paul Beaulieu, a former creative director of almost 40 years at his own design firm, with his large painting of what looks like a cross-section of ocean crashing and lapping over some rocks, didn't take the show's theme too seriously, or at least too literally.
"It's inspired by what I see," Beaulieu says, "it's inspired by my experience, really, and I guess it could be poetry. It could be music, it good be what you see, it could be other people's art, it could be the art of the great masters, it could be a story that you read, it could be historical facts, it could be almost anything."
The absolute truth behind the piece, he says, was the natural "imagery" he saw during a trip to Marineland. "It's inspired by what I experienced there. The waves were breaking on the rocks along the shore. The sun was behind the cloud but it hits the water here, but this is in shadow here. I think any good artist has to be aware—that's the big word I'm looking for— of what's going on around them."
Roth says that the goals for future shows include opening them up to other counties and communities and offering more juried shows. Right now, the league has only one juried show, dedicated to photography.
A priority of the league's fundraising committee remains getting more sponsors, she says. "We're a non-profit, we kind of just manage on member dues, sales that we make from the art and from the store, and also from the classes and workshops that we give that are open to community," Roth said. Out of a total annual income of $72,000 in the league's latest financial report, membership dues generated $12,000, and income earned from such things as classes generated $41,800, while fund-raising generated just $7,000. The league is run entirely by volunteers.
For the next show, which has been tabbed "Go Coastal," the league will be sponsored by Watson Realty, with larger cash prizes than usual. "It's those kinds of things that are constantly improving and bringing our name out to the community," Roth says.
Soon, the league will also try to get sponsorship for a specific award such as a merit award. "So it gives advertising to the sponsor company and it also supports a non-profit," Roth says, "and the company could use it as a write off at the end of the year."