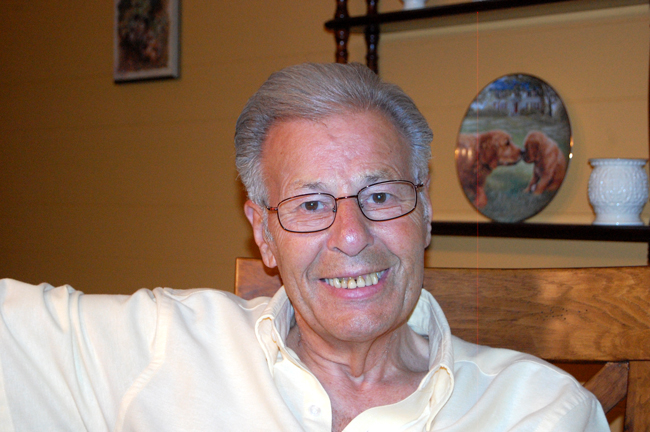 It's official. And it's not a surprise, really. Some things have a way of commanding the inevitable. After living less than two years in the city, Stan Drescher will be named Flagler Beach's poet laureate. The Flagler Beach City Commission will do the honors with a resolution Thursday—one that, by then, will have presumably corrected the punning misspelling of Stan's name as "Dresser" in the title (the resolution gets it right the rest of the way), though poetic license with names is something he'd understand, especially when it fits.
Before you know it Drescher will pen a poem featuring himself as a dresser spilling over with similes and challenges, as he has month after month: wielding poems the way Marx wielded manifestos, Drescher kicked off a campaign to get Flagler Beach's name painted onto the city's water tower at the south end of town, and succeeded, raising the money through private donations. He kicked off a campaign to have the other water tank, the squatter, fatter one next to the city's fire department, painted with something more becoming than pale white. He held a contest at Old Kings Elementary, where students vied for the sort of painting that would go up on the tank, along with a poem, and got results with that, too: a pair of kissing dolphins will soon be splashed onto the tank's flank.
And all along he's appeared before the commission, brandishing poems and verve with the energy of a teenager and the enthusiasm of a crusader with roadside beautification as his religion. Maybe the city thinks giving him the laureate designation will quiet him down for a while. Not likely. This is a guy who started going to college at 65, and who started writing when he was 70. When it comes to poetry, he has a lifetime's ambition ahead of him.
"It's funny, I'm not a reader, I'm not one of these highly intelligent people, but I enjoy my craft," Drescher said Tuesday evening. "I want to beautify Flagler Beach. I love my town, I love where I live, I just want to make sure everything is nice."
His day begins at dawn. Six a.m. Coffee. Then sitting down at the dining room table, in a home that sits just north of the water tower, and he writes. "That's how I do it. My head is clear. And whenever I have free time I write a paragraph, because I'm not a sports person, I don't play gold, I'm not a swimmer, so I enjoy that." But he still goes to New York four times a year to do what he's done throughout his career: teach people to be real estate brokers.
That's where he's from: New York City. Manhattan's Lower East Side, to be precise—one of America's most storied, culturally rich (and at one time slum-like) neighborhoods, the New World's Jewish rebirth where Russian, East European and now more Asian, Muslim and Latinized immigrants still cram on their first stepping stone to fortune and, for many, fame. The great composers Irving Berlin George Gershwin, the writer Henry Roth, the actors James Cagney and the Marx Brothers, the politicians Alfred E. Smith and Big Tim Sullivan—and Flagler Beach's poet laureate: all from the Lower East Side.
"He just inspires and exudes enthusiasm with that whole concept of poetry," Acting City Manager Bruce Campbell said of Drescher. It was Commissioner Steve Settle who recently initiated the notion of naming Drescher poet laureate, a rarity in American cities, particularly small cities. The United States hadn't had a poet laureate until the 1980s, when the Library of Congress decided to start the tradition by giving the honor to Robert Penn Warren for a year. Other laureates since have included Joseph Brodsky, a winner of the Nobel prize in literature, Robert Pinsky and, currently, W.S. Merwin.
As the resolution naming Drescher states, the poet laureate is charged with raising "the national consciousness to a greater appreciation of the reading and writing of poetry." That's a bit difficult in Flagler Beach, where by Drescher's estimation there are more painters than poets, and by anyone's estimation, the town's truest poetry is surfing. Knowing Drescher, that's likely to change a bit. He's not going to take his charge lightly. There's no sunset to his term. His poems are accessible and easy reads, requiring none of the labyrinthine treasure-hunting for obscure references or lexicographic mountain-climbing of modern poetry. And if there's a running theme to Drescher's poetry, it can be summed up in the last stanza of one of his recent gifts:
Let's give thanks we've been enriched
With passion to persist
Enhancing beauty in our midst
The reason we exist