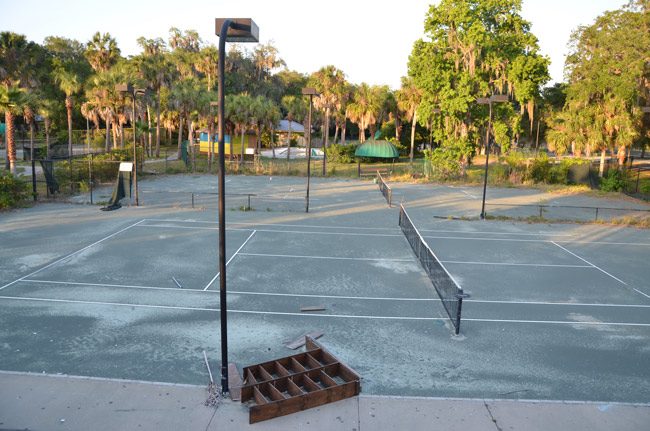 Crime tape went up at the abandoned Players Club in Palm Coast's Palm Harbor neighborhood Thursday afternoon (June 8), and the Flagler County Sheriff's Crime Scene Investigation unit was dispatched there after reports of an apparent suicide.
Clifford D. Van Gorden, a 92-year-old resident of Palm Coast's C Section, was found by the club's old tennis courts with a gunshot wound to the head.
His 50-year-old daughter had reported to the sheriff's office that Van Gorden had left a suicide note in his briefcase, which Van Gorden's 80-year-old wife had located after returning from the grocery store. In the note, Van Gorden told his family that he would be at the Players Club. He had listed his "final arrangements," according to a sheriff's incident report. A gun was missing from the house.
They had seen him only a few hours before, and initially, when asking deputies to search for him, had cautioned, according to 911 dispatch notes, that "when he sets his mind to something, he might not want LEO to get close to him." The acronym refers to law enforcement officers.
Deputies found Van Gorden near his white Hyundai at 1:30 p.m. He was unresponsive. "There were no signs of a struggle and nothing suspicious was discovered," the incident report states. Van Gorden was suffering from cancer and had been depressed, according to his family.
He was pronounced dead by Mark Thomas, a Flagler County Fire Rescue 22 paramedic, at 1:45 p.m. (That does not signify that the victim was alive in the interim, only that the actual time of death as officially recorded must wait for certain protocols to be fulfilled.) The scene at the Players Club was cleared at 4:15 p.m., after the Medical Examiner removed the body for an autopsy in St. Augustine, as is customary in such instances. A family friend recovered the vehicle.
It was the second suicide in two days. The afternoon of June 6, Richard Owen, a 49-year-old resident of Plantation Bay, was found by his mother at home after he shot himself in the chest. His father had also committed suicide several years before, according to an incident report, and Owens was suffering from a medical condition. Authorities followed the same procedures as they would two days later at the Players Club.
Social service agencies in Flagler have been concerned about suicides in the county–there were 26 in 2015, 19 last year–to the point of crafting an initiative, under the auspices of FlaglerCares, aimed at suicide prevention. That initiative is to launch in September, according to Carrie Baird, the group's executive director.