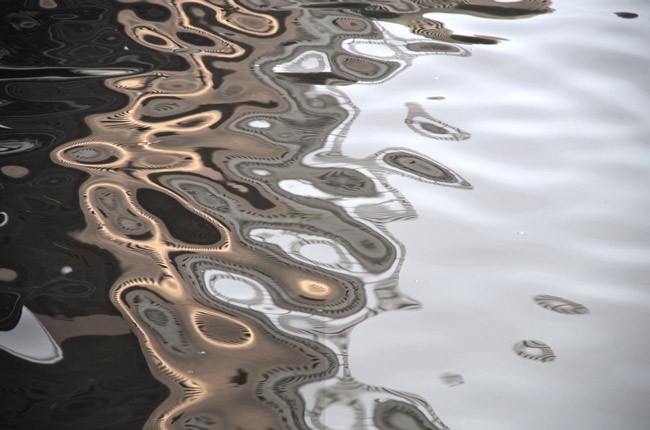 For the second time in barely a year, Flagler County government has taken a clunker from Bunnell.
A year ago the county took back the old county courthouse after Bunnell realized it was too much of a wreck for its budget to take on. The county ended up leasing the building to a Christian school, but with a taxpayer-supported $375,000 subsidy to the school to help refurbish the building. The school has 30 years to pay back the money, interest free.
On Thursday, Bunnell transferred the deed of another massive and much costlier clunker to the county: that of the Plantation Bay water and sewer plant, a wreck that Mori Hosseini, the developer of Plantation Bay, had wanted to unload for years, skirting state regulatory requirements and threatening to take the county to court if the county attempted to buy the utility at a lesser price than he wanted. In 2010 the county had estimated the cost of acquiring the utility at $2.6 million. It ended up buying it for more than double the price, not counting the additional millions for upgrades, even as the utility only aged, creaked and depreciated further since.
The county knew it was acquiring a ruin. It drafted Bunnell's help so it could get a huge loan on favorable terms—the sort of terms offered a municipality, but not a county government. It was a purely expedient deal, and when Flagler County no longer needed Bunnell, the two divorced–even as Bunnell City Manager Larry Williams claimed it wasn't a divorce at a joint meeting late last month. But that's only because the two sides had been in an arranged marriage of convenience.
Now the Department of Environmental Protection will play along and transfer the loan to the county. But while the county tried to put a happy face on its acquisition with a news release issued Thursday, the deal has only become more of a cesspool since its initial consummation two years ago, and not just because the sewer side of the plant is a wreck, something commissioners knew all along. But because the water treatment plant is in much worse shape than originally thought.
Plantation Bay's 1,600 customers can live with a crappy sewer system. It fits the bill But they're having a hard time drinking what has all the literal appearances crappy water: brownish and unappetizing.
"You can do the required treatment the state wants you to do to produce healthy water, water that's not going to hurt you, and still have it look bad, have a color to it, maybe even a smell," Commissioner Barbara Revels, who sympathizes with the residents' plight, said. "And in fact that's what those residents are getting."
The county rates Plantation Bay's water  "acceptable."
Residents consider that rating unacceptable, especially when soaked in the sort of significantly steeper bills they've been paying. "To go from $48 a month to $90 a month is an outrage," one Plantation Bay resident told a joint meeting of the county and Bunnell commissioners on Sept. 23 (when the commission at times sounded more defensive than transparent). But cost is only one part of the outrage, though those costs may get even steeper soon.
"It seems like you're all very happy with these arrangements and I really can't stress enough how we're not," another resident said, summing up the way many other residents felt. "We are the ones who are drinking the water, and we may not die tomorrow, but every time we get our bills in the mail, they're two, three times larger than what they used to be. And we get the quarterly report, how our water can produce cancer or many other illnesses. We are not happy, and we have questions. I'm not a politician. There's a lot of things I don't know. But we have questions. We want to know if the fees we're paying, all this extra money that has been added, is being used to improve the system or is being used to pay for the loan? It's like we mortgaged the farm, and with the money, we didn't fix the farm. So now, we have a big mortgage we're paying for, and it's still a fixer-upper. So how does this work?"
Part of the loan Flagler took out with Bunnell was supposed to help pay for improvements. So far, the system is not fixed, she said. "I see you patting your backs for working on this and we appreciate the time you put on it, but if you're going to ask us if we're happy, no, we're not. We're very worried. We don't know how we're even going to benefit from this change. We just don't know how things are going to improve. There's so many un knowns, and we're there every day, drinking the water, giving it to our children, our pets. Are all these questions ever going to be answered?"
The clearest answer is this: the county owns the plant, but the unexpected cost of improving the water plant is now somewhere in the range of $3 to $4 million. That's the county's estimate, suggesting that, when the actual cost is calculated, it may be steeper still. The county doesn't have that kind of money. It can only come from two sources: taxpayer money through a state grant that the Legislature would appropriate, or from Plantation Bay's ratepayers, through yet higher rates.
"What was not built into those initial rates was a new water-treatment system," County Administrator Craig Coffey said. "So that could be a $3 to $4 million project."
"Of course those improvements get placed on those who benefit from it, and the rates would have to go up because of it," County Commission Chairman Frank Meeker said. "That's why we're hoping to get the grant. We certainly don't want to raise the rates on them."
But that may be the only option. Commissioners acknowledges that in the list of Flagler priorities, when Flagler goes hat in hand before the Legislature, other plans, such as the Malacompra drainage system, are ahead of Plantation Bay. That's assuming there is even a desire on the Legislature's part to provide the kind of money Flagler is looking for, or that Flagler's two junior representatives in Tallahassee—Sen. Travis Hutson and Paul Renner, both first-term rookies—have any pull at all to steer money this way.
Commissioners are not regretting acquiring the utility: they see the acquisition as bailing out residents of Plantation bay rather than bailing out Hosseini, the developer, thought they also realize what position they've been put in by years of neglect at the plant.
"I think the original intent of the purchase was to take over something that wasn't meeting the needs of Flagler County residents and hoping to get it headed in the right direction," Commissioner Charlie Ericksen said. "The developer had no interest in putting money in it, had resisted and turned his back on the state and I don't think the state made any efforts to make Mr. Hosseini to go along with orders issued by the state. We seemed to assume in the beginning that the water was OK, and that the sewage was the worse. It's turning out to be just the opposite."