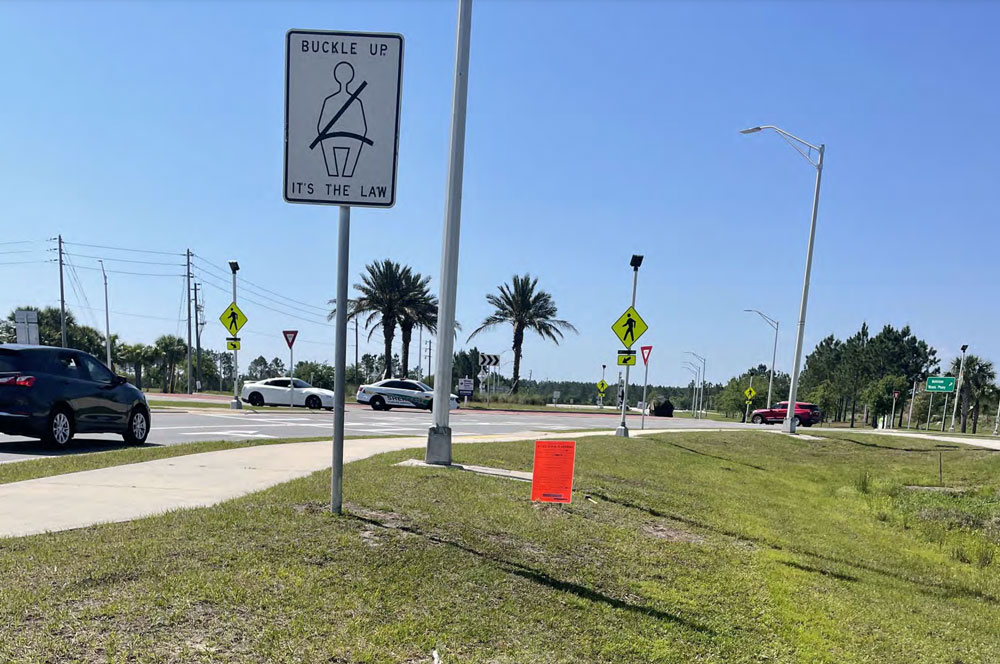 The Palm Coast Planning Board Wednesday evening recommended allowing Palm Coast Park, already one of the city's largest planned developments, to add 750 more homes to its permitted number of units in the latest in a series of expansions.




The board's 4-1 recommendation, which now goes before the City Council, followed a long and pointed discussion about affordable housing led by Planning Board member Sandra Shank. She insisted that the approval be contingent on language that compels developers to ensure that affordable home ownership–not just subsidized rentals–be part of the deal.
"I think this is an opportunity for us to demonstrate to our citizens that we are concerned about the needs of the working class people," Shank said. A motion to recommend the project without Shank's demand failed before her proposal carried the evening.
The Palm Coast City Council originally approved the 4,677-acre development of regional impact, or DRI–a term applied to very large scale, regulated developments–in 2004, allowing for 3,600 dwellings, plus 3.2 million square feet of commercial or other non-residential uses in Palm Coast Park.
The council has approved eight amendments since, gradually allowing for the conversion of commercial space to residential homes or adding entitlements for more homes–360 more in 2014, one thousand more in 2018, another 744 more in 2022.
With the addition of yet 750 more as recommended by the planning board, Palm Coast Park will have nearly double in size from its original projection of 3,600 homes, to 6,454. Wednesday's recommendation in effect would allow the development to grow to a size equivalent to Bunnell, times two, within the original DRI.




Palm Coast Park straddles U.S. 1, from Palm Coast Parkway all the way to Old Kings Road. It includes a rectangular swath along that entire distance on the west side of U.S. 1–what Palm Coast Mayor David Alfin likes to refer to as "the frontier"–as well as two large swaths on the east side of U.S. 1, including the entirety of the vacant land behind Indian Trails Middle School and Belle Terre Elementary, and a large square of land north of Palm Coast's L-Section that would be as large as the L-Section.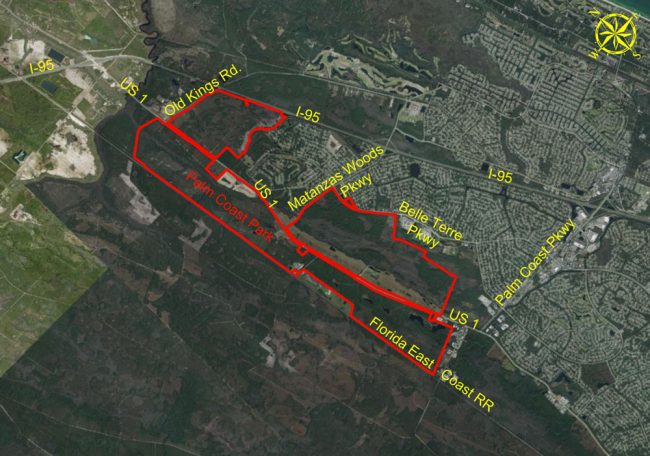 The most prominent development in Palm Coast Park to date is Sawmill Creek, which started with 259 homes in 2020, with some 1,700 homes projected at build-out. It is a development by Palm Coast Florida Holdings, with five tracts still undeveloped. Sawmill Creek has provided a 30-acre site for an eventual school.
The addition of 750 homes would be accomplished by converting 90,000 square feet of from what had been slated for commercial uses to residential uses, and by increasing industrial uses by 300,000 square feet.
The city's planning staff found the ninth amendment consistent with the city's comprehensive plan, "as it will come create opportunities for residents to work, shop, engage in recreational activities and attend church or school in close proximity to their homes," City Planner Bill Hoover said. "Additional homes will create demand for developing some of the commercial and office entitlements that they haven't really developed very much except up there at Matanzas [Woods Parkway] and U.S. 1. The additional 300,000 square feet of industrial uses will encourage the development of hopefully a large employment center or employment centers along US Highway One. And the proposed changes are not expanding development in areas that are not served by adequate infrastructure."
All transfers of land form one use to another "are in harmony with neighboring tracts," Hoover said. A second application dealt with the same DRI and its changes, but at a more detailed, zoning level.
Land use attorney Michael Chiumento, who is representing the developer, said when the DRI was approved 19 years ago, "it was always intended to develop and morph as the community developed and as the economic conditions came about. So it always provided for flexibility of moving things around." Since then, some $24 million worth of infrastructure has gone into the ground, Chiumento said, with $7 million contributed by the original developer, and the Matanzas Woods Parkway interchange resulting from it.




Ownership changed from Palm Coast Holdings to Byrndog in 2018. Byrndog was established by Douglas Properties, the company that also acquired much of Town Center from palm Coast Holdings. Technically, Byrndog is referred to as the "declarant," rather than the developer, being the entity that "has responsibility and control over the DRI, the PUD and how it's changed over time to ensure that land uses kind of comply with the initial vision of the region," Chiumento said. The declarant can also be the developer and the owner of a property, but doesn't have to be: for example, it doesn't own or develop Sawmill Creek, but oversees that portion of the DRI.
Traffic studies are conducted every two years. "When it's all built out, the project will generate about 10,000 trips up and down U.S. 1," Chiumento said.
Shank, the planning board member, raised her questions about affordable housing. She wanted more clarity on the affordable housing language in the documents, which was not presented. "I think it's important to actually see the language if we're going to approve additional units," she said. "We need to be able to make sure that we secure affordable housing and not just multifamily, but homeownership as well." What she could see pertained to apartment housing, not necessarily affordable housing.
The matter is spelled out, to a degree, in the DRI documents. But Shank was not satisfied with its vagueness: "It just simply says the declarant shall promote diversity of housing products to be developed throughout the DRI property and tax credit tools provided by state and federal governments, i.e. Florida Housing Finance Committee. That's it," Shank said.
Chiumento said the obligations were satisfied in the original DRI. Shank insisted that subsequent analysis of affordable housing components are not apparent, especially in light of existing difficulties for working people to find affordable homes. She said stronger language compelling the developer to address affordable housing has been stricken, leaving the language she'd just read out loud to the chamber.
Again, Chiumento said the language was stricken because the the affordable housing components in the original DRI had been satisfied.




"But that satisfaction doesn't take into consideration the additional units that you're requesting, correct?" Shank asked, since the DRI's approved dwelling units has nearly doubled since its original version.
"I can't answer that question," Chiumento said.
"So that's that's an issue. You're you're proposing a significant increase of the number of units without addressing what was originally in the DRI," Shank said. Chiumento said the original language can be added, if that's what the city wishes.
"I will propose that the language be reinstated as originally stated," Shank said. "If you're requesting additional units, the language as originally stated takes into consideration the needs of the citizens of this community. That's a direct impact. If people cannot afford to live where they work, that's a concern. And we know that we have an issue with affordable housing, and the original language for this DRI would address that."
"Affordable housing is very subjective," James Albano, another member of the board said. "What you consider affordable housing might be different than me. So what purpose does affordable housing serve in the language of the in the proposal?"
"The definition of affordable housing is that a person, a family, is not spending more than 30 percent of their gross monthly income on housing allowance," Shank said.
That led Chiumento to offer a way forward: "I don't want to wordsmith everything, but we are certainly agreeable to adding into recommendation to council that the appropriate language to address affordable housing as it needs to be defined in today's world be addressed," he said. The city "wants to address that issue. And if the language that's in there today does not satisfy you, we can go back and work through the next few weeks with council and staff on getting accurate language in there."
A motion to recommend the proposed DRI amendment without language addressing affordable housing failed, 3-2.




"So we've been on this board for a long time, we have never in all the meetings that I've been to have stated that there needs to be affordable housing in the project," Albano said. "Why why are we cherry picking this project for affordable housing versus that 15 or 20 previous in the last two and a half years?"
"We're not cherry picking this project," Shank said. "We're just holding this project to what the original DRI stated. We're not changing it."
The motion including the language restoring the inclusion of affordable housing passed, 4-1, with Shank, Charles Lemon, Dave Ferguson and Suzanne Nicholson in favor, and Albano opposed.
There will be three hearings before the City Council: one addressing the DRI amendment, and two regarding the more zoning-related master-planned development amendments.