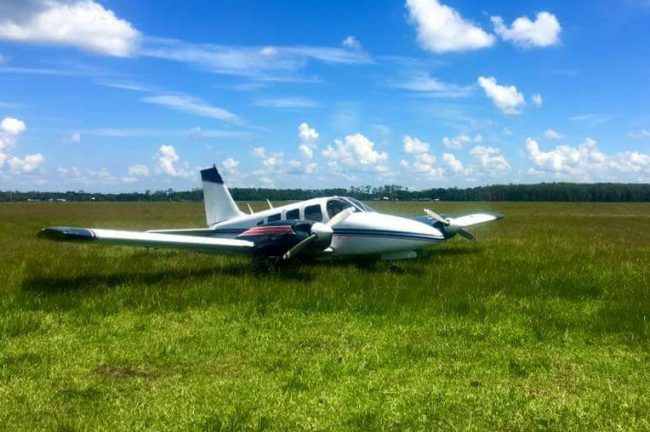 A twin-engine plane was forced to land in a vacant field off of County Road 304 at 10:45 this morning, with two people on board. Neither was injured.
The plane, the two people reported to authorities, had developed engine problems, but managed to land without causing much damage, though at one point rescuers rushing to the scene from Bunnell thought they had detected smoke rising from a field, and authorities feared the plane was on fire.
That proved not to be the case. The challenge was for rescuers to find a way to get to the pilot and the passenger. Flagler County Fire Flight, the emergency helicopter, had been launched to assist rescuers in finding a way into the area of the landing. The area is west of County Road 135 and east of Clegg's sod farm. Land owners at the site were helping the pilot and the passenger.
It's not yet clear where the plane was coming from or heading to, though it appears the aircraft emergency may have been called in from the county airport.
Once the pilot and the passenger reported no injuries, most of the units heading for the site were cancelled.
The last time the county had an aircraft emergency, similar circumstances developed: a single-engine plane was forced to land in a field in Hunter's Ridge last Dec. 17. Its one occupant survived, but with severe injuries.
Anyone with images of today's aircraft emergency is welcome to send them to [email protected]. Please specify if you'd like the images credited, or your identity kept confidential.

The following video was contributed shortly after the forced landing: