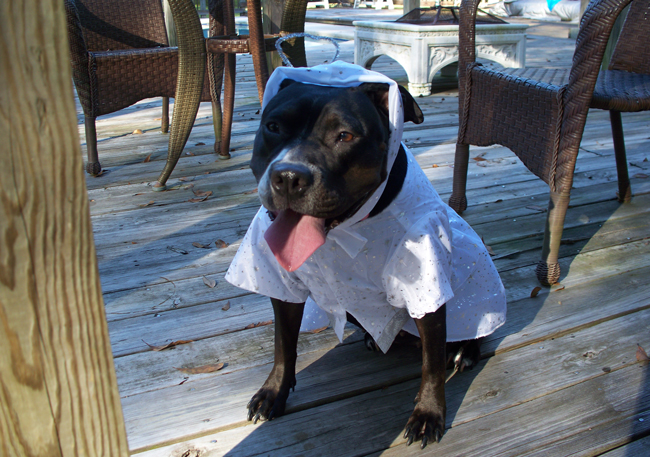 A week ago–on March 12–at Second Chance Rescue in Bunnell, a 5-year-old girl and her 3-year-old brother were attacked twice by a pit bull, or a pit bull mix, as the children waited in a van for their mother, a volunteer at Second Chance Rescue. The dog attacked the mother when she went to her children's rescue. The attack provoked an extended debate about pit bulls and Second Chance Rescue, prompting Heather Andreu to contribute the following from her experience with the shelter. For those interested in helping the family victimized by the dog, you may reach the children's mother at this email address. Please do not contact her for polemical purposes, however.

By Heather Andreu
As a person who was recently bitten by a large dog that was wandering in my neighborhood in what was an unprovoked incident, I know firsthand how terrifying and traumatic the dog attack that occurred last week at Second Chance Rescue was for the victims. Rather than focus on the controversy surrounding the attack, I would like to share my own experience with Second Chance Rescue.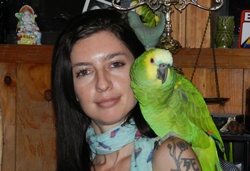 Last year I decided to adopt a dog. I ended up stumbling onto the website for Second Chance Rescue. While perusing the pictures and stories of available dogs, I found several that sparked my interest. I filled out a detailed application and was contacted immediately.
A volunteer, Dana Conway, spent a great deal of time communicating with me and examining all the dogs I was interested in. Since I already have a small dog, I expressed concern that I absolutely could not bring a dog with any aggression into my home. As a result, one of the dogs I had chosen was quickly eliminated, because Dana was honest and forthright as she explained how that particular dog did not get along with other dogs.
My list was narrowed, with most of my interest focused on a pit bull mix named Gigi.
Before she was taken into Second Chance, Gigi had been locked in an abandoned building and left to suffer what would have been a slow, painful death by starvation. By the time she was rescued, Gigi was so emaciated that the vet cautioned she might not survive. A meeting was scheduled, and I was introduced to Gigi, a happy, healthy, and friendly dog.
Over the next few weeks, we had several meetings and also introduced Gigi to my dog. The volunteers handled the proper introduction of the dogs, explaining dog behavior to me while assessing whether the dogs would get along. The entire time, it was obvious to me that the first priority of the rescue was finding the best match and ensuring that their animals went to the appropriate home. I adopted Gigi and am pleased to say that I brought home a socialized, well-trained, and housebroken dog. Gigi the pit bull is now a cherished member of my family.
Without Second Chance Rescue, Gigi would not have survived. Second Chance takes in some of the worst cases of abused and neglected animals, often bearing the burden of crippling vet bills. For these animals, Second Chance is not only a second chance. It is their only chance.
I recently spoke to Dana about the incident last week, and she was distraught. She was deeply concerned about the welfare of the family and had just visited them. Dana confessed that the tragedy was so unexpected that she still did not understand how or why it happened since the dog's history was largely unknown to the rescue. Dana was also understandably confused as to why the media was focused on sensationalizing the story as a pit bull attack when the dog's previous vet documents listed the dog as a Lab/Boxer mix.
She also said that the victim of the attack was recovering and was heartbroken over what had resulted over the incident. The victim bears no ill will toward the rescue and still supports Second Chance. My question is: If the victim of the attack still supports the rescue, shouldn't we?

Heather Andreu is a student at Florida State College-Jacksonville. Reach her by email here.