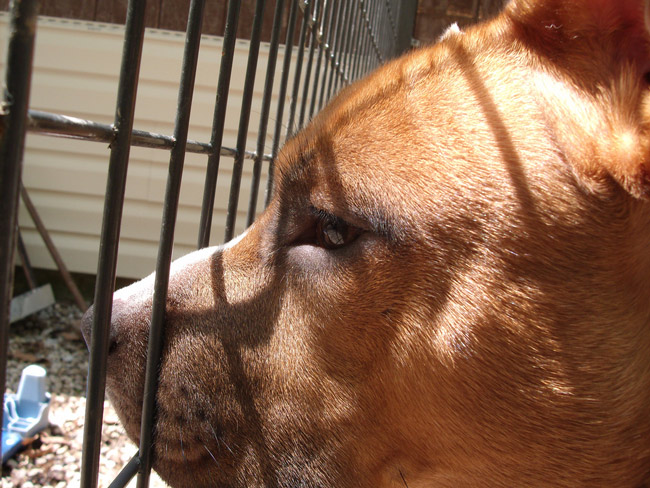 By Susan Clary
After a young girl was mauled by a pit bull terrier in 1989, Miami-Dade banned the breed. And before long, the county shelter was destroying thousands of dogs, stray and owner-loved, that bore a resemblance to the pit bull.
Miami-Dade is not alone. A wave of breed-specific legislation swept the nation, targeting beloved dogs with a broad brush that public-health experts now agree doesn't work and isn't appropriate.
In fact, a year after Miami-Dade passed the pit-bull ban, the state of Florida made it illegal to discriminate against dogs because of their breed, but gave Miami-Dade an exemption. Now, for the first time in 23 years, two bills are moving through the Legislature to remove this exemption.
Yet for reasons that appear to include money, Miami-Dade Commissioners are fighting hard to keep the ban.
They met Tuesday night, determined to stall a Tallahassee vote that could lead to the ban's demise. Instead, they suggested the question be put to voters in August, when few voters turn out.
Better these commissioners allow the repeal to go forward, given all that we know about the failure of these bans.
In the interests of full disclosure, I run a small-breed dog rescue in Orlando and serve on the board of the Miami Coalition Against Breed Specific Legislation. In other words, I know something about this issue.

What you should know is that these bans are ineffective and fraught with unfair consequences. Research by the American Society for the Prevention of Cruelty to Animals shows breed-specific bans do not improve public safety. The U.S. Centers for Disease Control discourages such bans because of the inaccuracy in dog-bite data, the difficulty in identify dog breeds and the endless, needless slaughter.
Besides, other laws exist to deal with dangerous dogs.
So why do Miami-Dade commissioners so badly want to preserve the ban? Why, in the middle of their meeting, were two commissioners text-messaging the bill's sponsor, state Rep. Carlos Trujillo, asking him to withdraw the legislation?
It's about money, pure and simple.
Miami-Dade stands to lose millions of dollars in fines and penalties if the ban is lifted. Call it: pit bull blood money.
Here's how it works: If you're caught with a pit bull in Miami-Dade, you're fined $500. If you don't quickly appeal or surrender the animal, that fine increases to $10,500 after 51 days. If you fail to pay, a lien can be placed on your home, even if you're just renting. To sell the house, the owner must pay the lien.
Between 2009-2011, records show this scheme added more than $1.7 million to Miami-Dade's bottom line.
During that same time, the county killed more than 1,000 dogs judged to be pit bulls, many taken from their families.
People don't want to see innocent dogs killed. And experience shows sweeping breed-specific laws don't work.
The Florida Legislature should do the right thing for good dogs and good owners. Lift the ban.
And rather than focusing on fines and liens, Miami-Dade should establish a strong spay-neuter policy, strengthen its anti-tethering ordinance and crack down on owners who keep dogs, not as pets, but for fighting, guarding and image enhancement.
It's time to end the shameful slaughter of innocent dogs.
Lift the ban.



Formerly a reporter for the Tampa Bay Times and Orlando Sentinel, Susan Clary is a freelance writer in Orlando. She can be reached here.