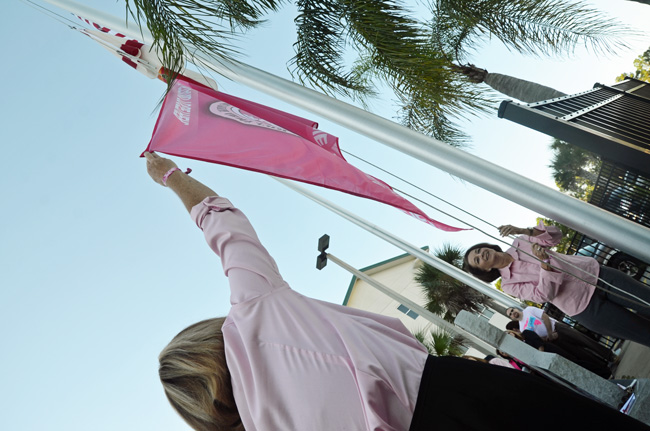 At one point during the Pink Army flag-raising ceremony at the Government Services Building, before the sun had yet warmed the coolest morning since spring, School Board member Colleen Conklin asked the assembly of some 60-some school and county staffers who among them knew someone with cancer. Most hands went up.
"I don't know anyone who is not touched by some type of cancer," Conklin said. "Our schools, our Flagler families, our students, our parents have all been touched."
Others who spoke made the point in what turned into a litany of the disease's indiscriminate toll: School Board member John Fischer spoke of both his parents and his wife's mother dying of cancer and two much younger cousins getting the diagnosis of a disease that, he said, "has no age limit." Gail Wadsworth, the clerk of court, spoke of seeing her father contend with malaria until he thought he was having another bout of it in 1976: he wasn't. It was cancer, which took his life in 1978. County Commissioner Charlie Ericksen revealed his own bout with skin cancer years ago, and losing both his parents of cancer in their early 60s. County Commission Chairman George Hanns lost his mother to a brain tumor when she was 32 and he was just 12.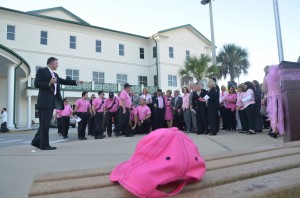 Death's history in the United States is etched primarily on two scythes: heart disease, which claims 600,000 lives a year, and cancer, which claims close to 600,000 lives a year. Lung cancer accounts for a quarter of those deaths. Colon and rectal cancers are second, among men, followed closely by breast cancer among women, which claims 40,000 lives a year. That's deaths. But some 300,000 cases of breast cancer are diagnosed every year. The only silver lining: death rates from the disease began to decline around 1989, as awareness and early detection rose.
That's what the Pink Army is about.
Mobilized every year in Flagler by Florida Hospital Flagler's John Subers, what's come to be known as the Pink Army focuses awareness on breast cancer for a month through proclamation (this morning's flag-raising was immediately followed with a proclamation at the County Commission meeting), flag-raisings, sporting events such as Sunday's upcoming 5-K run starting and ending at the hospital, the wearing of pink by county and city firefighters and other such displays of solidarity.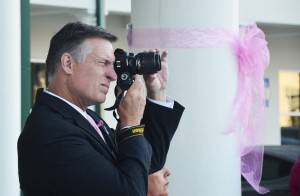 Pink flags have been rising over Flagler since Oct. 1, when Woody's BBQ in Palm Coast raised the first pennant. Monday's flag-raising at the administration building was soon followed by another in front of the Flagler County Chamber of Commerce, where Jack Howell, the retired Marine colonel, raised the flag with Kan Mattison, Florida Hospital Flagler's CEO, who'd also been at the county administration flag-raising.
"You all look marvelous in pink," Mattison had said there to the assembly, dressed in its own colors of dawn. Mattison singled out Tax Collector Suzanne Johnston, whom he called the "force majeure as it relates to cancer awareness." Johnston appeared not to have a non-pink stitch of visible clothing.
"Research to find a cure may not be something we can do," Mattison said, "but there are some things we can do." He cited the provable results of early detection and awareness, which have helped extend life expectancy for those diagnosed.
The next major event for the Pink Army is Sunday's 5-K run. Details appear below. More images from this morning's ceremonies appear below the information on the 5-K run.

Florida Hospital Flagler's 5-K Run Sunday
Florida Hospital Flagler's 5-K Run and Walk for breast cancer awareness is scheduled for at 7:45 a.m. Sunday, October 12, starting and ending in front of the hospital. The run, which includes a 1 Mile Support Walk, is part of Palm Coast's Running Series.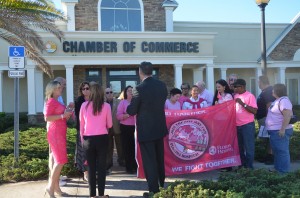 Awards will be given to overall first-place male and female winners, as well as first-, second- and third-place runners in 15 age groups. In addition, corporate, group and family teams will be recognized for the most enthusiasm and participation. The awards ceremony will follow the 5K race.
Individuals can register and form teams to compete in the event. The registration fee for adults is $25, and registration can be done by walk-in (at the Palm Coast Community Center 305 Palm Coast Parkway NE) or online prior to 5 p.m., October 7. Mail in registration is also $25 but must be postmarked no later than October 1.
Registration for adults is $35 the day of the race. The elementary school rate (grades K-6) is $5. Teen/student rate (grades 7-12) is $10. Kids fun run for ages 7 and under is free with a $5 fee for a tee shirt. There is no charge for military with valid identification. The registration fee is non refundable. For on-line registering and more information go to www.PinkArmy5k.com.
Register at www.palmcoastgov.com/PinkArmy5K. Entry fees and registration deadlines are as follows:
$25 Online and in-person advance registration – closes 

5 p.m. Oct. 7

 (in-person registration 

8 a.m.-5 p.m.

 weekdays at the Palm Coast Community Center, 305 Palm Coast Parkway NE)
$25 Mail-in advance registration, c/o Pink Army – must be postmarked by Oct. 1
$35 In-person registration – available at the Palm Coast Community Center 

8 a.m. -5 p.m.

 

Oct. 8-10

$35 Day of race – 

5:30-7:30 a.m. Oct. 12

 at Florida Hospital Flagler
$10 Teen rate – grades 7-12
$5 Elementary student rate – grades K-6
Free Kids Fun Run – ages 7 and under, non-timed, $5 fee for race T-shirt
Registration is free for veterans with military ID
Those who pre-register by Oct. 7 will receive a T-shirt, while supplies last. Please register early so that enough shirts can be ordered! Water stations will be available along the route, and refreshments will be served at the awards ceremony. Packet pickup will be 8 a.m. to 7 p.m. Oct. 10 at the Palm Coast Community Center.
All proceeds will go toward assisting qualified patients in our community who are in need, helping to pay for mammograms, breast ultrasounds, stereotactic breast biopsies, education and other specific diagnostic services to aid in the early detection of breast cancer.
"I am proud to work with the City and the Pink Army on this race," said Pink Army Chairwoman Helga van Eckert. "What a great way to get the community engaged and educated on the importance of screenings.  I am also proud that the proceeds of the event will stay right here in Flagler County and assist those in our community in need."
The 5 K run and walk is a yearly event launched in 2010 by the hospital. This year's co-chairs are Flagler County Economic Development Director Helga van Eckert and Preferred Management Services owner Lea Stokes.