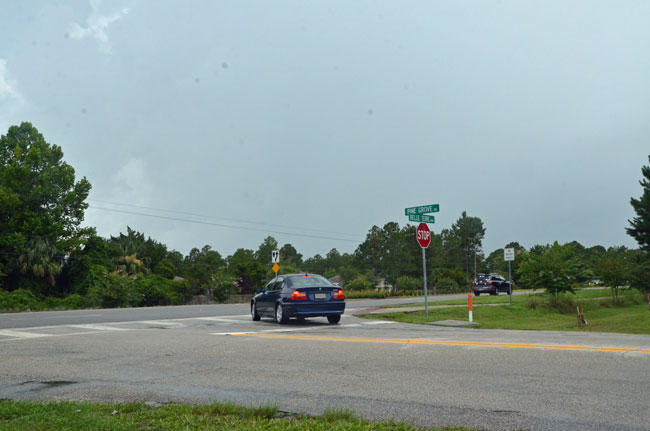 Last Updated: 8:30 p.m.
Thomas Gerald Trudell, a 65-year-old Palm Coast resident riding his motorcycle on Belle Terre Parkway, was killed Sunday morning when a pick-up truck pulled in front of him at the intersection of Belle Terre and Pine Grove Drive.
The wreck took place just before 10 a.m. Trudell, according to a Florida Highway Patrol investigator at the scene, was riding north on the inside lane of Belle Terre (meaning the lane closer to the median). He was just behind a pick-up truck that was driving north on the outside lane. Meanwhile on Pine Grove, Juan Godoy, 54, of Palm Coast, had pulled up to the stop sign in a Chevy pick-up, intending to make a left to go south on Belle Terre.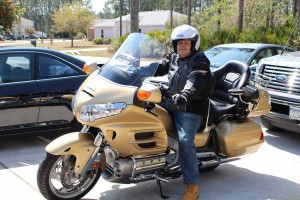 The pick-up driver going north on Belle Terre had his right-turn signal on, intending to make a right turn onto Pine Grove. For reasons FHP has not yet determined, Godoy pulled out before the other pick-up truck made the turn. As he did so, Trudell's motorcycle struck the Chevy. "The motorcycle ends up hitting the right-front portion of the bed and the driver's side door," the investigator said.
Trudell was killed at the scene. None of the other drivers were injured. Maria Godoy, 51, was riding with Juan Godoy. Speed is not considered an issue at this time. "It doesn't appear that weather was a factor, traffic was described as very light at that time," the investigator said. Godoy's blood is being analyzed for alcohol, but that's routine in any such crash that FHP investigate. Godoy provided the sample voluntarily.
The pick-up that made the right onto Pine Grove was not damaged. The Chevy was operational after the crash, but is in FHP custody for analysis. One lane on Belle Terre northbound was blocked as investigators did their work.
Trudell was not wearing a helmet, the FHP investigator said–an odd omission, considering that Trudell, on his Facebook page, featured his helmet prominently in some pictures, wearing it, or in one case featuring it in a portrait alongside a cup of coffee and a slice of cake.
Trudell was riding a 2006 Honda GoldWing motorcycle, which he'd ridden to the extremes of the nation–to Madawaska, the northernmost point accessible by road in Maine, and to the extreme southern edge of Key West. Originally from Vermont, He loved his motorcycle, and had once referred to the wording of the Honda ad for the GoldWing–"combines the economies of a lightweight with the vim and vigor of a heavy"–as "the best part."