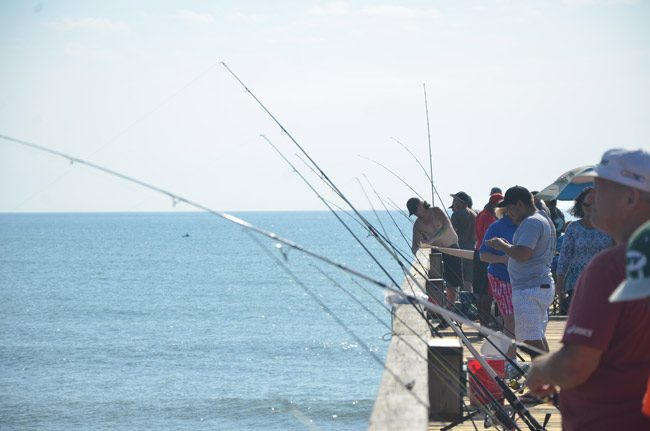 Six days after its soft reopening and eight months after it was cut down by almost a quarter, shut down, re-planked and rewired, the Flagler Beach Pier had its modest, official ribbon-cutting Saturday morning as local officials and fans gathered under the structure's A-frame to congratulate each other for a job finally done. Those who were benefiting most from the pier's reopening–the fishermen, the strollers, the sun-worshippers, the people-watchers–were largely indifferent as they did what they were there to do, on the pier itself and far from the speechifying and ceremonial scissoring.
They were, in any case, living up to what Flagler Beach City Manager Larry Newsom was saying to the gathered pols: "When we open this up to the public we want the public to be able to use it from A to Z."
"I know that there's a lot of fishermen that are happy they can be back out there," Flagler Beach Mayor Linda Procencher said, even though the section of the pier closest to Europe is now 163 feet closer to the city's shore, compliments of Hurricane Matthew last October. That was what necessitated the nearly $1 million repair over the past eight months, accomplished by Orlando-based Construct Co. (a heavy-duty building company that has the distinction of being led, for a change, by women: its vice president, Lindsay Buchanan, was among the gathered on Saturday's occasion).
"Hopefully the next one will be even bigger, longer, stronger and better," Provencher said, referring to what she hopes will be a pier twice as lengthy as this one when all is said and built: Newsom has been speaking of building a concrete pier 1,300 feet in length if not more, possibly alongside the more rustic one, though to do so the city must know where its money would come from. The city itself will not be able to afford it on its own.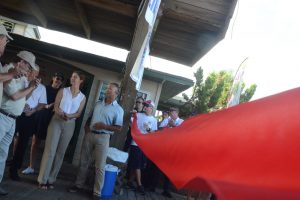 The entire Flagler Beach City Commission, the entire Flagler County Commission and Palm Coast Mayor Milissa Holland were at the ribbon-cutting, and many among them spoke a few words. Since the history of the pioer's partial destruction and reconstruction had been told a few dozen times over the past few months, the most interesting story told Saturday morning, by City Commission Chair Jane Mealy and the Hilton garden Inn's Loulou Goodell and Kim Tilly, was that of the new chairs specially built for the handicapped to make the beaches accessible to people in wheelchairs.
The chairs are made of simple PVC pipes and enormous, balloon-like wheels: they're what a wheelchair would be if the engineer of Humvees had made them. Oddly and inexplicably, they're almost, pound for pound, as expensive as Humvees: the things cost $1,220 each, and are acquired through a place called Tiger Medical in Winter Haven. But Goodell and Tilly were looking for a project to do through the Hilton's Care Committee. Fund-raising for the chairs and making the chairs available seemed like an excellent idea. They decided to launch it in Flagler Beach, with plans to have these beach wheelchairs all the way up and down the coast.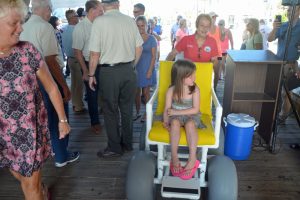 Mealy was particularly excited about that project. "It's really a wonderful, wonderful project to help people out," Mealy said, adding a little substance to the ribbon and introducing Goodell and Tilly.
"We want to raise as much money as we can and get as many beach chairs as possible," Tilly said. "We want it to be for Hiltons but we want it to start at the pier because this is our home county, and we've lost so much with Hurricane Matthew that we want to start here. The next two areas we want to do is Gamble Rogers State Park and Varn Park." Florida Hospital Flagler, she noted, will match dollar donations for the chairs.
A few others spoke, they cut the red ribbon (the 194th ribbon-cutting for County Commission Chairman Nate McLaughlin, who has collected a few more ribbons than he has bi-weekly paychecks from his commission job), and many went on to take a walk on the pier, without paying the fare.