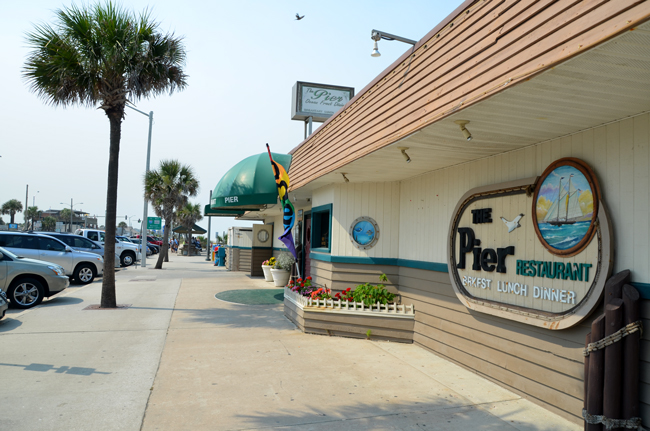 The Pier Restaurant in Flagler Beach will have a new owner.
Restaurants switching ownership isn't usually news. This one is, because the Pier Restaurant is owned by the city of Flagler Beach, it is an iconic property that helps defines the city's image, and the current lease holder, Kaitlin Meyer, lost interest in keeping her lease—which was due to run out in 2012—years ago. It showed: the restaurant has been more of a dive than a dining experience of late. A report the city commissioned in October said as much. "This icon location today does not promote the city the way she deserves," the report stated. "This is the flagship and identity of Flagler Beach." Instead, the report concluded, the property was dragging down the city's reputation.
Raymond Barshay, owner of River Grille on the Tomoka in Ormond Beach and Crabby Joe's in Daytona Beach, began negotiating with Meyer last year. But he could not simply assume her lease. He had to go through the Flagler Beach City Commission—and do so in public. The process took a year, innumerable meetings, wrangles and even a little brinkmanship: it appeared on a few occasions as if Barshay, who was willing to invest several hundred thousand dollars into the property to spruce it up and turn it into a American cuisine destination.
Thursday afternoon, Barshay and the city commission finally agreed to a long-term lease: 10 years, with three five-year renewals. Barshay will pay $3,000 in rent, with built-in rent increases beginning in the third year and every year after that. The city would get 2 percent of gross sales on sales above $1 million. There was a lot of haggling over an outdoors deck, which Barshay wants: who would build it, when, at what cost. In the end, Barshay agreed to secure the permits for it all, including a critical permit from the Division of Environmental Protection (which is still questionable).
Should something not work out, either side can opt out of the least by Sept. 1, with 30 days' notice. That's the so-called "drop-dead" date for either side. Beyond it, both sides are committed.
"It's not just a drop-dead date for us, it's a hammer," Drews Smith, the city's attorney, said. "The down side that's being expressed is just the concern that you don't get the deck, you lose interest in the property, you walk away, and say, go ahead and sue me, which is a position Commissioner [Steve] Settle is trying to avoid."
"Yeah, I guess, that can happen any time," Barshay said. "I don't know, that's not a kind of business plan that I've set up, but anyway. I don't know how to respond to that." He added: "By Sept. 1, you would have me or you would be doing another RFP [a request for proposal] before the end of the current lease."
That's what the commission is trying to avoid: there's not a long line of interested restaurateurs, though some Flagler Beach-based restaurant owners were resentful of the city not giving them better opportunities to vie for the property.
The bait and tackle shop at the pier, which was part of the original lease, has been severed from it. The city will keep total ownership of the shop and try to make a go of it there. And there is no provision in the document to alter the lease in the future. But both sides can amend the agreement whenever they want.
Settle specified that he wasn't certain suing would be the best approach. He predicted that 25 years from now, the people of the future will look back on this agreement and say "we did a good job." But he added: "I would have one reservation, and I really regret not putting this out for RFP. My only regret is that I'm not completely certain we couldn't have done better, but I thank Mr. Barshay for working for us and I think we did a pretty good job."
City commissioner Marshall Shupe, speaking from written remarks, spoke of the degraded conditions of the restaurant as less than an iconic location. "Our city needs to have this restaurant rebuilt and opened ASAP. Now is not the time after all these years and all the negotiations to start over." Commissioner Kim Carney thanked the previous commission for "setting this up" and endorsed the new plan.
"I really feel we should have gotten more money out of you, Ray," Commission Chairman John Feind said, " but the commission decided not to. So we'll move on."
"I look forward to the opportunity, and yeah, we'll be working together. It's a city project as much as it's something for me. We'll have to be partners in that place over there. I think it can be a really neat spot and I look forward to jumping into action and really getting going. A friend of mine lives in Boston, she was saying well, it sounds like it's getting there, Barshay, and I said yeah, the scary part is, once that happens now I have to actually go do it."
Commissioner Jane Mealy motioned to approve the lease, and the commission approved it 4-1, with Feind in dissent, in one of its shortest special meetings on record.
"We're done, Ray," Feind then said. "I'm glad you're starting to work on Monday, that's for sure. Finally. It's been a long process."