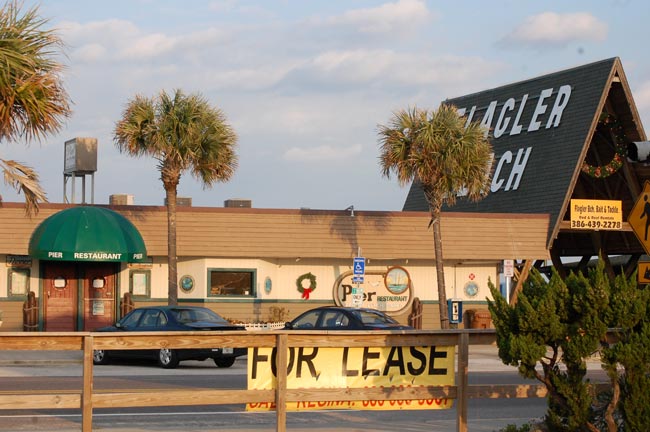 Negotiating a restaurant lease with a potential term of 25 years is by definition taxing on the two sides involved. Negotiating publicly, and with one of the two sides consisting of no less than six individual elected officials (plus their lawyer and their top administrator), approximates low-grade torture. That was the scene this afternoon as the Flagler Beach City Commission conducted line-by-line negotiations with Raymond Barshay, the Ormond Beach restaurateur who's spent more than the past year trying to convince the commission to let him take over the city's iconic Pier Restaurant and transform it into the dining destination it hasn't been for years under current management.
Negotiations were arduous and inconclusive on several matters, down to the days when the restaurant may be permitted to close, whether Barshay would run the next-door Bait and Tackle Shop, and what percentages of the restaurant's gross sales the city would be entitled to. The city owns the property. It's been leased to Katalin Meyer since 1988. Meyer wants to sell to Barshay, with slightly more than a year left on her lease. Barshay has an agreement with her, though the city has never seen anything in writing from Meyer that she is, in fact, willing to sell (she's reversed course in the past, after being willing to sell).
With few exceptions, the wrangling was constant. "We're sitting up here trying to dictate to a business owner how to run his business, and that's no our job," Commissioner Joy McGrew said at one point, when the sides were hung up over the restaurant's hours of operation. The commission wanted those hours relatively precise, with breakfast, lunch and dinner offered on every day of the year but Christmas and three other holidays of Barshay's choice. Barshay balked, looking for more flexibility. Finally, the commission's consultant, Jim Densmore, intervened—as he did several times over the course of the afternoon—to remind commissioners of the deference they owed the "trust factor" before dictating such detailed terms to a business owner.
"I'm not here on a holiday and this is my hobby. I can't play golf at night," Barshay, who owns the River Grille in Ormond Beach, said. "So I think I need some latitude, yeah."
The special meeting of the commission started at 1:30 p.m. By sundown, when most of the 30-odd people in the audience had left, here's what the sides had agreed to, more or less:  Barshay would not assume Meyer's old lease for one year and start with a new one in 2012, but would start off with a new lease as soon as he buys the business from Meyer and signs off on the city's offer. (He is aiming to re-open the place in spring or early summer. "I'm ambitious," he said.) He'd have a 10-year lease with three five-year renewal options.
First-year rent would be set at $36,000 for the first two years, increasing by 2.5 percent in years three and four, then by 3 percent—or the rate of inflation, whichever is higher—in subsequent years. The city would also get additional payments of 2 percent of gross sales over $1 million in the first two years, rising to 3 percent in subsequent years.
The 3 percent increase in base rent (or the inflation rate multiplier) may end up being a deal-breaker. Barshay is uncomfortable with those terms. The sides agreed to write them in for now, but they'll still be negotiated—as will many other matters once the city makes its formal offer to Barshay: today's negotiating session is merely a basis for future negotiations, not the final word on what the lease will look like.
A deck may or may not get built. Barshay had originally proposed it. "I think it's a critical item," Barshay said. But the city would have to build it. There was wild disagreement over the cost: some commissioners came up with a $50,000 figure (at $30 a square foot for a deck), while a $500,000 figure had previously been cited. "We may never be able to build it. We may not get permitted," Commission Chairman John Feind said.
In fact, in n 1965, the city envisioned building just such a deck, even drew up the plans. The Department of Environmental Protection more recently told ActinG Manager Caryn Miller that "there should be no problem with this deck," Miller said. "The only thing that might hold it up is construction during turtle season."
"I don't know that I want to pay for it. You're going to own it," Barshay said, balking at the commission's lawyer's suggestion that the $50,000 cost (if that's what it proves to be) could be amortized over 10 years, and added to Barshay's monthly rent. The sides agreed to leave that issue "nebulous," in Feind's words.
There's also the matter of $41,000 in necessary maintenance for the building, to bring it up to current standards. The city is asking Meyer to make good on the interior repairs she owes. But the city is not likely to get out of Meyer what it hasn't been able to get out of her for several years. And Barshay, of course, doesn't want to pay for the city's mistakes. "We've done nothing, nothing, for the last 20 years," McGrew said of the city's own poor upkeep of the building. "We've just inherited a 20-year-old, broken down nag." The city, in other words, is not about to restore the building without making a substantial investment of its own. Barshay doesn't want to be the city's savior on that score.
The meeting began with a long disquisition by Commissioner Steve Settle, who, basing himself on a proposed base rent of $36,000 a year, outlined several points to conclude on this one:  "We're lucky if we're going o break even under this lease." He got some applause from the audience, which was an audience at that point. But after the commission's late-afternoon break, Settle (and Mayor Alice Baker) were gone, too.
At 6:30, Feind read the last of the 51 segments of the lease.
What's next is a re-drafting of the lease by the commission's and Barshay's attorneys. The sides will then review it and set yet another special meeting. The attorneys, however, will not be settling the final questions. Those will still have to be worked out in that additional special meeting (or possibly an item on the commission's regular meetings). "At least most of the items will be done, and we'll argue about two or three things," Feind said. "We've agreed, we've reached consensus on a lot of items."
Barshay appeared in agreement, but cautiously.
But Feind asked Barshay to at least make a decision, before the next meeting, about the money to be spent on upgrading the building, and on the year-over-year multiplier above the base rent. "Our only area of question i the deck and how we're going to approach the deck," Feind said.
"He's going to do a lot for this community, and if you can work all of these other issues out, he'll be a great asset," Jim Densmore, the city's consultant, said.
It won't be until at least January 13 when the commission will either discuss the lease again, or set another special meeting. Wednesday's meeting adjourned five hours 22 minutes after it began, at 6:52.