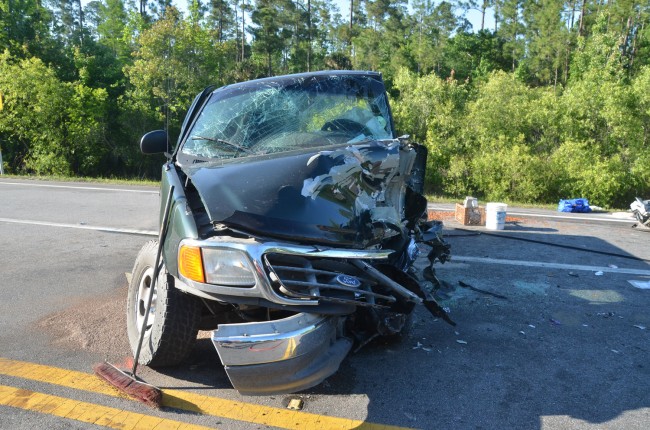 Last Updated: 10:16 p.m.
A rush-hour crash between a Ford pick-up truck and a GMN minivan at State Road 100 and County Road 302, an intersection with a notorious history of wrecks, shut down traffic on the two roads in that area for almost an hour and a half This afternoon as paramedics worked to free two of the injured in the pick-up truck. The driver, 24-year-old Michele A. Brown of Bunnell, was flown by Flagler County's Fire Flight to Halifax Hospital with serious injuries. She was driving with a juvenile girl, K.K. Black, 12, who was taken by ground to Florida Hospital Flagler.
The driver of the minivan, 47-year-old Joy Allen of Bunnell, had a few lacerations but appeared otherwise uninjured: she was walking and in full control of her capacities at the scene, where she also spoke with authorities.
The wreck left the minivan on its side in a ditch, and the Ford pick-up's driver's side sheared beyond recognition. The pick-up sat across SR100, facing north.
The wreck was witnessed by a volunteer fire chief from Putnam County, who was immediately behind one of the two vehicles, and was able to give a clear narrative description to Florida Highway Patrol investigators.
According to FHP investigators at the scene, Brown was traveling in her pick-up truck west on SR100. The Allen was traveling east on 100. "The pick-up truck entered the left turn lane, attempted to turn left onto County Road 302," an investigator said, "in front of the approaching vehicle a left-front to left-front impact, driver's front to driver's front impact, ultimately resulting in the vehicle going in the ditch" and the rotation of the pick-up truck. "The driver of the pick-up truck was entrapped, was cut out by five members of Fire Rescue," and flown to Halifax.
It's not clear why Brown cut in front of Allen's minivan minivan. The volunteer fire chief was behind the pick-up truck, and himself clearly saw the approaching minivan, telling an FHP investigator that neither visibility nor glare were a problem (it was bright, cloudless daylight). Speed was not an issue, and all occupants wore their seat belts, the investigator said.
Brown faces a moving violation charge of failing to yield while turning left in front of an approaching vehicle, according to an FHP report released this evening.
The wreck took place around 5:15 p.m. Fire Flight was able to land in the vast front yard of a large estate on the south side of SR100, at the intersection with 302. The helicopter took off at 6:07 p.m. At 6:15 p.m., crews from John's Towing removed the pick-up truck from the middle of the road, and a few minutes later westbound traffic on SR100, which had backed up about a mile, began top crawl again. Eastbound traffic resumed at 6:21 p.m., also slowly, as crews continued to work the crash scene.
The van, a 2007 model Acadia, sustained $17,500 in damages. The pick-up truck, a 2004 Ford F-150, had $7,500 in damages.