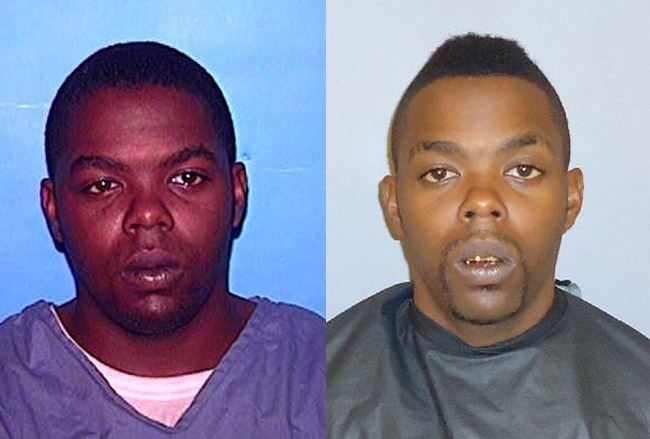 It was one of those rare times when a police officer has to draw his weapon and face suspect armed with a weapon of his own, in a situation that very quickly could go from bad to worse.
Bunnell Police officer George Hristakopoulos had been dispatched to Beacher Street in Bunnell, where shots had been fired. A crowd of 15 to 30 people had gathered at the southeast corner of east Martin Luther King Avenue and South Bacher Street, in the heart of Bunnell's black ghetto. Hristakopoulos saw Philip Neal back away from the crowd and point a small chrome Taurus .38 Special at it.
Hristakopoulos was familiar with Neal. Law enforcement officers generally are, the 28-year-old Bunnell resident of 400 South Chapel Street having been booked into the Flagler County jail no less than 18 times in the past four years: he faced charges of cocaine possession, marijuana possession, domestic violence battery, failure to appear, driving on a suspended license, violating probation, petit theft, carrying a concealed weapon, resisting arrest, trespassing. Before that, he'd spent 16 months in state prison for manufacturing and selling cocaine and marijuana, leaving prison on Aug. 1, 2008.
For all that time, and the battery charge aside, he'd never been arrested on a seriously violent crime. That changed the night of Aug. 25 after midnight, when he had his confrontation with Hristakopoulos.
When Hristakopoulos saw Neal pointing his gun at the crowd, he drew his own, according to a police report, and from about 20 feet away, ordered Neal to drop his gun. Neal didn;t do so. He turned away from Hristakopoulos and tried to conceal the gun in his waistband, according to the report. That didn;t work too well. As Hristakopoulos was ordering Neal to drop the weapon and warning him that he'd shoot otherwise, the gun fell through Neal's shorts and onto the grass.
Hristakopoulos approached him and ordered him to put his hands on his head. Neal complied. Hristakopoulos ordered him to get on the ground. Neal, who has that history of resisting arrest, refused. Hristakopoulos "used a leg sweep of [Neal's] left leg, bringing him down to the ground," the report states, and cuffed him, all the while as people surrounding the pair was running around, yelling and arguing: South Bunnell is always a tense, often a rowdy place when cops are present. Hristakopoulos kept a leg on top of the gun while he was cuffing Neal, before other officers, including Bunnell's officer Rodriguez, arrived on scene.
Neal was searched. Baggies containing Oxycodone, the pain-relieving narcotic, were found on him. He was placed in a cop's cruiser, and a perimeter was set up around the gun while waiting for Flagler County Sheriff's Office deputies to arrive.
The .38-caliber gun had three spent shells and two unused ones. Hristakopoulos then learned that an alleged victim had been involved in an incident with Neal before Hristakopoulos's arrival. The victim was Deron Kevin Carter.
Neal told officers he wanted to lawyer up when read his Miranda rights, saying that he had merely picked up the gun during the physical disturbance but not fired it. He agreed to a gunshot residue test, but the police report leave the result of that test mum. When Hristakopoulos spoke with Carter at Carter's Renworth Place home later, Carter refused to be taped, but spoke of the incident willingly. He said that while driving south on Bacher, near Martin Luther King Avenue, he saw Neal standing in the street–MLK–while an unidentified man of about 20, on a bicycle, handed Neal "something shiny." Carter said a shorter man with a mohawk and wearing no shirt (Neal has a mohawk) was also there.
Carter told Hristakopoulos that "the defendant, known to him as Philip Neal, from approximately 15 feet away from his vehicle, opened fire on him," firing between three and five shots according to the arrest report. (Two "apparent bullet dents" were located on the passenger side of the vehicle, which was towed to John's Towing in Bunnell on Aug. 27.) Carter got out of his car and ducked behind it, fearing for his life, then ran west on Martin Luther King Avenue–and began fighting with the two men he'd mentioned were at the scene earlier, but not Neal. Neal reappeared shortly afterward, according to Carter, and pointed the .38 at him, according to Carter. It was at that point that Hristakopoulos had intervened.
Carter told Hristakopoulos that Neal had threatened to kill him in the past, according to the report. Four witnesses provided statements to police, all four saying that Neal had held the gun as Hristakopoulos had described it.
On Friday, the State Attorney's office charged Neal with attempted second degree murder, a second degree felony, with possession of a firearm by a convicted felon, a second degree felony, and with possessing, manufacturing and intending to sell Oxycodone, a first-degree felony. If convicted, he faces up to 30 years in prison (assuming the judge doesn't sentence him to consecutive terms).