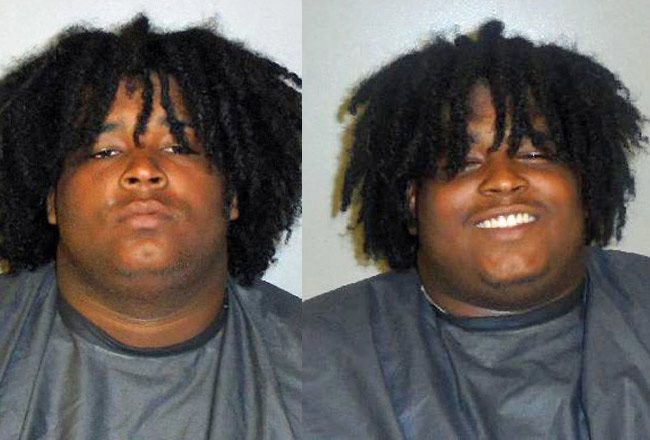 Flagler County Circuit Judge Dennis Craig on Wednesday ordered Phillip J. Haire mentally evaluated to determine whether he can stand trial on 10 charges, including attempted first and second degree murder.
Haire, 19, is accused of shooting at his parents and at a Flagler County Sheriff's sergeant in two drive-by runs, as the cop and his parents were standing outside the Haire house on London Drive in Palm Coast on May 2. Haire turned himself in a day later. In his first appearance before a judge, he claimed someone else did the shooting. He's being held at the Flagler County jail on $200,000 bond.
On June 23, his attorney, Jeremy Buckmaster, filed a request with the court for a mental evaluation of Haire. The "Suggestion of Mental Incompetence to Stand Trial" is based on Buckmaster's observations of Haire at the jail and through conversations.
Buckmaster claims Haire "does not have sufficient present ability to consult with his lawyer with a reasonable degree of rational understanding," and has "no rational, as well as factual, understanding of the proceedings against him."
Buckmaster, without going into detail, wrote that Haire has also "exhibited inappropriate behavior in the presence of counsel and the Court," is disoriented, does not appreciate the nature of the charges against him or the range of possible penalties (those penalties include, potentially, life in prison), and does not "appear to understand [the] adversary nature of the legal process" or the role of his own attorney in that process. Haire, it appears, has not been cooperating with Buckmaster.
Haire's mother has previously said in interviews that her son has had mental health challenges since being shot in the stomach when he was 17, in a dispute near the London Drive house in 2015.
Haire is to be evaluated on July 22 by Roger Davis, a psychologist who practices at Sanz & Sanz Psychological in DeLand and in Ormond Beach.Davis will have access to all records in the case, from the State Attorney's office and medical records from the jail, from hospitals or from mental health providers. Davis will then have to determine whether the attorney's claims are true, whether Haire, should he be suffering from mental illness, meets the criteria for being involuntarily committed to an institution, and "whether there is a substantial probability that the Defendant will attain competence in the foreseeable future."
The order mirrors two similar orders that have involved high-profile defendants in recent years. One of them is Daniel Noble, who initially faced an attempted murder charge for a shooting at European Village in 2014. His case navigated the labyrinth of mental competence and incompetence before it was finally resolved four weeks ago, with Noble getting seven years' probation. The other case is that of Joseph Bova, the man accused of murdering Zuheili Roman Rosado, a store clerk at a Palm Coast gas station in 2013. Bova's trial has been delayed as he was again in April declared incompetent to stand trial, though as is usually the case with such findings, the declaration is not final. Nor would it be if Haire was found at the moment to be in competent. It would merely extend the duration of the court proceedings.
Meanwhile, both Haire's parents, Phillip Haire Sr. and Jeneen Anthony-Haire, who were allegedly targeted in the shooting, on June 15 requested permission to see and speak to Haire at the jail, even though he has a no-contact order with his parents. "I will not discuss the current case with him as I am listed as a victim and/or a witness," both parents wrote in their affidavit to the court. The affidavit followed a motion by Haire's lawyer to modify the no-contact order. Jason Lewis, the assistant state attorney prosecuting the case, had no objections, according to court papers.
The first pre-trial hearing is scheduled for July 12 at 1:30 p.m. before Craig, in Courtroom 401 at the Flagler County courthouse.