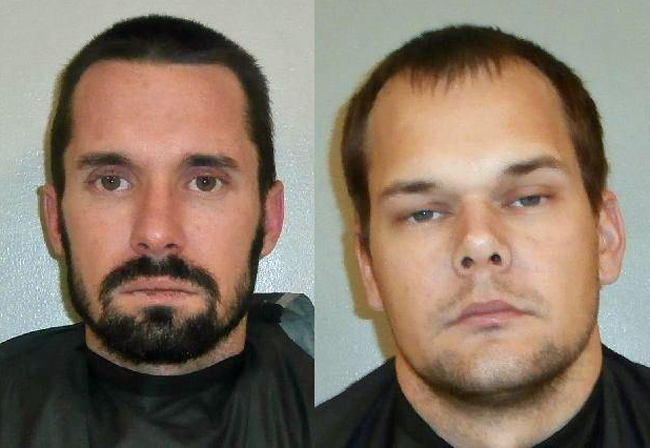 Just after 1 p.m. Saturday (Feb. 1), an individual near the Pam Coast Pharmacy at 9 Pine Cone Drive flagged down a Flagler County Sheriff's deputy to inform him that the glass front door to the business had been smashed out.
The pharmacy, which was unoccupied, had been the target of a robbery: drugs–controlled substances–were later determined to have been stolen. A perimeter was established and a K-9 unit arrived on scene. The woman who'd initially flagged down the deputy had not seen the incident take place, nor had the owner of a massage therapy business next door.
The pharmacy's owner was contacted and was at the scene shortly. So was Crime Scene Investigator Laura Pazarena.
At the same time, detectives from the St. Johns County Sheriff's Office were in Flagler, following up on an armed robbery in St. Johns, with leads–and warrants–that took them to Palm Coast. That robbery had taken place at a CVS pharmacy late the previous evening, at 11 p.m.
The warrants the investigators had in hand, signed by Circuit County Judge J. Michael Traynor on Feb. 1, were for Daniel Garrett Lindsey, 29, and Matthew Dalton Barker, 27. Both live at 72 Leidel Drive in Palm Coast. Barker had one previous arrest in Flagler, just last month, for shoplifting and obstructing justice. Lindsey has been booked at the jail eight times since 2008, including for shoplifting the same day as Barker in January. He's also been charged with aggravated assault with a deadly weapon, grand theft, carrying a concealed weapon, narcotics possession, disorderly intoxication and driving on a suspended license.
Both men were arrested Saturday and charged with the armed robbery in St. Augustine. Following their arrests, the two subjects were brought to the Investigative Services Division offices and questioned regarding the burglary of the Palm Coast pharmacy, a sheriff's release states. Detectives say the two men will face additional charges in connection with that robbery.
Both were taken to the St. John's County jail where they are being held on $250,000 bond.
"This was a tremendous cooperative effort between both agencies that has resulted in the arrest
of two individuals who may have eventually hurt someone had they not been caught as quickly
as they were," Sheriff Jim Manfre said.