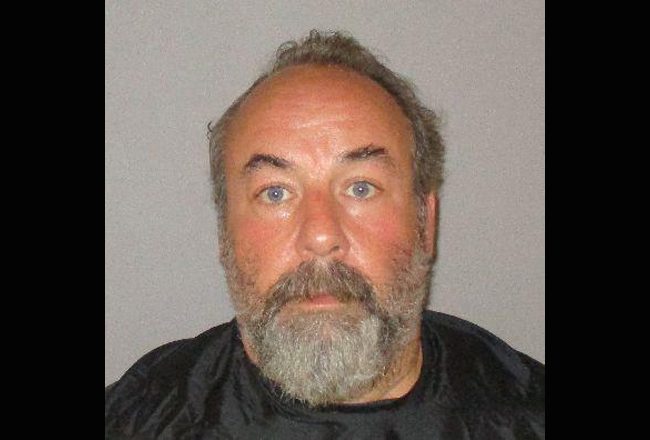 Dominic Petrillo is a 53-year-old resident of Avocado Boulevard in Daytona North, also known as the Mondex. He's a convicted felon. On May 6, his on-and-off girlfriend of 20 years ended up at the Family Life Center's shelter for abused people, allegedly because he'd become violent and threatened her life.
The alleged victim told authorities Petrillo had consumed about two cases of beer before becoming physically violent, according to his arrest report, and yelling at her. He started "slinging" her around, shoving her and pushing her against the wall, the report states, at one point pinning her against the wall and using his arm and fist to push against her throat to such a point that the victim could not breathe then lost control and urinated on herself.
According to the 44-year-old victim, Petrillo then pulled a pump action shotgun from under the bed, pointed it at the woman's head and told her he would "put a bullet" in her. As a convicted felon, it's illegal for him to be in possession of a firearm. He then stumbled around and started throwing things in and out of the camper. After a couple of hours, the alleged victim was able to get away. She headed to the shelter.
Her injuries were documented: a bruise on her left upper arm, a welt on her left forearm, marks and bruises on both legs and knees. She suffered redness on top of her feet from Petrillo allegedly stepping on her feet . She had redness on her chest and neck. Her neck was sore. She felt as if she had a lump there.
Petrillo apparently was not done. Fiona Ebrill, the sheriff's detective dedicated to investigating domestic violence (her specialized assignment was the result of the sheriff's focus on domestic violence since 2017), was taking the alleged victim's statement at the shelter when she noticed a large truck driving back and forth in front of the entrance to the Family Life Center (whose location media do not disclose to protect the victims' privacy and safety, though abusers frequently know the address.) Petrillo had already been trespassed from the property. He returned anyway, making sure not to cross the property line most of the time, but still driving within sight of the building. At one point Ebrill saw the truck park in front of the shelter, but Petrillo drive away before she had time to call for deputies.
Meanwhile, Petrillo was calling and texting the alleged victim: he had not yet been charged, so the calls and texts were not violating a court order. That would come shortly. He was demanding to have the car back, asking for his keys, then unleashing a string of mysoginistic obscenities and further threats, one of them laced with the vilest language he could muster and ending with, "you're gonna have your day."
The next day, Petrillo had parked in front of the shelter again. This time, two detectives conducted a traffic stop. He agreed to speak to the detectives. But he changed his statements time after time. Nothing happened, he said at first. The woman left after stealing from him, he said. They had words, he said. He thought she had struck him, he said. He denied striking her. He denied having a firearm. Then he admitted having one. He denied pointing it at the alleged victim. He volunteered his cell phone, which he said he'd bought that morning. He'd sent the alleged victim 12 messages and called 11 times since buying the phone.
He was arrested and charged with aggravated domestic battery by strangulation, aggravated domestic assault, domestic battery, and possession of a firearm by a convicted felon.
"Getting out of an abusive relationship is not easy, but help is available," Sheriff Rick Staly said. "The victim's advocates at the Sheriff's Office and the Family Life Center partner with victims of domestic violence. I urge anyone in a violent relationship to seek help. Protect yourself by getting out." The Family Life Center provides support services to individuals and families involved in domestic violence situations in Flagler County. A 24-hour crisis hotline can be reached at 386-437-3505.