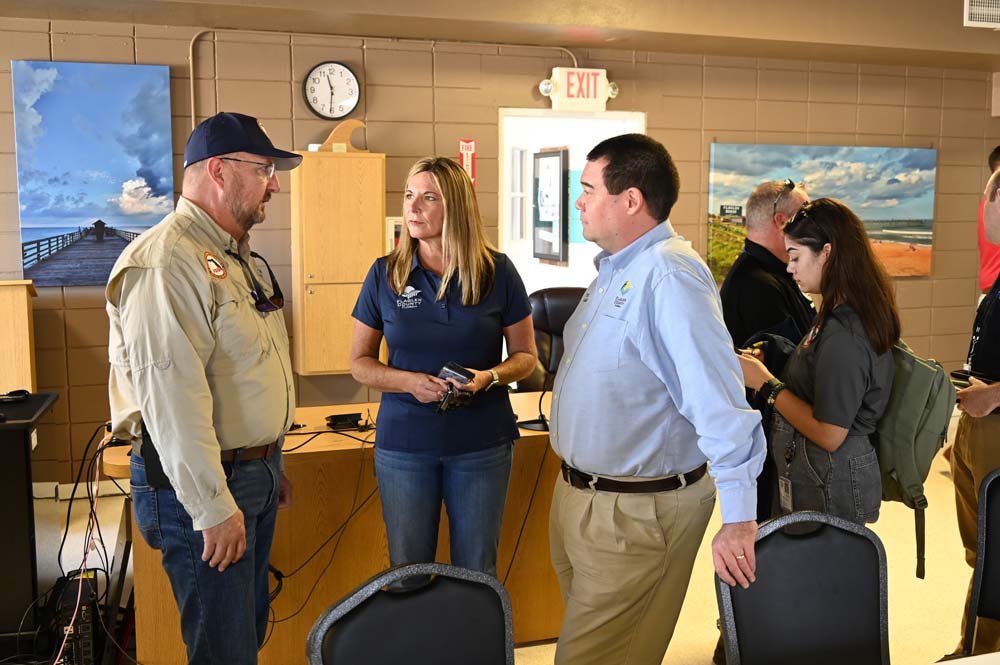 Nearing the completion in October of her second year as Flagler County Administrator, Heidi Petito received glowing evaluations from two commissioners (Dave Sullivan and Greg Hansen) and a distinctly less glowing one from a third (Andy Dance).
Commissioner Donald O'Brien didn't bother turning one in. Commissioner Leann Pennington wasn't allowed to fill one out, as she was told by human resources that she was not on the commission for the evaluation period–October 2021 to October 2022.




When the evaluations were requested by FlaglerLive, an evaluation by the commissioner Pennington trounced–Joe Mullins, who was on the commission during that period, but as a severely compromised member–was included in the packet. It, too, was a glowing one, if an irrelevant one.
The evaluation is a five-page document divided into five categories, four of them allowing commissioners to check boxes and make brief summation comments at the end of each section–organization and authority, communications, leadership, finances. The fifth section is for "overall comments," and Petito's response.
Dance and Sullivan provided detailed responses, Hansen a bit less so. Hansen and Sullivan checked all 26 boxes in the "outstanding" category (Sullivan actually overlooked one). Hansen described her running county staff "like a well-oiled machine," communicating with constituents and standing as a "shining star" recognized for her "team building and her motivational style of leadership." Hansen said "she makes my job easy."
Sullivan credited Petito for taking the lead when dealing with her own staff and constitutional officers. Petito has had notable, civil duels with the sheriff at budget time, for example. "She took them all on without worrying about hurt feeling[s] in order to get the best decision," Sullivan wrote. He also described her as "a very effective communicator. She makes her points clearly and [is] easily understandable and does not use excess amount of time to make her statements."




To observers of the commission, Sullivan was not exaggerating: Petito is skilled at presenting complex issues lucidly and without jargon–or, as was at times the case with her predecessor, petulance.
Sullivan also underscores Petito's successes in forging new relationships with the cities (particularly Palm Coast, overcoming what had previously been a more competitive dynamic). He listed her accomplishments in developing county goals and a comprehensive plan (the long-term blueprint for development).
Dance, a more analytical end deliberate member of the commission–especially in comparison with his three male colleagues–was less effusive, finding Petito to exceed expectations more often than reach outstanding levels, and in the case of "providing adequate information for knowledgeable decision-making," finding her only to meet expectations. (On a basic level, workshops and at times meetings lack back-up information for public inspection ahead of meeting time, or even until they are requested.) But Dance applauded her for "creating an exceptional working environment with the other government leaders."
He was less complimentary on communications, citing the "clumsy" way the Bull Creek Fish Camp building's demise was handled, and citing the need for better internal and external communications. He was also cautious on her performance in finances, rating her as meeting expectations in five of six categories. Petito, he wrote, "walked into a budget that needed work, so there are growing pains as the County tries to catch up on deferred projects and needs while still meeting new pressures, such as inflation and beach repairs."
He again used the word "clumsy" to describe the first budget process, but saw quick improvements. In most ways, the timing of the evaluations is such that they are already outdated, now that the commission is in its second budget process.




Petito's contract as administrator for Flagler County refers to "an annual review" of her performance, but it doesn't say when the review should be conducted.
Petito was appointed the permanent administrator in October 2021, giving her a full a year and nine months on the job, and at least one set of completed annual evaluations. FlaglerLive requested those evaluations on June 13. A week later, three were turned in (not counting the departed commissioner's), with some commissioners scrambling to fill them out after the request was placed.
The evaluations by Dance, Sullivan and Hansen all had different dates, or no date: Hansen's evaluation was undated. Sullivan's evaluation was dated Jan. 12. Dance's was dated May 14. Petito's responses to all three were dated June 15.
The county did not explain why O'Brien did not turn in his evaluation other than to say he did not turn one in (nor did he for the county attorney: those evaluations were also requested and produced by four of the five sitting commissioners).
An email to Pennington from Pamela Wu, the county's human resources director, explained why she had not received an evaluation package: "Mrs. Petito's twelve-month evaluation period is October 18, 2021 through October 18, 2022. Therefore, you would not have been a Commissioner during the period in which she is being evaluated and would not have received the evaluation packet."




The county administrator and the county attorney are the only employees the commissioners directly supervise and evaluate. The evaluation rules are not set by the administration–that would be a conflict of interest–but by the commissioners. It isn't clear why the evaluations were not conducted at the end of October or openly discussed at a commission meeting. Since Pennington's election there wasn't a commission discussion setting the parameters of the evaluations as Wu described them.
"I couldn't find anywhere where it actually said it's outside the window other than HR telling me that," Pennington said, "so I was caught off guard, to be honest with you, but I'm going to respect that for now."
Asked how she would have evaluated the county administrator, Pennington said: "I think we're doing OK. I'd like to see more solutions for getting our budget in line, solutions that come from staff, other than us having to look for them. I'd really like to see cuts from within, because we are short." Petito warned the commission at an earlier workshop that the county could be looking at a $6 million deficit despite a windfall from tax valuations.
"I'm worried we're going to be left with very difficult decisions and I'd have liked to see some better solutions from within," Pennington said. "I do believe that falls within her purview to offer us alternative solutions that aren't necessarily negative ones."
When told that two of her colleagues had provided straight-ticket outstanding evaluations, Pennington said: "I don't think it's realistic to say everyone is outstanding at their job. I have room for improvement every day, so I would not really set my bar at that." She would like to see better communications, and also cited the Bull Creek issue as an example.




Petito was hired at a base salary of f $179,000. The contract calls for raises based on her evaluations (commissioners may choose to give her a merit raise), in addition to whatever average percentage pay increase goes to county employees. The commission has not discussed a merit pay increase, but approved a cost of living increases last year and is set to approve another one this year.
Pennington, Dance, Sullivan and Hansen also evaluated Al Hadeed, the county attorney. Pennington was "allowed" to do that one since the evaluation window for Hadeed coincides with a few months of Pennington's service on the commission. Again the evaluations followed the same pattern, with Sullivan and Hansen finding Hadeed's work "outstanding" ("sage counsel," is how Hansen described it), with Dance and Pennington less lavish with praise. Not all the evaluation forms followed the same format.
Though toggling between "meets expectations" and "exceeds expectations" in all regards, Dance's written comments were still only of praise–for developing Assistant County Attorney Sean Moylan, for bringing in Flagler Beach attorney Scott Spradley as the ringer who sealed the deal on dune hold-outs to clear the way for the U.S. Army Corps of Engineers beach-renourishment project, for being always available, and for his "prudent guidance."
"His course of action may not be the most expedient, but he pursues a careful, well thought-out course of action," Dance wrote.
Pennington was harsher, giving Hadeed the only "does not meet expectation" ratings in three regards, including in matters of confidentiality and timeliness . The confidentiality breach Pennington referred to, she wrote, "was done in error by another member of the Legal team; however, it caused some distress and led me to not being able to complete [a] task." She also believes some of the lawsuits the county faces "could have been avoided." She wants more active involvement from the attorney during meetings, at decision-time.
Hadeed, in a lengthy response, said Pennington misunderstands the county attorney's role. "My role is not
to make policy choices for the Board, as in the choice of what grants the Commission chooses to pursue," he wrote. "It is not to act as the 'sixth commissioner' interjecting my views during commission debates on issues." Commissioners are always free to ask him questions, unless commissioners need to be alerted to certain legal ramifications of possible decisions. He provided responses to other issues Pennington raised, which can be read in their entirety here.