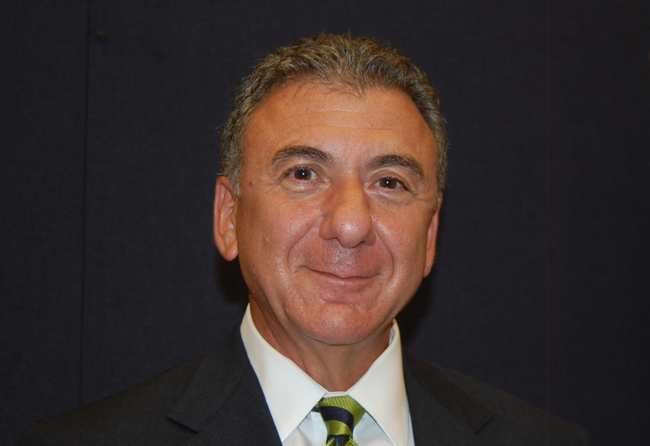 i>Peter Peligian is a Flagler County School Board candidate running from District 5, but all registered Flagler County voters are eligible to vote in the Aug. 24 election. Peligian is running against John Fischer and Raven Sword for the seat being vacated by Evie Shellenberger, who's retiring. Click here for an overview of the race, and here for a previous article on the candidates. For the story on Peligian's impersonation and tax issues, click here.
FlaglerLive submitted written questions to every candidate. The intention of the Q&A was not to enable another campaign brochure but to challenge the candidates to clearly state their positions on some–and by no means all–of the issues relevant to the position and responsibility they're seeking. The candidates were asked to avoid generalities and the usual campaign clichés and answer as specifically as possible. They received follow-up questions where necessary. Some answered more directly than others. Answers not relevant to the given question were edited. Incomplete or lacking answers were noted as such.

Why are you running for school board, and what makes you think you are the best person for the job?
Flagler County School Board Candidates: The Live Interviews
I am running for the school board to ensure that my community has clear leadership and management. We need a person with proven abilities, responsive to the people, to make our schools the best they can be. My management experience includes supervision of 600 employees with an operating budget of $150M. The skills I have successfully developed can be applied to make a difference in our schools. These are reasons why I am the best person for the job.
Please specify your management experience: the company you worked for, your title, your actual responsibilities and how they relate to a school district. To what extent were you were actually responsible for those 600 employees? Did they or their supervisors ultimately report to you and were responsible to you? Did you actually decide how that $150 million budget was managed and spent?
You have my current resume for employment details. Employee performance – sales, inventory management, customer service, personnel training, succession planning, and more were my responsibility. Both they and their immediate supervisors reported to me. Yes, I decided how the money was to be spent – inventory by category by store, human resource matters such as store management structure and pay rates, real estate (site selection and leases ), market area specific advertising, etc.
[Note: Peligian's resume nowhere indicates responsibility for 600 employees or a $150 million budget.]
Describe the scope of your job as school board member as you understand it: what's your primary responsibility? What's in your power to affect on a day-to-day basis? What is not in your power to do?
The scope of the job includes managing the superintendent, local policy, and coordinating state statutes. My primary responsibility is to establish policy and ensure its appropriate application. On a day-to-day basis, my power is little, as the board is a visionary policy maker.  I do not have the power to micromanage school operations.
Name your three specific priorities you intend to achieve as a school board members within the scope of the doable-not pie-in-the-sky stuff, not generalities. That is, three priorities you'll be able to say, four years down the line, you've achieved.
Operate within a balanced budget without increasing the tax burden.
Are you saying that you'll vote against all tax increases every year? Would you vote against the tax increase the district has just advertised?
I would vote in favor of tax increases only after convinced that we have reduced expenses as far as can be to my satisfaction. The recently approved increase request would not have received my support.
Ensure that all resources are equitably distributed to all classrooms
This doesn't mean anything. Are resources not being equitably distributed now? If so, which, and to what extent?
Peligian did not answer the question.
Work with the chamber of commerce to offer instructional courses designed to develop employable skills. A 21st century-trained workforce would attract and retain businesses in our county and fuel revenue.
What specific courses beyond what's offered now? Who will pay for that instruction, and where in the school day would that instruction fit? This sounds fine in the ideal, but it also sounds like a campaign pitch that appeals to voters but that has no bearing on the reality of a cash-strapped school district and a chamber of commerce that has no capabilities of doing more than the occasional job fair in schools.
Peligian did not answer the questions.
It's January 2011. State revenue is tanking. Flagler schools must cut 5 percent of their budget. Salary cuts are off the table, but eliminating positions isn't. Name three specific programs, curriculum areas or activities you'd cut.
Three specific programs, curriculum areas or activities I would cut are:
Non-instructional positions, first by attrition – the natural loss of employees by resignation and retirement. The remaining job descriptions would be redefined with the perspective of technology-enhanced productivity.
Again: please specify. Bus drivers, janitors, school aides, administrators: those are all non-instructional personnel, and all necessary to running the schools. Which would you cut?
The non-instructional positions I would first review are those of administrators.
Reductions would be evaluated by duplicity / overlap of job description, its productivity / efficiency value, and its impact on the classroom.
Charter schools demand an analysis of cost-effectiveness.
Charter school budgets are set by state law; the school district may not interfere once it has approved their operation.
Peligian declined to elaborate further.
Outsourcing of services which should be handled by school employees.
What services could be outsourced?
Point three example is the new teacher application process being outsourced to Gallup at a cost of about $29K.
The school board split on hiring Superintendent Janet Valentine, with two board members arguing that a national search should have been conducted first, rather than sticking with an internal choice. How would you have voted on the matter? How do you rate Janet Valentine as a superintendent, understanding that she's only been in the job a few months?
I would have voted to offer Ms Valentine a one year contract as she has proven to be a valuable administrator. During that time, I would have looked at a national list of candidates.  She is a good selection for our county. To rate her as a superintendent now is premature.
Who on the board currently is the board member most closely aligned with your idea of a school board member and why?
Andy Dance is most closely aligned with my idea of a school board member. He represents the community and has called for board activities to be open and accessible.
Do you see board members not representing the community? Please name them.
Peligian did not answer the question.
If you had a choice of running the school district with a teacher union or without one, what would that choice be, and why?
The choice of running the school district with or without a teacher union is not mine to make. The Florida Education Association acts on behalf of members and non-members alike. Negotiating with a representative body is more effective than doing so with hundreds of individuals one at a time.
The question was if you had a choice of operating with or without a union.
Peligian declined to elaborate further.
Outgoing School Board Chairman Evie Shellenberger said in May: "The folks in Tallahassee, to me, their goal is to shut down public schools. Shut down public schools and go to charter schools." Do you agree? How do you see charter schools fitting in public-school equation, and how successful has that fit been in Flagler?
I agree that the Department of Education is encouraging private investment in schools. This takes some of the financial burden off state and local governments. They fit in the public school equation by offering an alternative, just as private schools do. Charters, however, accept public monies while operating with different standards. Further, they are businesses designed to make a profit. The success of charter schools in our county has been mixed. Academic results vary from adequate and getting better to substandard performance.
Can you name a single substantial curricular program in the schools run by "private investment"? Can you name a single program that "takes some of the financial burden off state and local governments" besides the odd sponsorship deal that adds a few tens of thousands of dollars to a school's athletic or extra-curricular activities, and that have no bearing on the district's budget?
Peligian did not answer the questions.
Is the notion of zero tolerance as a disciplinary approach effective?
As a disciplinary approach, zero tolerance is ineffective. It removes a problem instead of addressing it. We have the responsibility to keep our children engaged in the education system. Removing them is a contrary act. Rather, we should use in-school suspension as a means to isolate the offender while holding them to their studies.
What is your position on sheriff's deputies in schools-in elementary, middle and high schools, and what weaponry should these deputies be allowed to carry in schools?
Sheriff's deputies should be kept in all schools to protect all people on campus. The weaponry should be sufficient to counter any threat to our children and school staff. My preference is to have as much of it concealed as possible.
Please specify the type of weaponry you'd like to see deputies carry, and what you mean by concealment.
By concealment, I refer specifically to firearms.
Peligian declined to elaborate further.
In a choice between raising taxes and laying off teachers and other personnel, what would you do?
In such a choice, I would reduce the number of non-instructional staff to its minimum. This would be done while simultaneously re-tooling to increase efficiency. Only after exhausting all alternatives would I raise taxes.
Would you lay off teachers before raising taxes?
Peligian declined to elaborate further.
What is your understanding and personal opinion of the Sunshine Law, and how will you ensure that you are always operating in the Sunshine?
My understanding is that no two elected members of the same agency are to discuss agency matters without public notice. My opinion is that this is for the protection of the public. I will always operate in the Sunshine because I accept responsibility to my electorate to be held accountable for all my actions.
You are currently employed full-time, and you travel. Please describe the extent of your job's requirements, how you intend to manage your school board duties as a priority, and how often you may be required to miss board meetings.
Yes, I am employed full time. Travel range is Jacksonville to Ormond Beach.
My position allows for discretionary scheduling. Therefore, I plan to attend every meeting.
What is the difference between the school district and a business?
The difference between the school district and a business is the desired outcome. Schools stimulate the intangible, the growing minds of children. Businesses operate for a profit. It is the economics of school district operation which ties into the skill set of a business person.

Flagler County School Board Candidates: The Live Interviews