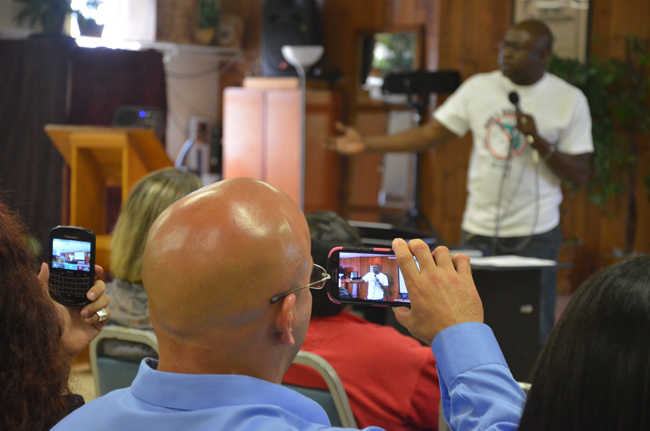 Mark Elliott recalled the first time he attended a vigil before the execution of an inmate at Florida's state prison in Starke. It was Feb. 23, 2000. The man about to be executed was Terry Melvin Sims. He was Jewish. His rabbi was with a group of people outside the prison, saying prayers. Elliott joined them. As it happened, Sims was to be the first inmate to be killed by lethal injection in Florida.
Then "the tragic irony of reviving this tragic legacy of the past" struck Elliott. Lethal injection got its state-sanctioned start with the Nazis during the Holocaust, to exterminate the sick, the weak, the disabled. The method was favored by Karl Brandt, personal physician to Adolph Hitler. And here was the State of Florida, adopting it as several other states were doing so, claiming it as a more "humane" method than the electric chair, and inaugurating the killings on a Jew—the 45th individual to be executed in the state since 1976.
There's been 29 more since, the last one on Dec. 11, for a total of 74. For every three executions in the state, one individual is exonerated from Florida's death row, now numbering 400 men and five women, 37 percent of them black (in a state where 16 percent of the population is black).
"It's not about what the people on death row may have done. It's about us, and what we do."
With that, Elliott, head of Clearwater-based Floridians for Alternatives to the Death Penalty, set the tone of a day-long workshop on Florida's "broken" capital punishment system, hosted Saturday by the Social Justice Ministry at Santa Maria del Mar Catholic Church in Flagler Beach. By "us," he meant Floridians who, as a Catholic priest put it starkly moments later, are "complicit with the death penalty."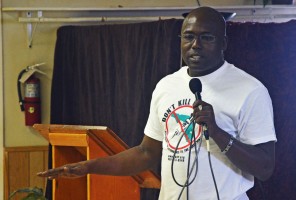 The highlight of the day was the couple of hours Seth Penalver and Herman Lindsey spent talking to an assembly of about 60 about the years they spent on Florida's death row—three years for Lindsey, 18 years for Penalver—before being exonerated. They spoke briefly of the anxiety of death row, the dreams of release, the debasement of near-solitary confinement, the bitterness of serving time for an uncommitted crime and the absurdities of death row rituals. "I hear about these last meal," Penalver said. "I don't want no last meal. It's sad, but it's true. You're talking about killing me and you ask me about a last meal?"
But they mostly spoke of a criminal justice system corrupted by its own prison-industrial complex, death row (which costs Florida taxpayers $50 million a year) being its most unforgiving.
"I'm not here for sympathy," Lindsay said. "You have to look at me as an example of what actually is going on around here. I could have been the one executed when I was exonerated. That's how you've got to look at my story." The aim, he said, is "trying to stop what happened to me from happening in the future."
"The only way to be safe is to abolish it," Penalver said, describing his own three trials that unraveled systematic prosecutorial and police misconduct to secure convictions. It was the revelation of exonerating evidence that had been withheld that finally freed Penalver. On Lindsay's case, a unanimous decision of the Florida Supreme Court freed him after remarking on the shoddiness of the case against him.
But for all the exonerations, the scarlet word–"murderer"–still sticks to the men, preventing them from getting back into the job market.
Saturday's workshop, the third annual workshop by the Social Justice Ministry, was designed to be educational, but also to cultivate a grass-roots effort to do in Florida what other states are doing, slowly: moving away from the death penalty—as Illinois did a few years ago, as New Jersey did more recently, as Maryland just did, and as several other states are considering doing.
Florida is not among those states.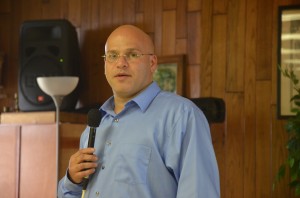 Father Phil Egitto, the pastor at Our Lady of Lourdes in Daytona Beach, told the assembly of his lunch Friday with a bishop who knows Gov. Rick Scott personally, and had recently had an audience with the governor. The bishop reported Scott's words: "I would rather there not be a death penalty because I hate signing death warrants," the governor told the bishop. But, the governor reportedly continued, "it would be political suicide for me not to be strong on crime, and the people of Florida think that the death penalty is being strong on crime."
"Wow," Egitto said. "People are being executed in our name." The priest spoke sharply of Floridians' complicity, but also of the complicity of Catholics, who are not doing as much as they could be doing to create a groundswell against state-sponsored killings. Egitto's is the only bus from any of the thousand or so parishes across the state that goes to Starke to hold vigils at every execution. He wants more involvement, and Saturday's workshop was part of the effort to build that involvement.
"If we are complicit with the death penalty, we are guilty. People are being killed in my name and in your name," Egitto said, repeatedly putting much of the guilt on his audience, and on himself. "I am accountable for the fact that the state in my name kills people. I am guilty of murder," he said. Merely being opposed to capital punishment is not enough, he said. Nor is prayer alone. Prayer, he said, is easy. But it absolves the individual of doing heavier lifting. He wants people to get involved, to get on his bus, to start organizing their own buses, exhortations that dovetailed with Elliott's, at the end of the day, to fill out petitions, to write letters to the governor's office, to make calls, to write legislators about pending legislation that would actually speed up executions in the state, and of course to join vigils and fuel a movement whose ultimate aim is not to protest individual executions, but to abolish them.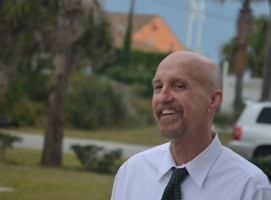 "We have the power, we have the ability, we lack the commitment," Egitto said. "If you're not 95, you need to get off your tochus."
The workshop was not designed as a seminar exploring all sides of the death penalty. A show of hands after lunch showed that no one in the assembly was pro-death penalty, though a few people—possibly including death penalty supporters—had left by then. Florida is not lacking for death penalty advocates: the state is strongly behind its capital punishment machinery, and prosecutors routinely eliminate prospective jurors, in capital cases, who show inclinations against the death penalty, thus more easily ensuring that convictions lead to death row.
"I'm inspired by you all accepting me and Herman," Penalver said near the end of the day, when the group had assembled for a final prayer and blessing.
"Unfortunately, there will be another bus going on April 10," Jackie Morelewicz, who organized the workshop, said at the day's conclusion, inviting people to join that vigil along with Egitto. The bus will leave the Winn Dixie shopping plaza on State Road 100, in Palm Coast, at 3 p.m. that day. Eugene Mann, 49 convicted for the murder of 10-year-old Elisa Nelson in November 1980 in Pinellas County, is scheduled to be killed at 6 p.m. that day, after 32 years on death row.
Whenever Elliott and Egitto lead vigils in Starke, they ring a loud, sonorous bell, at 6 p.m., marking the death of the inmate. Elliott had brought the bell to the Flagler Beach workshop Saturday. It's a heavy, squat, welding cylinder salvaged from a junkyard and turned into a bell that, in Elliott's words, "sounds like a Japanese temple bell."
Ending the day, Elliott rang it outside the meeting hall, along with several others, who boomed in turn words like "Not in my name" and "Not in God's name," as Lindsay and Penalver held the bell that could have one day rung for them.
---
Listen to the Ringing of the Death Penalty Bell
As Elliot Explains Its Purpose, and Lindsay and Penalver Held It Up[media id=316 width=500 height=400]