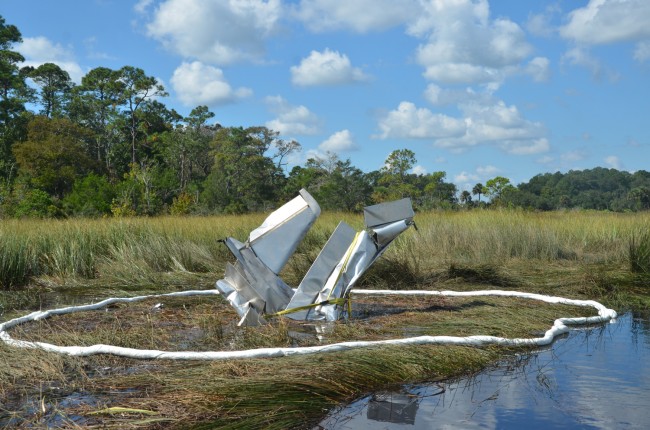 Last Updated: 3:36 p.m.
It has been six days since 77-year-old Raymond Miller crashed his experimental plane into the marshes of Pellicer Creek, for reasons still undetermined, after flying the plane he'd built for the very first time.
There's been several attempts to pull the plane and the pilot's body, presumed to be Miller's, from the muck, including four attempts to pull it out with a helicopter on Monday. Every attempt has failed as a combination of tides, the remoteness of the crash site and the depth of the plane's imprisonment in the mud have conspired to defy salvage operations.
"It was a very hard impact," Flagler County Emergency Management Director Kevin Guthrie said Wednesday morning near the scene, giving some sense of how the plane went in. "I'm not at all certified to deal with planes but having seen a number of vehicle crashes I'd estimate that was a very high-speed impact."
Wednesday morning, Guthrie arranged for three reporters to be air-boated to the crash location, providing for the first time to the broader public what emergency personnel had been contending with for nearly a week: the plane crashed nose first in a copse of tall grass and marshes that pool up with some 4 feet of brackish, deep-rust-colored water when the tides come in, as was the case this morning.
Rescuers, including divers, have been unable to reach the body to pull it out. Later today, Jacksonville-based Florida Air Recovery services and Cline Construction of Palm Coast will team up to prepare for a water-based salvage operation that would have the plane out of the water by tomorrow.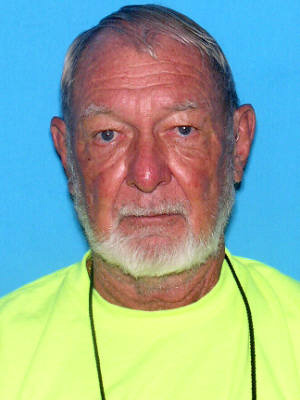 "It is my goal and my objective that we have that body recovered tomorrow," Guthrie said, meaning Thursday.
"I'm sad to report that we've had some minor setbacks today," Guthrie said. "A major issue came up overnight, which caused a delay in the barge leaving, which caused a delay for the tide, and now we're in essence 24 hours behind schedule. We thought we were going to get the barge up through the canal within a very tight window. It just doesn't move fast enough, we couldn't get it in here today."
So far operations that will be billed to Miller's insurer have amounted to $32,000 to $33,000, including expected costs of recovery scheduled for tomorrow, Guthrie said. Those figures do not include costs incurred by local government agencies, which are absorbing those costs as part of their normal emergency operations. But government agencies do not engage in salvaging operations. That's left to the private sector.
"The heavy duty response, the aircraft lift on Monday, all that's being picked up by the insurance company," Guthrie said. "In a situation like this, the responsible party would be the ones that created the incident. So it's the insurance on the aircraft."
Miller went missing on Oct. 3. His neighbors had last seen him the afternoon of the day before. His son Darren Miller had spoken to him at 11 a.m. on Oct. 2, when Raymond told him he'd be leaving Palm Coast sometime around noon to go see family in Sarasota, according to a Flagler County Sheriff's Office incident report. The report does not specify whether Miller had intended to fly to Sarasota, though his son told police he doubted that Raymond would have flown the plane there. But his family in Sarasota worried when they didn't see him arrive.
The evening of Oct. 3, Darren Miller had gone to his father's house on Farraday Lane, where the front door was left unlocked and Miller's dog was inside, but his car was missing. The Sheriff's Office had the phone company ping Miller's cell phone. The pings went back to the house on Farraday. The younger Miller and neighbors then went to Flagler County Airport, knowing that Ray Miller spent time there and had a plane parked there. Miller's car was parked up front. The hangar door was open, the plane was gone. Miller had assembled the plane himself, but had never flown it before.
That's when the search began.
The plane was not located until the following day, Saturday, at 1:30 p.m., when help from the Air Force enabled searchers, including Flagler County Fire Flight, to narrow their search to a 3 square mile area in the Pellicer Creek marshes.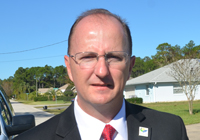 The Sheriff's Office, Flagler County Fire Rescue, Florida Fish and Wildlife Conservation Commission, the Volusia County Sheriff's Marine Unit, the Federal Aviation Administration and the National Transportation Safety Board converged on the area and began attempting first a rescue then a salvage operation, but even Saturday afternoon and evening the operation ran up against a series of obstacles, and did so again Sunday, defeating any attempt to move the plane from the muck, which Guthrie described as "good old fashion Florida swamp mud."
At 3:30 or 4 p.m. today, a barge owned b y Palm Coast's Cline Construction will make its way to the crash site. The barge has an excavator, which will be moved into position tonight to prepare the area. At 7 a.m. Thursday the recovery operation will begin. "The game plan at this point," Guthrie said, "the construction company is going to pull the plane out, secure it into some type of safety netting, let the fire rescue department do their job, which is going to be get the body out of the plane if the body is indeed in the plane. We believe it to be in the plane. And then they're going to do the body recovery operation, hand that over to the Florida Highway Patrol and the Medical Examiner's office. Then we as far as fire rescue services, we will go into a rescue mode again."
That's to ensure that the salvage operation is backed up by rescuers, should they become necessary. "We want to make sure that safety is paramount for everybody that's involved, so we will have at least two paramedics and a captain on scene to handle any water rescue emergency or anything that may come out, because again this is a high risk recovery, and because it's a high risk, we're dedicating resources to be here during that recovery period."

---
Video: 360 View of Plane Crash Site[media id=377 width=500 height=400]