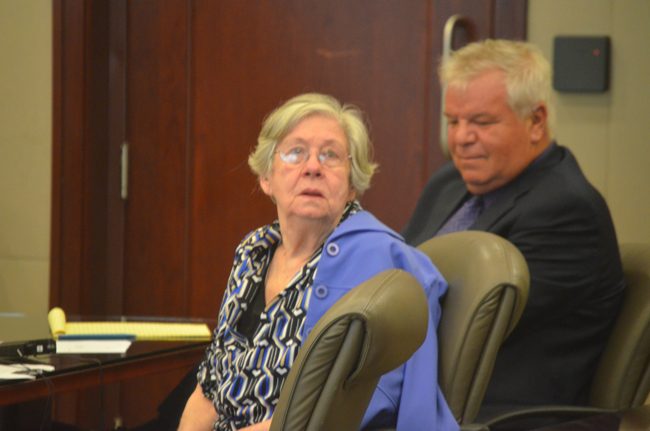 The prosecution is arguing that when Anna Pehota gunned down her husband John last September in their Hammock home, it was no accident and no crime of passion. It was murder, executed purposefully with a .22-caliber revolver that Pehota, 76, fired in rapid succession four times at her husband of 57 years. He hadn't hurt her physically. "He pushed her buttons. He made her mad. That's all it's going to come back to," the prosecutor told the jury in her opening argument in Pehota's trial this morning.
"He was a husband, he was a father, he was a grandfather," the prosecutor said of John Pehota. "This woman shot him, not once, not twice, not three times, but four times including once in the back, and when she talked to investigators she said, I'm not hurt, nobody touched me, he never hurt me. There was nothing physical, it was a mental thing, and when investigators sat down and explored that with her, they used the word mental abuse, they kind of thought that's where she was going, and the defendant rejected that. No, he just pushed my button, he made her mad."
Pehota faces a second-degree murder charge that could most likely result in a life sentence if she is found guilty, even if she were sentenced to less than 15 years in prison. Even if the jury goes with manslaughter, the sentence could make the lesser findings irrelevant. At her age, Pehota doesn't have time to bargain with. She can only hope for acquittal.
That's what her attorney, Ray Warren, is aiming for. After Monday's jury selection, when several prospective jurors had to be excused because they sympathized with her, it's not a hail Mary strategy: Pehota has none of the motives, demeanor, history, look or sound of an aggressive person, let alone a killer, as she appears publicly: frail, unassuming, a bit irascible at times but candid always, she projects the prototypical image of a grandmother wearied by the years and a not particularly easy life.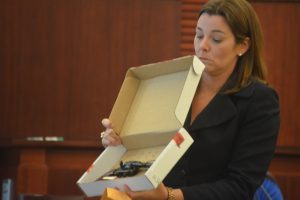 It's that difficult life, in the last years particularly, culminating that afternoon of September 23 in the shooting of her husband, that Warren is focusing on. His opening statement was not as explicit as Assistant State Attorney Jennifer Dutton's. Warren's approach is more circuitous, building his case on a crescendo of suggestions which he started planting in the jury's mind by telling the panel to be aware of no less than 50 "points of contention" they would be hearing later. He was referring to Pehota's nearly four-hour interview with investigators the night after the shooting, an interview that would normally be key to the prosecution.
Warren is making it central to her defense, because the interview also served as a history of the Pehotas' relationship. That history had become rife with conflict, caused according to Pehota's interview by John's anger, threats, ridicule, mental abuse, and bad health, and resulting in such fears on her part that on occasions she found herself hiding the households' guns because she worried he'd use one against her. There'd been five 911 calls from her house before the afternoon of the shooting, but spread over a long period. He'd been sent to anger management. He had innumerable health problems, some of them grave. His wife took care of him and worried about his treatment. In one case he told her he could shoot her. In another he told her of a neighbor who had asked her husband to suffocate her, because she was ill with cancer. Anna wondered why her own husband was alluding to a spouse suffocating his wife.
Then there's Pehota's own confusion, the afternoon of the shooting and for the duration of the long interview with the detectives. She couldn't keep much straight. She couldn't remember basic details about her house, or the sequence of events, or what, even, she had shot her husband.
"At the end of this," Warren told the jury, "the defense asserts, the defense is confident, that this is nowhere near what the state is telling you happened on that day." Pehota had at times cried as she heard Warren enumerate over 14 minutes the 50 "points of contention" he wanted the jury to keep in mind. She would cry again when her 911 call was played.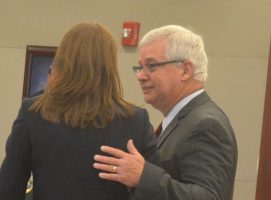 The day's witnesses were the prosecution's: the deputy who first responded to the Pehotas' trailer at 132 Sanchez Avenue, the 911 operator who took her frantic, sob-ridden 911 call when she told of shooting her husband immediately after it happened—and hung up on the operator, George Lilly, to call family—the Crime Scene Investigator who processed the scene (who appeared in an hour-long video testimony recorded earlier in the courtroom), the chief medical examiner, Predag Bulic, who conducted the autopsy on John Pehota, and the crime analyst from the Florida Department of Law Enforcement.
There were no surprises. The witnesses built the prosecution's technical case against Pehota: where John was found and how, the number of guns in the house (four total), where on his body John was shot—three times in the chest, in close proximity, once in the back), what Anna was drinking that afternoon (a glass of wine, chilled burgundy, as was her habit while preparing dinner), the anti-anxiety medication John had taken. There was no sign of a struggle, no sign of a fight, other than the shattered dish Pehota in her interview with detectives at times did, and at times did not remember smashing in anger before the shooting.
Dunton, the prosecutor, in her opening argument was painting the portrait of an angry woman who was in control of her capacities when she shot her husband. Christopher Ray, the deputy first on scene, described her as "combative" when she was initially taken into custody and handcuffed. But Warren cleverly turned the issue around when he asked the deputy whether in such situations, when cops are responding to a shooting and trying to ensure that the scene is secure so they wouldn't run the risk of being shot at, they would not immediately "hustle" away those involved—as they did Pehota, possibly aggravating her. And wouldn't a 75-year-old woman being so hustled have reason to protest or cuss, as she did? "I would believe so," the cop said, making Warren's point.
But Warren was also making the prosecution's point: Pehota has buttons that can be pushed.
As Bulic, the medical examiner, testified, the fourth bullet—the one to the back–took on some significance, as it would suggest that John was trying to get away from Anna. "This is highly suggestive of a person being bent the opposite way from the shooter because the track of the projectile is steeply upward," Bulic said to a question by the prosecutor.
After court reconvened, and before the jury was called back in, Circuit Judge Matthew Foxman asked Pehota how she was, and whether she needed anything. "I'm dumbfounded. It's overwhelming," she told the judge. She was thankful, she told him, that he was allowing her family members to stay in the courtroom throughout the proceedings.
Foxman did not let on about his sense of the proceedings, as he surprisingly did in a recent case that was clearly going terribly for the defendant after barely half a day. Foxman in that case told the defendant it was not going well, essentially urging him, without saying so, to speak with his attorney and perhaps seek a deal. The defendant did not, and was found guilty of the most severe charge.
In Pehota's case, the day was wearing on as it had started: without too many indications of the trial's direction. The jury—six women, two men, all white, all middle- to late-middle-age–has been attentive. Each side has made its case efficiently, if more forcefully on Warren's part (his voice carries, and he uses it to tactical effect). Foxman told Pehota that she should think about whether she wants to testify or not. But he did not venture further than what he told her just after a mid-morning break: "Wish there was a way out of this ma'am. Wish there was a way to get out of this."
Warren, her attorney, smiled most of the time during breaks, projecting an almost giddy confidence. He may have had reason to: nothing happened today to shake an aura of sympathy–even empathy–around Pehota.
The last witness of the day was Gabe Fuentes, the Flagler County Sheriff's detective who led the Pehota interview the evening of the shooting. His testimony was to include a replaying of the entire video interview, a nearly four-hour ordeal—for Pehota then, for jurors starting this afternoon—that would inevitably be halted at 5 p.m., to be resumed Thursday morning.
It's a startling interview, as much for the compassion with which it was conducted as for the statements Pehota made, and often remade: "You can't take a picture of mental abuse," she tells a detective talking pictures of her. "And there is a hair between sanity and insanity." "I have no idea why, he has a way of pushing me mentally." "It wasn't even a thought. It was just like one, two, three, done." "I think more than life, I need to talk to my doctor or a doctor. I don't think I need to talk to a detective. I need to talk to a doctor because a doctor might understand what's going on in my mind." "This medication has been messing him up." "It's not a good life to be–I mean, when you try and you try and you try to help somebody all of a sudden you just keep getting–." "There's a hair between sanity and insanity." "I know what I did was wrong. No lawyer can change anything that I did." "Different things have been happening along the line, but I thought we could keep it under control."
"My husband kept telling me I was the crazy one. Maybe I am."
And on it goes for three hours, played on video monitors without interruption. The jury watched, as hypnotized by Pehota's words as everyone else in the courtroom. It was not to stop until 5 p.m., when Foxman said he would send the jury home until 9 a.m. Thursday. Pehota's video interview will resume then.