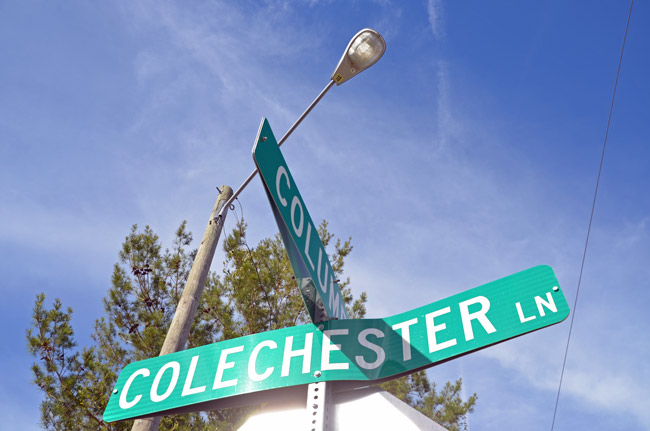 When Flagler County Sheriff Don Fleming's son was arrested for illegal possession of Xanax in late 2010, the sheriff had the case treated as any other: deputies booked William Fleming in jail and the department put out a press release about the arrest. Nine months later, the younger Fleming entered a diversionary program. Last fall, when Angela Wray, the wife of a Flagler sheriff's deputy, was being investigated for embezzlement, the case was farmed out to the Florida Department of Law Enforcement to ensure objectivity, as Wray's husband would have had to be interviewed by investigators as well. Wray was arrested in November. The court case is proceeding.
When Flagler County School Board John Fischer's wife, driving her PT Cruiser one early evening last November, struck Françoise Pécqueur, 76, as she walked her dog in Palm Coast's C-section, the sheriff was not quite as hands off regarding his friend, John Fischer. Fischer initiated a call to the sheriff on his cell phone 12 hours after the accident, and the sheriff responded with several calls of his own: in all, three calls from Fischer, three calls from the sheriff in the space of three days, though the sheriff, in a letter to the editor published in the News-Journal last week, claimed: "I had two telephone conversations with Mr. Fischer in connection with this incident—not two telephone calls from Mr. Fischer, as reported by the News-Journal." Yet cell phone records provided to the newspaper clearly indicated six calls in all. There is no mention of conversations with Jamesine Fischer.
Diligent reporting by the News-Journal's Frank Fernandez revealed, first, that Fleming had followed up on Fischer's 5:30 a.m. call with three calls of his own between 12 and 14 hours later, those calls lasting between two and six minutes. Fleming then received two more calls from Fischer's phone on Nov. 13 and 14. Fleming is known for being generous with his cell phone number—and his advice to people when they call which (as was the case with Fischer's initial call) means immediately calling 911 if it's a law enforcement matter. It's not clear why Fleming's assertions about the number of calls with Fischer contradict the record: he subsequently said through a spokeswoman that he would no longer be addressing the matter.
The issue continues to be relevant because Jamesine Fischer is under investigation by the Florida Highway Patrol for her role in the Nov. 10 incident (not the sheriff's office; the FHP investigates all road homicides), and the timing of the calls may play into the timeline of what, precisely, happened and why. It was only after the call from Fischer to Fleming that Fischer called 911, and only about two hours after that call that the highway patrol went to the Fischer home and impounded the PT Cruiser Jamesine was driving.
Had the accident been determined at its origin to have involved Fischer, the accident scene would have immediately been turned into a crime scene, evidence would have been collected, photographs taken, witnesses interviewed, the vehicle immediately impounded and its driver tested for alcohol or other substances. Instead, it wasn't until Pécqueur was seen by physicians at Halifax Hospital that she was determined to have been the victim of blunt-force trauma, rather than a mere fall.
Week after week, the Florida Highway Patrol and the State Attorney's office—where the case would be turned in and the decision made on whether to pursue criminal charges—have said that the matter is still pending.
Pécqueur died of severe head trauma at Halifax Hospital two days after she was struck on Columbia Lane, a narrow, poorly lit residential street without sidewalks near Colechester Lane. There is a street light at the northwest corner of Colchester and Columbia.
Nine days ago, Catherine Vyvian, Pécqueur's daughter, filed a wrongful death lawsuit against Jamesine Fischer in Flagler County Circuit Court. John Fischer is not named in the suit. (See the suit below.)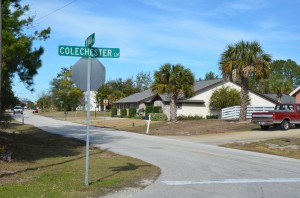 According to the suit, Jamesine Fischer—the school board member's 55-year-old wife—at one point hovered over Pécqueur as Pécqueur was lying unconscious in the road. There is no evidence of Fischer herself making a call to 911, or, when authorities arrived at the scene, informing them that she had struck Pécqueur. A driver who was passing by called 911. In that haunting recording, which the sheriff's office has released, the caller, who is unable to revive Pécqueur, tells the 911 dispatcher that "there's another lady here," but that person is not identified.
It is also not clear when Fischer got out of her car to look over Pécqueur—if she did so immediately after she struck her, or if she drove on and returned later, as one early account had it. According to the sheriff, when John Fischer called Fleming, Fischer said his wife thought she had hit a dog. Pécqueur's dog, Molly, was not injured. The dog is a tiny poodle whom Pécqueur walked regularly in that same neighborhood, a few hundred feet from the home of Pécqueur's boyfriend. The PT Cruiser's windshield was cracked on its right side, from top to bottom, by the force of strike.
Jamesine Fischer, the lawsuit charges, "owed a duty to operate and maintain her vehicle in a safe and prudent manner, to maintain proper look-out, to maintain control of the vehicle, to exercise due care to avoid colliding with any pedestrian and to obey all traffic regulations and rules of the road." The suit also charges that Fischer "breached her duty" to Pécqueur in one or more of 10 ways (driving too fast, failing to sound the horn, failing to keep a proper look-out), including driving "while ill, fatigued or impaired." Judging from the timeline, however, and the 12 hours that had elapsed before FHP's interview with Fischer, by then it would have been impossible for authorities to establish whether Fischer had been fatigued or impaired at the time of the collision.
For Fleming, regardless of the substance of his conversations with Fischer, the matter raises thorny issues of probity and perception in an election year, when he already faces three opponents (two in his own party; Fleming is a Republican). These opponents may have difficulties going on the offensive against the sheriff's administration in an environment of declining crime and static budgets, leaving them hunting for peripheral issues to exploit. This could be one of them.