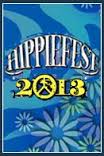 The Peabody Auditorium in Daytona Beach presents the 5th annual Hippiefest Festival and Concert Sunday, June 9 with the always-popular live music and street festival at 3 p.m. followed by the Happy Together Concert Tour at 7 p.m. with five of the biggest original headline artists and bands of the 1960's.
This year's concert lineup includes the return of the most-requested duo, The Turtles featuring Flo and Eddie, and for the first time, Gary Puckett and the Union Gap and Gary Lewis and the Playboys, and returning artists, Chuck Negron, formerly of Three Dog Night and Mark Lindsay, former lead singer of Paul Revere and the Raiders.  Together these artists are songwriters, instrumentalists, singers, and megastars of the sixties music revolution, and the popularity of their playlists is timeless.  It's the sing-along, sixties songs that created a culture of love, light, peace and flower-power.
Get in the sixties spirit and have some psychedelic fun starting at 3 p.m. with the Hippiefest Street Fest, featuring live music from regional bands, foods, drinks, sixties merchandise, art, plants, pottery, face-painters, psychics, and much, much more  The street festival is FREE and open to the public.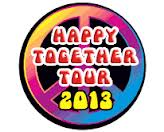 At 7 p.m. it's time to head inside, sit back and enjoy the music you love to hear, songs like  "Happy Together," "Easy to Be Hard," "Lady Willpower," "Elenore," "Celebrate," "Mama Told Me Not to Come," "This Girl Is a Woman Now," "Shambala," "Young Girl," "Joy to the World," "Never Been to Spain," and other timeless favorites by the artists that made them famous.
Reserved tickets ($38, $43  and $49 plus service fees) will be available for purchase at the Peabody Box Office, Ticketmaster outlets at Wal-Mart Supercenters, charge by phone at 800-745-3000 and online at www.Ticketmaster.com. Group discounts are available for 15 or more for this show.  For further information contact Helen Riger at 386-671-8252.