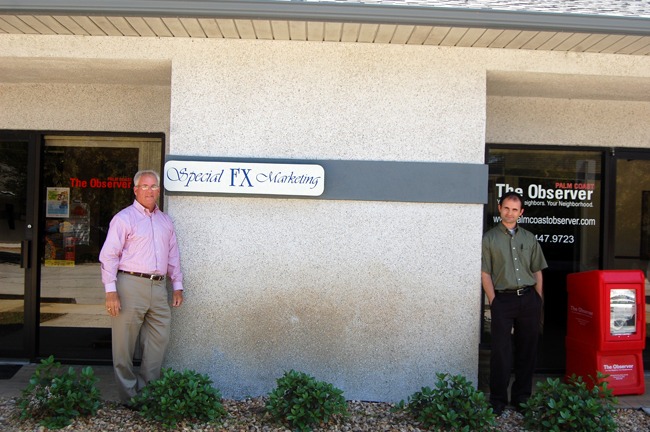 The Palm Coast Observer is celebrating. The weekly newspaper started almost two years ago with a press run of 20,000, thick in the middle of Flagler County's most severe recession in the last three generations, and in the midst of the worst newspaper crisis on record. Yet the Observer's latest audit, for the six months ending Sept. 30, shows an average press run a few copies short of 25,000 for the period, with 20,565 of those dropped in driveways and 4,000 distributed at various rack locations, with a heavy concentration in Palm Coast.
There are 48,600 households  in Flagler County, 35,000 of them in Palm Coast, according to the latest Census figures. For the Observer, that means the weekly is directly reaching 42 percent of all county households, and 56 percent of households in Palm Coast, though the figure is likely above 60 percent when rack copies are included. Besides the boast factor, the numbers are relevant to advertisers, who look for mediums that have the broadest targeted reach. The audit also shows 805 copies delivered in Flagler Beach, and just 375 delivered in Bunnell, at racks (many of which at the county government's main administration building). There are no home deliveries of the Observer in Bunnell.
The audit, by Larkspur-based Verified Audit Circulation, shows a higher household "penetration"—closer to 70 percent—but its demographics are a few years old. It has Palm Coast's population at 63,446 and its household size at 27,000, considerably below the Census count. Either way, the Observer's "penetration" numbers are far healthier than those of the Daytona Beach News-Journal, whose latest audit shows another in a succession of circulation declines dating back to the middle of the last decade. In Flagler County, the paper is home-delivering just 8,839 copies on weekdays, which means that it reaches just one in five households countywide.
"We're optimistic, we think we'll continue to increase market share next year and hopefully increase our staff by a couple of people," John Walsh, the Palm Coast Observer publisher, said. The paper has 23 employees, 10 of them part-timers who deliver the paper once a week. Its newsroom includes Managing Editor Brian McMillan (who also reports, writes the paper's editorials and a column), and three reporters. The News-Journal closed its Flagler County bureau on State Road 100 several years ago during its retrenchment. It has four reporters covering the county, including News-Tribune editor Aaron London, but their desks are on 6th Street in Daytona Beach.
The Observer's success stands in contrast with the decline of metro newspapers across the nation, but the Observer is part of a larger trend favoring smaller, community newspapers. It's one of 7,500 such papers in the country, with circulation below 35,000, most of whose readers have special affection for their community weeklies. When Verified Audit surveyed Observer readers about their reading habits, 90.2 percent of those who received it regularly said they either read it or look through it. In 2010, the University of Missouri at Columbia conducted a nationwide survey of community newspaper readers and found that more than 75 percent read most of their local paper every week. That survey included free and paid-for newspapers.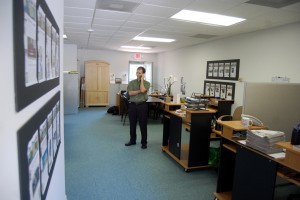 "It is more than a little ironic that small-town papers have been thriving by practicing what the mainstream media are now preaching," the broadcast journalist and USC professor Judy Muller writes in her new book, Emus Loose in Egnar: Big Stories from Small Towns (University of Nebraska Press).  "'Hyper-localism,' 'Citizen Journalism,' 'Advocacy Journalism' — these are some of the latest buzzwords of the profession. But the concepts, without the fancy names, have been around for ages in small-town newspapers." The citation is quoted in a long piece on community journalism published earlier this year by Stanford University's Rural West Initiative, which also quotes from a speech by the publisher of a small paper in Oklahoma: "To our readers, we are not the newspaper, we are their newspaper. Down the block at Rogers Mini Stop, we sell more than a hundred papers every week. If our press run is late we get frantic calls from the Rogers family. They have a store full of irate customers who want their papers now…. We all know the traditional reasons — the little stories that never would be considered 'news' anyplace else. Our readers really care about those things."
Words Walsh echoes today as he describes how the nature of the industry has come "full-circle from the wild west, when every small town published a community paper. The transition and evolution went to regional papers, national league dailies continue decline. Community papers nationally show an increase in readership and ad revenue because of the hype-local link."
Hyper-local, and cheery, because it's an indisputable characteristic of community journalism that likability and friendliness of coverage have precedence over the watchdog type. Barbara Revels, the county commissioner, summed it up to Walsh while she was interviewing him last month, when Walsh was a candidate for the county's economic development council. "I don't think that your guys, your reporters and your paper do hard-hitting, critical stuff, like, let me just say, the News-Journal used to do or when others would zero in on something and didn't let it drop," Relvels told Walsh. "So I think of you more as a community newspaper, where you're reporting all the great things that are going on in the community, you're a cheerleader of the community somewhat."
Walsh didn't dispute Revels's assessment. He wasn't chosen for the council: Revels herself worried about the potential for conflicts in Walsh's dual role, though it may come as a surprise to many readers or people familiar with the paper that Walsh isn't directly involved in the editorial process. The Observer is part of The Observer Group, a Sarasota-based corporation owned by John's brother Matt, who runs four  community newspapers in addition to the Palm Coast Observer with his wife Lisa–the Sarasota Observer, the Longboat Observer, the East County Observer in Manatee County and the Gulf Coast Business Review. The template for each is a mirror of the other (the Longboat and Sarasota paper's combined website, for example, is a virtual replica of the Palm Coast Observer's but for the content), with the same emphasis on neighborhood news. McMillan actually reports editorially to Lisa Walsh, the group's executive editor in Sarasota, where Palm Coast Observer content is edited and vetted. (Lisa bought the Longboat paper 21 years ago.)
"In our company, I have the least amount of journalism and publishing experience on the entire staff, including the seven 20-somethings that we've hired," Walsh said, in an interview earlier this year, of employees he watched grow up and were on his first little league soccer team. "My skill set is sales and marketing, entrepreneur, start-up businesses. This is my third start-up. The other two are still operating." Walsh owns Special FX Marketing, whose offices are adjacent to the Observer's in the Sunrise Plaza on Florida Park Drive. "My role as publisher and my primary function is to sell the Palm Coast Observer, sell advertising for the Palm Coast Observer, and three is to make sure we're delivering a quality product."
Walsh likes to tell the story of a voicemail he received from a reader, Pat Rosenthal, who told him he'd "learned more from the Observer in the last four months than in the last four years from the News-Journal." That's not entirely surprising, considering the anorexic look of the News-Journal, and particularly its niggardly coverage of Flagler. Walsh also refers to a letter to the editor in his paper where a reader said the Observer had to be doing something right: the paper had gotten soaked in the driveway from a drench, and the reader had spent 15 minutes blow-drying it with a hair-dryer.
"We're in a unique space compared to the News-Journal. The space that they're in serves a different need," Walsh said. "They're swimming upstream. The dailies will continue to decline. The maturation of our community is another one of their concerns. They're approaching us from the outside, whereas the Observer is from the inside."
"For us, we hear a lot of good things. Sometimes I wonder," McMillan had said during that same interview. "It's more likely that people are going to come up and talk to us if they like it, but we hear almost everything positive about the paper. It's interesting because if you look at the content that's in the News-Journal, they do have a lot of content that's related to Flagler County. There's no doubt about that." But, he continues, "If I pick up the News-Journal, I see Palm Coast and Flagler County headlines, and I want to read them. If I see a sensational headline from a guy that, a Deltona story, as soon as I see the word Deltona, I turn the page, because it has nothing to do with me and Palm Coast. If you have a publication that everything is about you and Palm Coast, everything is about you, your neighbors, your neighborhood, you feel like that's your paper."