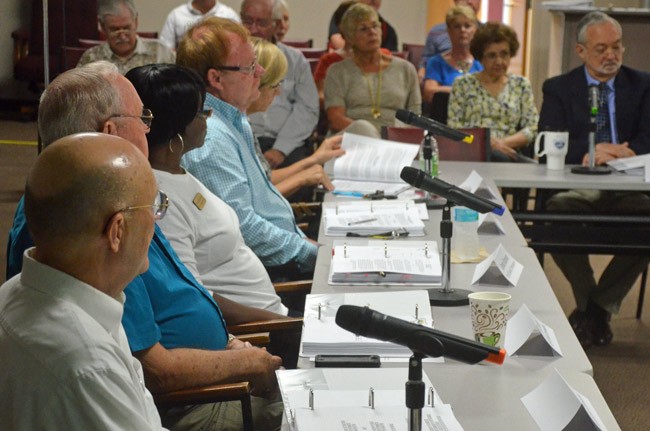 Some 14 months ago, when Bunnell was facing an $800,000 deficit, city commissioners agreed to a 10 percent pay cut as part of wider and much deeper budget cuts. It was a mostly symbolic pay reduction of $960 per commissioner, and a little more than that for the mayor.
Monday evening commissioners had a chance to raise back their pay just a little—not to restore the full 10 percent they lost in 2014, but to get a 3.8 percent raise, the same raise that city employees are getting and that commissioners approved come Oct. 1.
The proposed pay increase would have raised commissioners' salaries to $8,976 a year, and the mayor's salary to $11,220. It would not have been effective until March 2016, after the next city commission election. The city charter forbids commissioners from awarding themselves pay raises within their own term. But it doesn't keep them from voting for raises for subsequent terms.
The proposal failed on a 2-2 vote, with Mayor Catherine Robinson joining Commissioner Elbert Tucker—who couldn't believe it at first—to reject the raise. A tie vote means the motion fails.
"Oh you voted nay?" Tucker asked the mayor immediately after the vote, when even the city attorney thought he'd heard three votes for the raise. "All right," Tucker said, as if cheering a walk-off homerun. Commissioners Bonita Robinson and John Rogers had voted for the raise.
Commissioner Bill Baxley was absent: that day he'd been in surgery after a cancer diagnosis (melanoma) just days earlier. But reached at his home Tuesday evening, Baxley said that "more than likely I would have voted no." Baxley said he would have had a conversation with the city's finance director and evaluated where the city's financial recovery is at this point before making the decision, but he noted that he's been voting against raises consistently—not because he doesn't think employees and even commissioners deserve raises, but because the city has not been able to afford them just yet.
For Tucker, the vote against was yet another turn-around in his seesawing relationship with commissioners' raises. In 2009, he voted against the motion that doubled commissioners' salaries, calling his stance a "moral gesture." But the following year, when the commission had to approve a resolution formalizing the raise at a public hearing, Tucker was all for it. "I'm worth every dime that I get paid for this job," he said at the time. "Here's the final analysis. The people don't like us, they need to vote us out and get the salaries back to $4,800."
He's been reelected once since, but now faces an election again in March, as does Mayor Robinson and Baxley. Baxley was among the many people blasting the commission for the raise at the 2010 public hearing.
"What I think we need to do is put it on the ballot and let the public decide if we're going to get a raise, as opposed to awarding ourselves a 3.8 percent raise," Tucker said Monday evening. But the commission had approved a ballot initiative that was subsequently approved by voters that made that step—going to voters for commissioner's raises—unnecessary.
Wade Vose, the city's attorney, attempted to put the raise in its proper context. Voss: "This resolution is only intended as a technicality to implement that portion of the budget that you have approved that was discussed at your first budget meeting at prior hearings," he said, reminding commissioners that they had essentially approved the raise already, but for its formal ratification." It wasn't enough to change their mind.
When Bonita Robinson made a motion to approve the raise, she had to wait 10 seconds, with the mayor repeatedly calling for a second, before Rogers provided it.