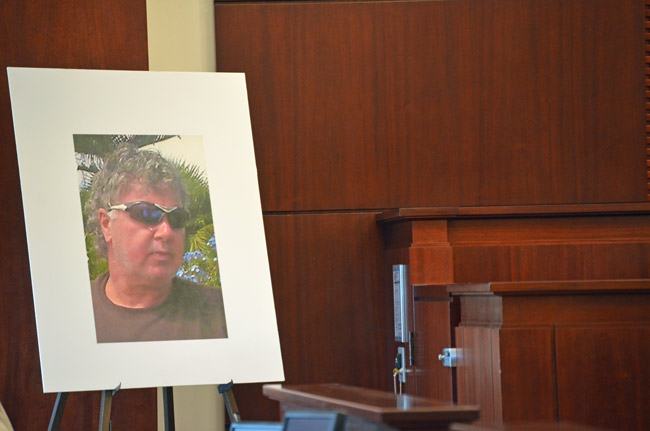 Note: this is an account of the Paul Miller trial's afternoon session on Tuesday. For the account of the morning session, go here.
The first police officers at the scene of the shooting that claimed the life of Dana Mulhall on March 14, 2012, were Dennis Lashbrook and Robert MacDonald of the Flagler Beach Police Department. Miller, who had minutes earlier told a 911 operator that he had shot Mulhall—his next-door neighbor—was standing on his own property, looking toward Mulhall's house, his hands in his pockets.
Lashbrook and his partner saw Mulhall on his back, not moving, "bleeding heavily from his nose," with a pool of blood by his head, which was a few feet from his front door. He'd soon be pronounced dead after efforts to revive him failed. He'd been struck by five bullets. Miller told Lashbrook where the gun was: on top of a curio cabinet, in a rectangular white box the gun had apparently been mailed in. Lashbrook secured it in the trunk of his cruiser.
In a long series of questions illustrated by large-size photographs mounted on white boards and other evidence, including the box containing the 9 mm Lugar used in the shooting and a bag of ammunition, Assistant State Attorney Jacquelyn Roys Tuesday afternoon reconstructed the scene police and paramedics found that March evening on South Flagler Avenue in Flagler Beach.
Roys and her co-prosecutor, Assistant State Attorney Kayla Hathaway, had two goals in the afternoon of the trial's second day: to show how close to his front door Mulhall died as he was moving away from Miller, and to paint a portrait of Mulhall the man—including showing a portrait of Mulhall to the jury that mirrored the prosecution's portrait: the beefy, sun-burned, easy-going "creature of habit" who worked hard mowing lawns most days, then kicked back, drank his Miller Lites, bought his lottery tickets and hung out with friends most afternoons, usually getting home in early evening and staying there.
Miller's defense team hung back most of the day, asking few questions of the prosecution's witnesses, and doing so mostly to sow doubt about Mulhall's nature and drinking habits in hopes of showing him to be more immoderate than witnesses were making him out to be. Twice defense attorney Carine Jarosz asked witnesses if they remembered what was imprinted was on Mulhall's shirt, suggesting that the message may have diluted his moderate image. But neither witness could remember (Bissonette, described the shirt as "too bloody"), and Jarosz did not reveal the detail.
The reconstruction of the crime scene principally featured the testimonies of Lashbrook and Jacob Bissonette, then a Flagler Beach paramedic who tended to Mulhall, and who wedged him out of a set of bushes where he'd initially crawled or fallen, to more easily work on him along with other paramedics. Two markings near Mulhall's door showed where bullets were recovered. The questions focused on details: where medical equipment was positioned, where a sanitary glove had been left, where in relation to the front door Mulhall's body was found.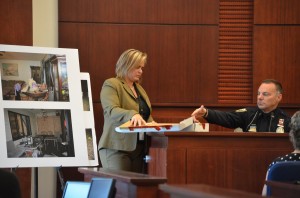 Jarosz's most pointed questions to Lashbrook were about Miller's demeanor with police.
"He essentially complied with either all of your questions or request?" she asked the officer, who said yes.
"And he never tried to flee the scene?"
"No."
"He was cooperative?"
"Yes."
The defense's claim is that Miller was acting in self-defense. Its strategy may focus on trying to make Miller as sympathetic as possible. He looks the part: his lanky, slightly bent-over grandfatherly demeanor lends him a benevolent air anyone crossing him in the street would be hard-pressed to associate with the look of a threatening shooter. Perhaps to unsettle the defense's strategy, the prosecution made a point of de-sympathizing Miller after a 15-minute break in mid-afternoon.
Before the jury was ushered back into the court room, Roys told Circuit Court Judge J. David Walsh, who is presiding over the trial, that while in the hall during the break, Miller had been seen rubbing his wife's back. Everybody was standing in close quarters in that area: jurors, witnesses, Miller and his family. Roys described it as a "potentially dangerous situation for a trial, a mistrial," and found the show of affection "inappropriate" if it were to occur in front of the jury, as it could prejudice juror's perceptions of Miller. "I would ask that he refrain from patting his family members," Roys said.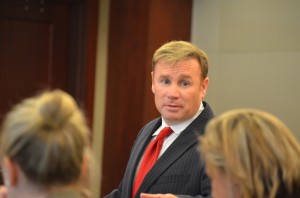 Doug Williams, the lead defense attorney, asked the judge if he should ask his client to refrain from hugging his wife in the presence of the jury. He had not necessarily meant the question as anything but a straight-forward query. Roys didn't see it that way, and said she didn't want the issue to be made light of.
"I'm not objecting to that, I think it's a little bit tough, but I'm not objecting to that," Williams then specified.
Walsh briefly looked perplexed. "I'm not here to micromanage people's personal affairs," he said, but to the extent that the shows of affection could influence jurors, he said he'd request to Miller and his family to "kindly do so in the area away from the immediate courtroom." When Williams asked about the area beyond the courtroom—downstairs, in the parking lot, for example—Walsh drew the line. "If somebody is outside, I'm not going to have the thought police out there," he said, noting that short of sequestering the jury, "sometimes things are going to happen that we don't have complete control over."
The trial then resumed. It was a quick but telling example of the heavy choreography, positioning and balancing acts that take place during a trial, when either side looks for any possible advantage to press or exploit, while the judge hopes to avoid the slightest possibility of a mistrial.
When the trial resumed at 3:21 p.m., the prosecution devoted the rest of the afternoon to its portrait of Mulhall through his friends, including Brian Carr, a close friend with whom he'd fished the day before the shooting—and gotten sunburnt, according to Carr, while not catching a single fish—, his friend Richard Dwyer, and Nicolette Sanzone, one of his long-time bartenders, at Poor Walt's in Flagler Beach. Mulhall had gone to lunch with Dwyer and others at 2:30 the day of the shooting, had two beers—according to Dwyer—at Johnny D's—and two or three more with Dwyer at the Golden Lion, after which the friends split off. Sanzone saw him at Poor Walt's that early evening, remembering that he had two beers in the bar he frequented almost daily at happy hour. He was then spotted by Summer Hodgin, the then-17-year-old daughter of his closest friend, at a convenience store where he bought his lottery tickets. That was within the hour when he got killed.
Prosecutors asked every witness whether Mulhall at any point had trouble walking, standing, talking. In every case, witnesses said no. Lois Hodgin described him as occasionally "buzzed," but never "sloppy drunk."
But the defense attorneys almost as persistently asked each witness whether they knew if, outside of the time they saw Mulhall, they could know whether he'd been drinking. They could also only say no: just as the prosecution was trying to show that Mulhall was not drunk, the defense was sowing doubt about how much he'd been drinking that day, a detail relevant to Miller's characterization to police after the shooting, when Miller claimed Mulhall was drunk during the confrontation.
At one point one of the defense attorneys alluded to Mulhall's blood-alcohol content, a detail that had not been introduced as evidence yet. The prosecution quickly objected. That detail was never revisited Tuesday.
The defense had asked so few questions that the prosecution ran out of its scheduled witnesses at around 4 o'clock, an hour early. The trial was recessed until Wednesday. The prosecution isn't done. But the prosecution's case is set to end around midday Wednesday. It'll then be up to the defense which, on Tuesday morning, had chosen not to present its opening arguments after the prosecution did.
Those arguments, if presented Wednesday, will reveal a defense strategy that so far remains elusive, very possibly by design: the defense has nothing to prove. Only to undermine the prosecution's case with reasonable doubt.