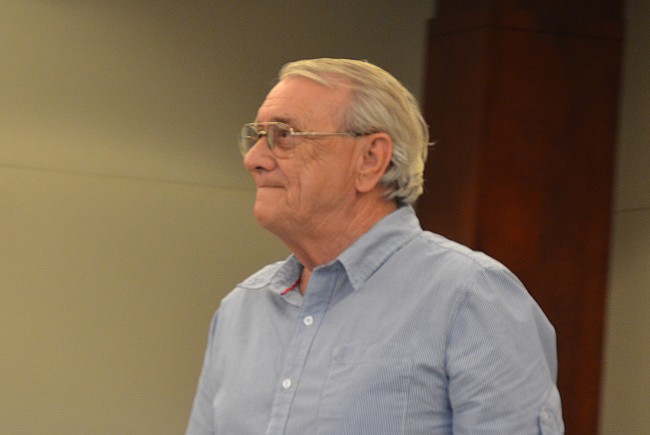 After several delays, Paul Miller will go on trial May 20 on the second-degree murder charge he faces following the shooting death of his neighbor, Dana Mulhall, during an argument over Miller's barking dogs on March 14, 2012.
Miller is invoking the Stand-Your-Ground defense, Flagler County's first such defense since Stand Your Ground became law in Florida in 2005. Miller will be represented by Daytona Beach attorney Doug Williams.
Flagler County Circuit Judge J. David Walsh is reserving two weeks for the Miller case in anticipation of a long, complicated and contentious case that will unravel in an already heated context over the Stand-Your-Ground law's controversy. Walsh set the day today during a brief pre-trail hearing that Miller and his wife attended.
Under the law, "a person is justified in the use of deadly force and does not have a duty to retreat" if that person "reasonably believes that such force is necessary to prevent imminent death or great bodily harm to himself or herself or another."
Florida was the first state to enact a Stand Your Ground law, which vastly expanded an individual's right to shoot to kill beyond the traditional Castle Doctrine by applying the no-retreat principle to any location, not just an individual's home or property. Florida's Stand Your Ground law has been under scrutiny since George Zimmerman invoked it after shooting and killing 17-year-old Travyon Martin in Sanford, after Zimmerman raised suspicions about Martin in a call to a police dispatcher–and after Zimmerman initiated a pursuit of Zimmerman, though he'd been told by the dispatcher not to proceed. That shooting took place on Feb. 26, 2012.
The Flagler Beach case began just three weeks later: the evening of March 14, 2012, Dana Mulhall returned to his house on Flagler Avenue in Flagler Beach and heard Miller's dogs barking next door. He and Miller got into an argument, each man from his own property: a fence separates the two properties. Miller would later tell the court that it wasn't the first time Mulhall had confronted him, though it's not clear if a confrontation two months earlier had to do with dogs. In the March 12 confrontation, Mulhall then went back to his house. At that point, Miller said, he went into his own house, retrieved a gun, and came back outside to sit on a chair. When Mulhall reappeared, a confrontation resumed as Mulhall, according to Miller, "began yelling profanities."
The two men never crossed into each other's properties. Mulhall was on his own porch. He then stepped down and went toward Mulhall. At one point, according to Miller, Mulhall grabbed the plastic-like picket fence that Miller had built on his side of the property, and shook it. Miller told him to stop. Mulhall did, and stepped away from the fence. The two men continued to argue.
Miller told police that when the two men were facing each other across the fence, he had his hand on his back pocket, on his gun, but said that at no point told Mulhall that he had a gun."However," Miller's arrest report states, Miller stated that Mulhall claimed he had a gun "too" and "would kill both [Miller] and his dog." Miller claims that Mulhall then reached "behind his back in the buttocks area, at which point [Miller] claimed he felt the neighbor was reaching for a gun." Miller said that he then pulled his gun out of his pocket and began shooting at Mulhall.
Miller fired five shots in slow, deliberate shots, as the sound was described by neighbors. All five struck Mulhall. Four of the five shots struck Mulhall as Mulhall was running away, or falling away, or crawling away from Miller, prosecutors said during Miller's bond hearing. (Miller's bond was set at $300,000, and he posted it.)
Miller himself told police, according to the report, that "after the first shot, [Mulhall] turned and retreated by running toward the front door of his [Mulhall's] home. [Miller] stated that even after [Mulhall] attempted to retreat, he continued to shoot [Mulhall] until [Mulhall] fell to the ground," where he died a hort time later.
The autopsy revealed that Mulhall was shot once to the right front chest, once to the left knee area, once to the right thigh area, and twice in the upper back. Mulhall died near his front door.
Those details, those from Miller's own mouth, as well as the circumstances of the shooting that Miller described, the location of Mulhall at all points during the incident, and the fact that Mulhall was unarmed, have cast doubt on Miller's claim that he was acting in self defense. Miller called 911 and, himself using profanities (he said he "shot his fucking ass," referring to Mulhall), briefly described how he shot Mulhall, in a Tennessee drawl that betrayed no anxiety.
Miller's drawl would later become an issue in the run-up to the trial: his defense asked for an interpreter, who was (and will be) called on to explain Miller's colloquialisms in such a way as to ostensibly show that the language he used at the time meant that he did feel threatened. The prosecution is likely to call into question the subjectivity of the interpreter's conclusions.
"We'll continue as many days as we need to seat the jury," Walsh said of the two-week trial proceedings. "Certain witnesses will have to be deposed after we have commenced the trial," the judge said, recognizing that "there could be some logiistic issues here," because several members of both Mulhall's and Miller's families will be presumably traveling from out of state.