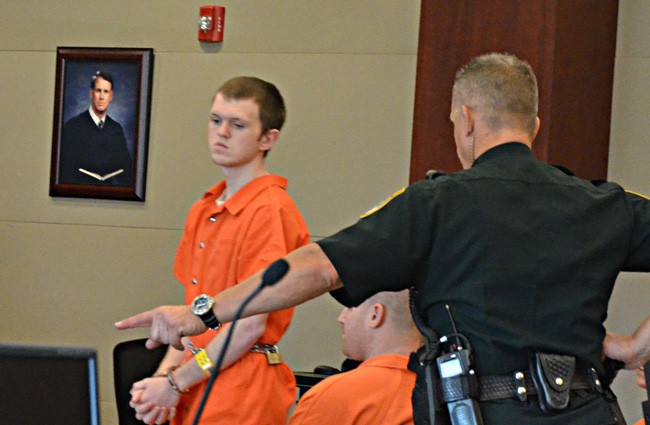 Update: Attorney David Taylor withdrew from the case on May 25, 2016, saying Dykes had "failed to comply" with financial obligations, and his mother was no longer looking to Taylor to represent her son. Taylor was replaced by Public Defender Bill Bookhammer.

Paul Dykes, the 18-year-old Palm Coast man accused of raping a child younger than 5, taking images or video of the abuse and downloading numerous short videos depicting the rape or sexual abuse of toddlers, pleaded not guilty today before Judge J. David Walsh.
He also informed the court of a surprising choice for a lawyer: David Taylor, the Jacksonville attorney and two-time candidate for Jacksonville City Council, who's had a checkered history before the Florida Bar. He has served a suspension from practicing law and was subsequently charged with aggravated assault with a deadly weapon in a 2012 case. Taylor was not in court this morning. His office confirmed by phone that he is the attorney of record in the Dykes case.
Dykes, who had been a resident of 22 Buffalo Meadow Lane in Palm Coast, was part of four dozen felony arraignments. He appeared in court this morning, expressionless, shackled in his Flagler County jail orange suit. He's being held on $170,000 bond on the charges relating to pornography and promoting of sex performance by a child charges, and on no bond on the rape charge.
He stood before the judge for less than a minute to hear Walsh set a pre-trial hearing with Taylor and Dykes on July 8.
Dykes was the ex-boyfriend of Erin Vickers, a 20-year-old resident of 9 Ryall Lane in Palm Coast and the mother of a toddler girl. Dykes was arrested in late March. Vickers was arrested less than two weeks later, following a Florida Department of Law Enforcement investigation, and also charged with capital child rape. The Department of Children and Families removed her daughter, 15 months old at the time of her arrest, from the household on Ryall Lane, which she shared with a sister. She's been held at the Flagler County jail without bond, as her arrest was p[aired with a violation of probation related to a 2013 felony conviction. That year she'd traveled with a 35-year-old boyfriend to Polk County to meet what she thought was an underage girl for sex. It was a sting operation by the Polk County Sheriff's Office.
Vickers was not in court today. She submitted a written not-guilty plea, and has retained attorney Garry Wood of Palatka.
Taylor, 42, had faced the aggravated assault charge following an alleged confrontation between him and a 16-year-old girl and her 18-year-old sister as Taylor was doing repair work in a backyard. The two girls somehow aggravated Taylor, who allegedly raised a hammer in their direction and threatened them, using an obscenity. Taylor claimed it was the girls that threatened him, not the other way around, an account corroborated by some neighbors. The State Attorney's office eventually dropped the charges because of conflicting stories.
Taylor's license to practice law had not long before been suspended for 30 days. "Leading up to the election," a Times-Union report in January noted, when Taylor was running for city council for the second time, "Taylor was asked repeatedly about Bar investigations that involved his billing as a court-appointed attorney, his conduct in a divorce case, and a potential forgery of a judge's signature on an eviction document. In October 2011, Taylor pleaded guilty to engaging in conduct involving dishonesty, fraud, deceit or misrepresentation related to the divorce case and was suspended from practicing law for 30 days." Taylor lost his second bid in March.
Taylor has handled high-profile cases before. Last year he represented Pedro Juan Ocasio Alcazar, who was found guilty on six counts of vehicular homicide in a 2010 crash that killed six people, and sentenced to 60 years in prison. In 2008 he represented ex-Jacksonville narcotics detective Shawn Mario Pringle, who'd pleaded guilty to forcing an informant into sex and was sentenced to three years in prison.