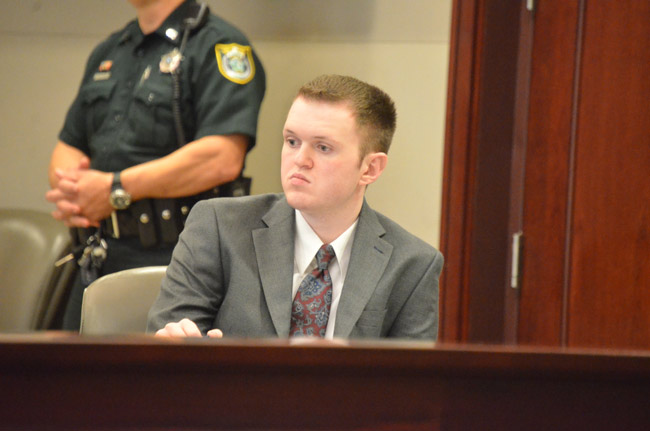 Paul Dykes was feeling so nauseous this morning before his trial's final day that his attorney asked a bailiff what would have to be done should he take ill. The bailiff positioned a garbage bin next to Dykes. Not long afterward the defense rested, startlingly without calling a single witness. Attorneys gave their closing arguments.
The jury of six women went into deliberations at 12:18 p.m. It had a verdict at 12:36 p.m.: Eighteen minutes, or essentially the time it took the jury to pick a foreperson and fill out an unusually long verdict form.
Paul Dykes was guilty 24 times over, including for a capital felony of child rape that requires him to be sentenced to life in prison without possibility parole. He turned 21 two weeks ago.
The conclusion was foregone. You could read it in the tearful eyes of his mother even before this third day of trial began. She had sat through–or more accurately, endured–two and a half years of her son's pre-trials and two and a half days of a trial when no one but Dykes and attorneys had until then seen, heard and read the extent of the evidence against him.
She knew what anyone in the courtroom had to know. No jury would return anything less than the harshest verdict against Dykes in a 24-count indictment on charges ranging from possession of child pornography to rapes of a 1-year-old child layered in brutalities that included his orders to the child's mother that the child be tied up and gagged so her mother could more easily abuse her sexually, and wishes to involve the child sexually with a dog and with another child, or to involve his own infant daughter in similar instances. It was all designed, the prosecution said, for Dykes's urges: as he directed the action from his home in Palm Coast's B Section, he watched from across town through a video-chatting utility and gratified himself. When he was done, he'd curtly cut the child's mother off and end the chats.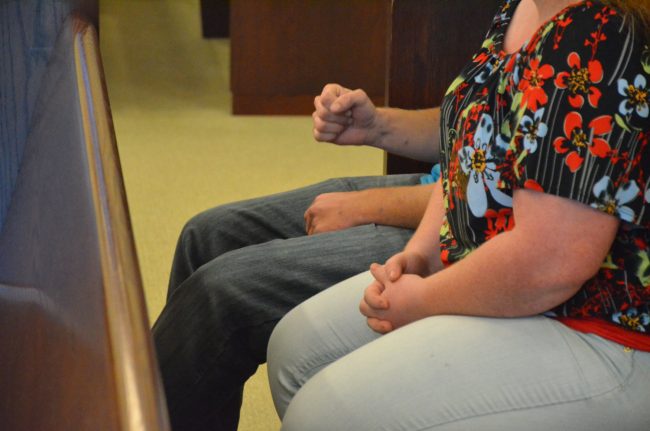 Erin Vickers, the 23-year-old Palm Coast woman with whom Dykes was found to have conspired to carry out and record the rapes, was found guilty in similar charges in September. She also faces life in prison. Her case is on appeal, and like Dykes, she faces still more charges and additional trials.
Today, Dykes was found guilty on 20 counts of possession of child pornography, conspiracy to rape a child, solicitation to rape a child, principal in a the rape of a child and principal in the lewd and lascivious molestation of a child. The child porn charges are all second-degree felonies. The rest are either first degree felonies, life felonies or capital felonies, the latter two amounting to the same thing: life in prison without parole.
Dykes's sentencing is scheduled for Jan. 30. A pre-trial is scheduled in Dykes's remaining 13 counts against him "just to see what we're going to do with those," said Assistant State Attorney Jason Lewis, who prosecuted the case with Assistant State Attorney Joe LeDonne, "whether we have another trial or reach a resolution." A resolution is more likely than not.
Dykes's intellectual and emotional capacities had been in question during the pre-trial phase: he did not handle middle school, he was expelled from virtual school, and was working on completing a graduation equivalency diploma as he worked at Publix, but those issues were never made part of the trial.
Dykes did not react when the verdict was read. He had looked comfortable and congenial in the first day of trial, maintaining an easy composure, occasionally smiling and chatting with his public defender–Bill Bookhammer–during breaks. But today, starting with closing arguments, he appeared to have tuned out his surroundings, continuously and intently writing on a legal pad without looking up, his expression reverting to what if often was during pre-trials: vacant, as if he had removed himself from the room mentally. Circuit Judge Dennis Craig denied him a hug with his mother, but allowed him to turn around as she whispered to him: "I'm praying for you."
A few minutes before the verdict, she was seen hobbling through the courtroom's corridor. She had fallen on tiles in front of the courthouse moments earlier, and had injured her knee. "It's not the worst thing that's going to happen to me today," she said.
The prosecution had spent seven hours on Tuesday blitzing the jury with batch after batch of disturbing evidence–images, videos, chats, Dykes's own audio-recorded admissions to law enforcement agents–painting the picture of an organized, deliberate method Dykes and Vickers had developed to indulge their fantasies, at the expense of Vickers's child. Dykes himself had two children, also infants or toddlers: he's since lost his parental rights.
Bookhammer, the defense attorney, countered with one defense: that Dykes was never physically with Vickers at the time of the rapes and abuse sessions depicted in images and videos submitted as evidence, and therefore could not be directly tied to the acts: the chats, he said, were "just words," not action.
Bookhammer's contention was that the videos presented to the jury were made on Feb. 22, 2015, but the 11 chats all date from subsequent days. So he told the jury that "there's not one shred of evidence that Mr. Dykes had asked, commanded, solicited or conspired that Erin Vickers take those photos." He claimed the state was making an unreasonable leap to assume that because Dykes was explicit with direction in his subsequent chats, he was therefore involved in the acts shown on Feb. 22 in images and videos. Bookhammer's argument was that he was not involved.
"The emotion in a case like this, a person may want to believe that somebody else was involved," Bookhammer told the jury, "but Ms. Vickers has demonstrated in the very acts of what's in those photographs that she's very capable of doing those things on her own, because she did." He added: "At the end what we have are words and the state wants you to convict him based on some tests and some chats without any physical proof of something happening to that child."
But Bookhammer was also asking the jury to take a leap and conclude that since there was no direct evidence of Dykes's involvement in the images and videos, the evidence of his written chats was not evidence of rape or conspiracy to rape the child, because there are no images or videos time-stamped in conjunction with those chats. The leap assumes that the prosecution would not have had a case had it not had the images and videos. But the chats alone may have formed the basis of a case against him. And when the chats were read in court on Tuesday, there seemed to be little doubt–little reasonable doubt–that the words in the chats were directly associated with actions Dykes was not visualizing just in his mind, but on a screen: he made that clear through statements about the sound and his insistence that Vickers keep her daughter quiet, to the point of ordering Vickers to gag the girl and tie her up.
That leap, the jury was unwilling to take, particularly after Lewis addressed Bookhammer's claim head on: ""It's called the totality of the circumstances and your job is to look at the evidence together."
In their closings, the attorneys gave the jury a digest version of the trial day, with the prosecution going first and last, and the defense sandwiched in between. LeDonne began with a 22-minute closing that soberly went through the evidence step by step in more forensic than emotional terms, so that at times he sounded like he was closing on a case of robbery or embezzlement. But it was almost like a set-up: LeDonne's muted approach gave way to an equally sober-minded closing by Bookhammer, with both closings at that point contrasting with the graphic and withering evidence of the previous day.
Then Lewis stood up for his final closing. It is customary in these trials that the prosecution goes first, the defense second, then the prosecution again, as it is up to the state to prove its case. The defense needs disprove nothing.
Lewis did not hold back, not only replaying a lot of the textual evidence of Dykes's direction and desires, but flashing the textual exchanges in all their explicit variety on a large screen above Dykes himself, who never looked up and kept to his furious writing on a pad, his head tilted away from the jury. On occasion Lewis ridiculed Bookhammer's claim that there was no connection between the texts and the images or videos.
"This case is beyond all doubt, ladies and gentlemen. We have reasonable doubt This case is beyond all doubt," Lewis said.
"I know this isn't easy to watch and look at all this stuff, but you have to make a decision based on the evidence and I submit to you that the evidence is there and he's guilty," he told the jury in his final words.
The judge had mentioned to the attorneys earlier that morning, out of hearing of the jury, that deliberations could run into the lunch hour. The court has been known to bring lunch in for jurors when that's happened. There was no mention of lunch for the jurors as they filed into the jury room just after noon. Unless lunch had somehow been served in the room, it seemed like an unspoken assumption that deliberations would not outlast the lunch hour. It didn't.
During the trial, one of the jurors had written down a question for the court that the court declined to answer. But after the verdict and before the jury was dismissed, Lewis asked for a sidebar. When the judge took back his seat, he explained that the question that couldn't be answered had to do with the child victim's fate. He said now that the trial was over, he could answer it: "The child is now with another family, and safe." The child's identity has also been legally changed.

Note: Video contains graphic language and disturbing descriptions.
Assistant State Attorney Jason Lewis's Closing Argument.