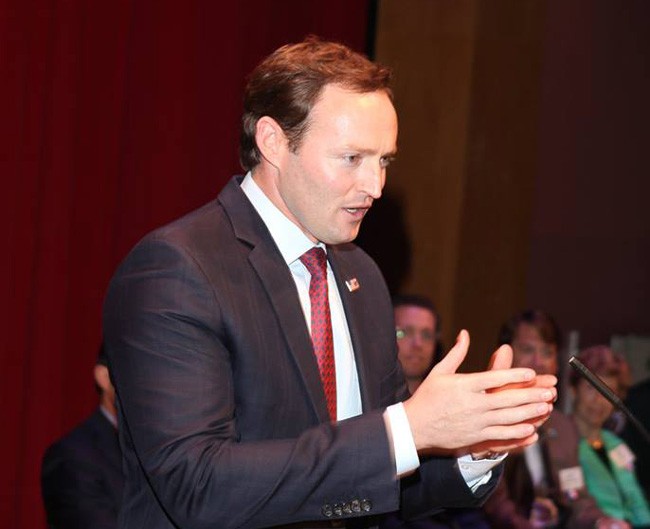 Saying he is not a "career politician," two-term Democratic Congressman Patrick Murphy announced Monday he will run in 2016 for the U.S. Senate seat held by Republican Marco Rubio.
The announcement sets the stage for a big-money, high-profile Senate race next year — whether Rubio seeks re-election or decides instead to run for president.
Murphy, 31, toppled Republican Congressman Allen West, a tea-party favorite, in 2012 before easily defeating former state Rep. Carl Domino in 2014. Murphy's campaign said Monday that he raised more than $11 million for the two campaigns, hinting at his ability to pull in the massive amounts of cash that would be needed to win a U.S. Senate seat.
In the announcement, Murphy presented himself as a businessman who would be an "independent voice for Florida." Murphy, who lives in Jupiter, represents a congressional district that includes St. Lucie and Martin counties and northern Palm Beach County.
"I'm a CPA and small businessman — not a career politician — who saw the dysfunction in Washington and decided to do something about it," Murphy said. "I'm running for the U.S. Senate for the same reason I ran for Congress in 2012 — Washington is full of hyper-partisan politicians who can't, or won't, get anything done, and Florida deserves better. I'm a consensus-builder who is working to boost the economy by cutting waste in government, raise the minimum wage, strengthen Social Security and Medicare, and protect the Everglades."
Rubio has not announced his plans for 2016, though he is widely perceived to be taking steps toward running for president. He has indicated he will not run for re-election to the Senate if he launches a bid for president.
Even if Rubio does not run for re-election, Republicans are certain to wage a massive effort to keep the Senate seat. Potential GOP candidates include state Chief Financial Officer Jeff Atwater, former state House Speaker Will Weatherford, Lt. Gov. Carlos Lopez-Cantera and U.S. Rep. Vern Buchanan.
Murphy's announcement came after two of the state's most-prominent Democrats — former Gov. Charlie Crist and U.S. Rep. Debbie Wasserman Schultz — said last week they would not run for the Senate seat. Murphy, however, could face a primary challenge from the left, as U.S. Rep. Alan Grayson could get into the race.
But in the announcement, Murphy only mentioned Rubio by name.
"For years, Senator Rubio has put the needs of Floridians behind his presidential ambitions," Murphy said. "We need a leader in the Senate whose eyes are firmly fixed on the people of Florida by working together to get things done."
–Jim Saunders, News Service of Florida