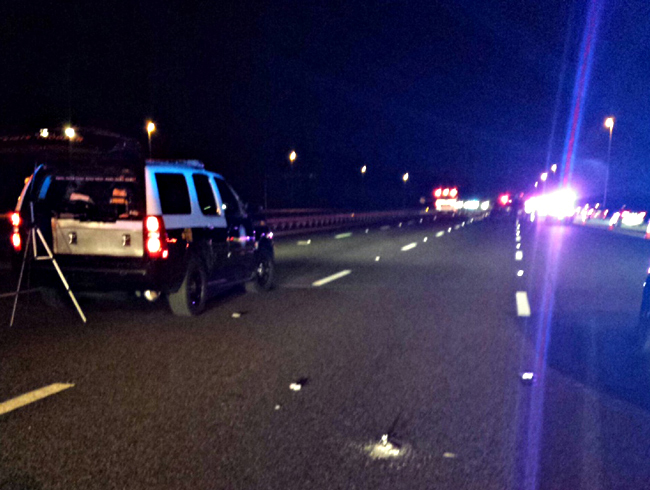 Patrick N. Amaral, a 32-year-old Palm Coast resident, was killed in an apparent suicide Friday evening as he laid himself in the center lane of I-95 and was struck by two cars.
The Florida Highway Patrol responded to the northbound lanes of the area of mile marker 285 on I-95 at 9:40 p.m.
Christopher Warrington, 26, of Palm Coast, was driving north in a Honda Civic in the middle lane. Misha Wiseman, 29, of Green Cove Springs, was driving north in a Toyota XB in the left lane. Warrington's Civic struck Amaral, forcing him into the path of Wiseman's Toyota, which also struck Amaral.
Neither driver sustained physical injuries. Their two cars, which they were able to bring to controlled stops, sustained some damage. The northbound lanes of I-95 were closed for the duration of the FHP's investigation. Flagler County Fire Rescue, the Palm Coast Fire Department and the Palm Coast Fire Police also responded.
FHP lists Amaral's age as 29, though he may actually have just turned 32. His Facebook page paints the portrait of a young father–he had a toddler daughter he adored–who was not having an easy time of it. He'd been living out of his car since September 2012, he wrote in January, until his Camaro was stolen. He found a room that month in the F Section, and was thrilled to have a place he could call his own. And he re-launched his own car-repair business, a trade he'd been doing for years. "If ANYONE needs an awesome, honest, auto mechanic, call Patrick," he'd written two weeks ago, saying he'd make the repairs either through house calls or at his house.
Amaral's death is the third road fatality in a week on Flagler roads, and the second apparent suicide on that stretch of I-95 two and a half years. In late September 2011, five miles south on I-95, Rickey Clint Green was struck and killed by a semi truck after Green walked into the truck's path.